How Tom Hiddleston Feels About Matt Damon's Loki Performance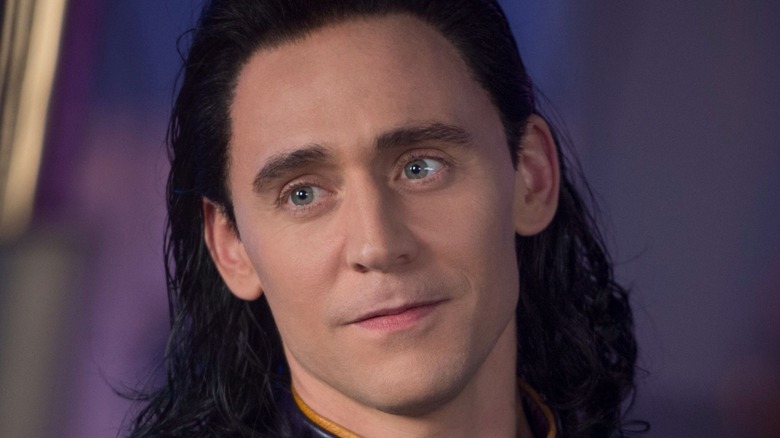 Marvel Studios/Disney+
Leading up to its premiere on Disney+, Marvel Studios' "Loki" series was all anyone could talk about online. From all-caps tweets professing intense anticipation for the show, which follows the 2012 variant version of Tom Hiddleston's Loki after he swiped the Tesseract and disappeared in "Avengers: Endgame," to fan-edited videos and GIFs celebrating the trickster god and all his mischievousness, the internet was all Loki, all the time across the first eight days of June 2021. 
Then, at long last, "Loki" debuted on Wednesday, June 9 — and, expectedly, conversation heated up even more. Twitter was going loco for Loki, if you will. Fans of the Marvel Cinematic Universe were thrilled to finally be able to see what happened to the Norse god following the events of "Endgame" and the bungled time heist at Stark Tower during events that initially transpired in the first "Avengers" film. In short, Loki doesn't get very far: the Time Variance Authority apprehends him for messing up the Sacred Timeline, and if he doesn't bend to their demands, he'll face extreme consequences. (Needless to say, that's not something this version of Loki has ever done for anyone before.)
This time around, Hiddleston's character is looking very different out of his flashy green and gold ensemble. Loki has been through quite a transformation over the course of the MCU, evolving from an ambitious power-seeker into a lovable hero with trademark cutting wit. But one of the biggest transformations came in "Thor: Ragnarok," when Matt Damon portrayed Loki in a dramatic reenactment of events from "Thor: The Dark World."
But how does the God of Mischief himself feel about that?
Matt Damon played an actor portraying Loki in Thor: Ragnarok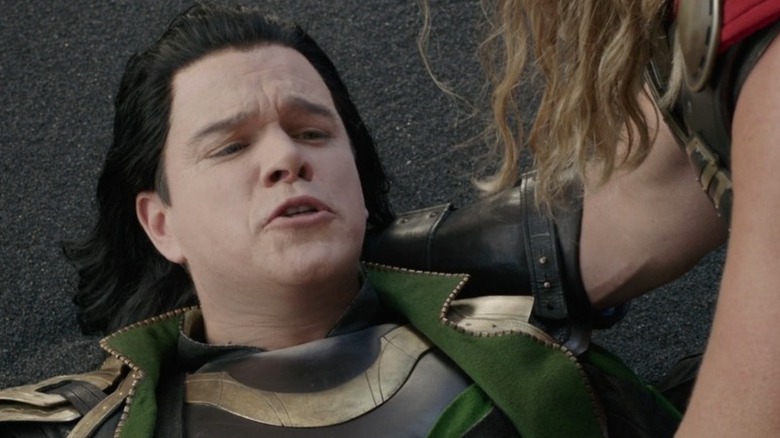 Marvel Studios/Disney
For those who may have forgotten, at the beginning of director Taika Waititi's "Thor: Ragnarok," Loki had disguised himself as his adoptive father Odin (Anthony Hopkins), lounging about and ruling Asgard with a ... well, whatever the opposite of an iron fist is. When Thor (Chris Hemsworth) returns to Asgard, a giant Loki statue is the first thing he sees, which tips him off that some nonsense is afoot. He gently pushes through a crowd of Asgardians to find Odin draped over a chaise lounge and dressed in orange robes, eating snacks and watching a play featuring Lady Sif, Loki, Thor, and Odin, in which everyone's overacting and Loki is portrayed as a faultless martyr after faking his death in "The Dark World." 
Sam Neill portrays the actor playing Odin in the production, with Chris Hemsworth's brother Luke taking on the role of Thor and Matt Damon playing Loki, who dies in his brother's arms in a spectacularly dramatic scene. After it was reported that Neill, Hemsworth, and Damon were all seen on the set of Waititi's "Thor: Love and Thunder" (via Den of Geek), presumably to reprise their roles, Tom Hiddleston shared his thoughts about Damon's performance as Thor's puckish adoptive brother — and his possible return in the fourth "Thor" movie.
If Matt Damon gets to be Loki, can Tom Hiddleston be Jason Bourne?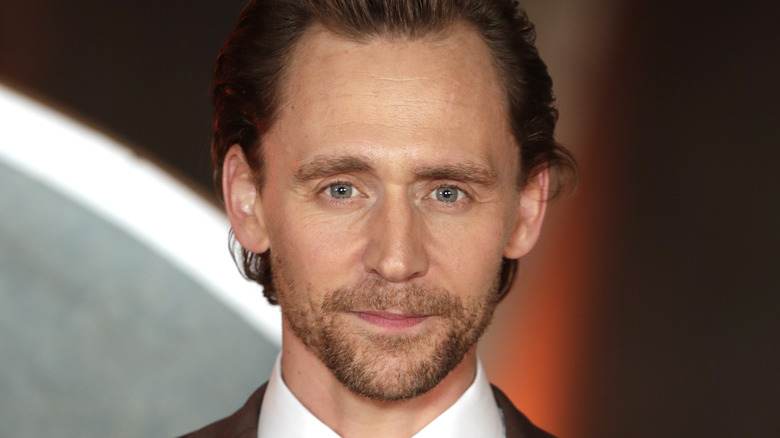 John Phillips/Getty Images
"Well, I have no ownership [over Loki], as you know," Tom Hiddleston told Decider. "Loki contains multitudes, and he contains Matt Damon." 
Recalling the first time Damon played Loki's theatrical counterpart, Hiddleston added, "I was so amused [while shooting those scenes] — I can't remember, it was a couple of days on 'Ragnarok' when he came in and did his thing. It was like looking into a very slightly distorted mirror. And his take on the whole thing was just hilarious." The actor then teased that he "can't wait to see what they've been doing" for "Thor: Love and Thunder," which is about as much confirmation of a Damon-as-Loki return as anyone can hope for.
Later, during an appearance on "Jimmy Kimmel Live," Hiddleston joked with Kimmel, "There's a thing where you always bump him from your show, right? ... I feel like it's kind of like Matt's trying to bump me from my own character!" From there, he offered up a playful warning for Damon: "All I can say is, the next time there's a new 'Jason Bourne' movie, you know, maybe in another reality, there's another Jason Bourne who might show up around the corner, so you better watch your back."
For now, fans can only speculate just how much involvement Damon and his fellow Norse players will have in "Thor: Love and Thunder," but they'll find out for sure when the movie releases on May 9, 2022. Meanwhile, the first episode of "Loki" is available to stream on Disney+ right now.