Screenwriter Michael Waldron On The Major Similarity Between Doctor Strange 2 And Spider-Man: No Way Home - Exclusive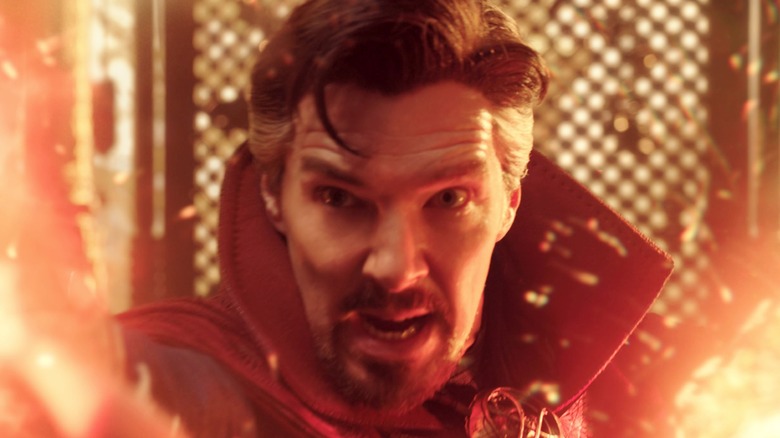 Marvel Studios/Disney
Anyone even vaguely familiar with the Marvel Cinematic Universe knows that the unique saga ties the narratives of its many films and television series together to form one epic story. Better yet, with the introduction of the multiverse in "Spider-Man: No Way Home," the MCU has been able to pull in characters and stories previously unassociated with Marvel Studios. Chief among them were two versions of Spider-Man (Tobey Maguire and Andrew Garfield), as well as their key adversaries in their respective films.
The expanded MCU narrative, as a result, provided an extra challenge for screenwriter Michael Waldron for "Doctor Strange in the Multiverse of Madness." Not only was Waldron tasked with writing a film tailored to fit the sensibilities of director Sam Raimi and the continuing adventures of Dr. Stephen Strange (Benedict Cumberbatch), but the scribe also needed to tie the events of "Multiverse of Madness" to what came previously in "No Way Home" since Strange was a pivotal player in that film as well.
In "No Way Home," Peter Parker (Tom Holland) seeks the help of Strange for a spell that would make the whole world forget that he was Spider-Man. But since Peter meddles with Strange's work during his incantation, the spell is botched, allowing the adversaries of the alternate universe versions of Spider-Man to enter their dimension from the multiverse.
While working on the screenplay for "Multiverse of Madness," Waldron, also the showrunner of the MCU series "Loki," said there was cross-collaboration with the creatives of "No Way Home" to make sure they were on the same page with their respective stories, and it helped him refine a plot point to bring both films into better alignment.
Maintaining patience was key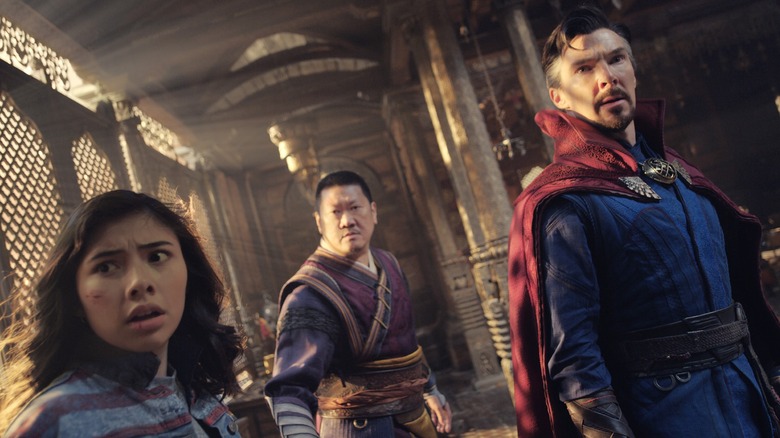 Marvel Studios/Disney
"Multiverse of Madness" finds Strange dealing with the troubles of another teen, America Chavez (Xochitl Gomez), who is being sought by Wanda Maximoff, aka Scarlet Witch (Elizabeth Olsen). The fallen Avenger has descended down a dark path and wants to search for her lost sons — and she believes her key to doing that is by taking America's rare power to effortlessly travel across the multiverse.
In an exclusive interview, Michael Waldron told Looper that one of the most significant changes he made to the "Multiverse of Madness" script was in relation to the core narrative. Since Strange was dealing with another teen character with America in "Multiverse of Madness," Waldron gained insight into the character's mindset by examining the sorcerer's interactions with Peter Parker in "No Way Home."
"The movies swapped release dates, so once we found out they were coming before us, it meant that Dr. Strange would be familiar with the multiverse, and it also meant that Dr. Strange would've had an adventure with some teenagers [in 'No Way Home']," Waldron explained. "So it changed the way he would relate to and interact with America [in 'Doctor Strange 2']. To me and to Sam [Raimi], we realized that he would have an enhanced level of patience."
Waldron said he credits Benedict Cumberbatch for pointing out how vital that patience was to his interaction with America. After all, the girl is bestowed with powers she doesn't completely understand, which means Strange needs to help her figure it out.
"[Benedict] was probably our best resource for that because he was coming to us straight from Atlanta having shot 'No Way Home,' and he always had his eye on the ball of, 'Well, I was just doing this with Peter Parker. I would be more sympathetic to America's plight because I just went through this with these kids,'" Waldron recalled.
Also starring Benedict Wong, Rachel McAdams, and Chiwetel Ejiofor, "Doctor Strange in the Multiverse of Madness" is now in theaters.