Doctor Strange 2 Scribe Michael Waldron Talks Working With Sam Raimi, Elizabeth Olsen, And More - Exclusive Interview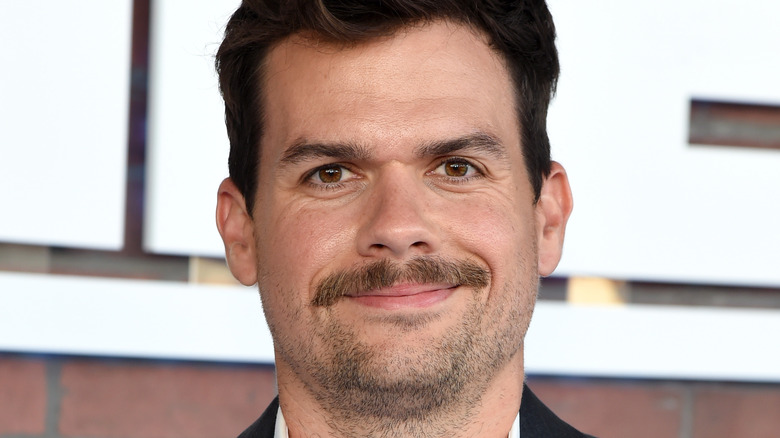 Michael Kovac/Getty Images
Spoiler warning: This article reveals major plot details from "Doctor Strange in the Multiverse of Madness."
While "Doctor Strange in the Multiverse of Madness" screenwriter Michael Waldron had already experienced a wild ride in Hollywood thanks to his involvement in such Dan Harmon TV hits as "Community" and "Rick and Morty," it was a mere preview of unfathomable places the Marvel Cinematic Universe would take him. Waldron — who started as a production assistant on both of Harmon's shows in 2014 (via IMDb) — eventually escalated in the ranks to become a producer on "Rick and Morty," and not too long after that, he was hired as the showrunner for Marvel Studios' hit series "Loki."
It was during the Season 1 finale of "Loki" that Waldron kicked off a series of events involving the multiverse that would begin to unfold in "Spider-Man: No Way Home" and come to fruition in the "Doctor Strange" sequel. The common denominator in "No Way Home" and "Multiverse of Madness," of course, is Dr. Stephen Strange (Benedict Cumberbatch), whose spell to help his fellow Avenger Spider-Man, aka Peter Parker (Tom Holland), in "No Way Home" went horribly awry.
New in theaters, the "Doctor Strange" sequel finds Strange and the Sorcerer Supreme Wong (Benedict Wong) venturing into the multiverse after meeting America Chavez (Xochitl Gomez) mid-battle with a beast from another world. America can travel from universe to universe, and her power is so immense that it attracts the attention of Wanda Maximoff-slash-Scarlet Witch (Elizabeth Olsen). Having ventured down a dark path since the events of "WandaVision," Scarlet Witch is looking to extract America's superpowers — a move that would give her the ability to rip the multiverse to shreds.
In an exclusive interview with Looper, Waldron discussed his work with iconic director Sam Raimi and the horror film expertise he brought to "Multiverse of Madness," the introduction of Illuminati in the film, and his work with Cumberbatch, Olsen, and Marvel president Kevin Feige.
Waldron's goal was to write Multiverse of Madness as 'a Sam Raimi movie'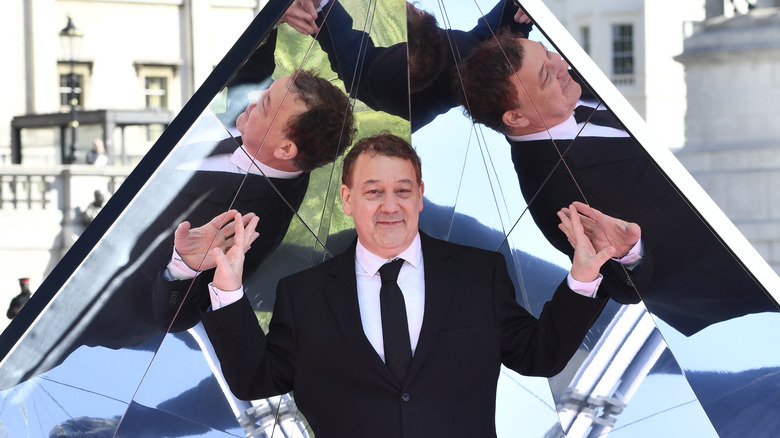 Gareth Cattermole/Getty Images
Once Sam Raimi came on board to direct "Doctor Strange in the Multiverse of Madness," did you rework the script in any way to reflect Sam's unique filmmaking sensibilities? It was great seeing Sam's "Evil Dead II" influence coming through in the film, so was it a matter of adapting to his sensibilities, or did he adapt to what you already had in the script?
Well, we came on at about the same time. I predated Sam on the movie by maybe a week. We came on almost right before COVID happened. And when COVID happened, Sam and I had a chance to start in on the picture almost fresh and say, "All right. What do we want this thing to be?" 
I tried to just write a Sam Raimi movie. That was my goal. I knew what I had to do for the MCU of it all, but I tried to set him up for success in his Sam Raimi way as much as possible, and he was very gracious. Sam did not want to just play the hits. He wanted to make a great Marvel movie. But ultimately, we forced him to make a Sam Raimi movie.
Finding a commonality between No Way Home and Multiverse of Madness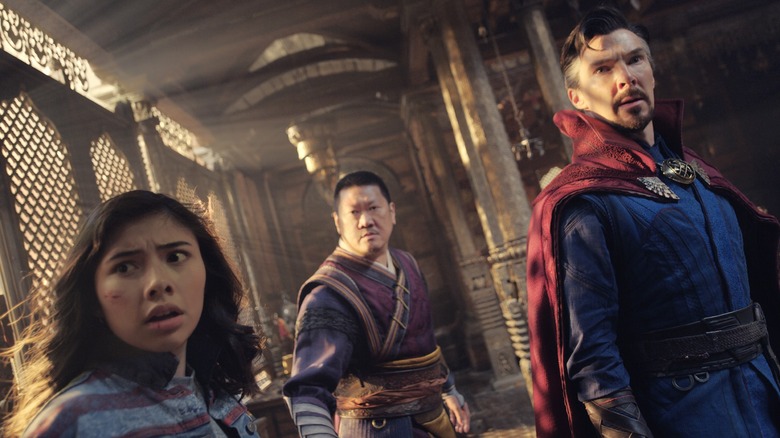 Marvel Studios/Disney
I interviewed Sam [Raimi] a week ago, and he said that there was a big Zoom meeting at first between your crew and the "Spider-Man: No Way Home" crew, and you communicated with them from there. What do you think was the biggest change, narrative-wise, that came out of your meetings with the "Spider-Man: No Way Home" production? After all, Benedict Cumberbatch is a big part of both that film and this one.
The movies swapped release dates, so once we found out they were coming before us, it meant that Dr. Strange would be familiar with the multiverse, and it also meant that Dr. Strange would've had an adventure with some teenagers [in "No Way Home"]; [that] was probably the other thing. So it changed the way he would relate to and interact with America [in "Doctor Strange 2"]. To me and to Sam, we realized that he would have an enhanced level of patience. [That's where] I credit Benedict for that a lot. He was probably our best resource for that because he was coming to us straight from Atlanta having shot "No Way Home," and he always had his eye on the ball of, "Well, I was just doing this with Peter Parker. I would be more sympathetic to America's plight because I just went through this with these kids."
Waldron said he got his 'dream lineup' for the members of the Illuminati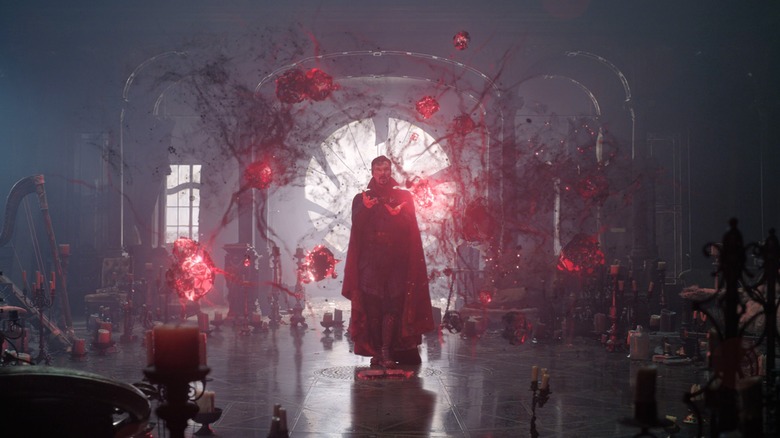 Marvel Studios/Disney
Fans were very excited to find out that the Illuminati was going to be involved in this film. In the Marvel comics, there are a variety of members that belong to the Illuminati, so how did you arrive at the selection of which Marvel characters would be the members of the Illuminati in this film? Granted, we do have some familiar faces, but they're in an alternate universe, but then we have some from "Fantastic Four," from "X-Men," who are new to the MCU.
It was kind of a "What's your dream lineup?" [situation], and that's what we got. We got the dream lineup. I can't believe it ... I would've been shocked if we got one of these characters that [we] ended up getting. I always thought that in the end, we'd have to use obscure nobody characters because there was no way we were going to actually get these guys, but we got [them]. It was a constant moving target of who's available and when, but the actors wanted to do it and made it work — and Marvel made it work — and it turned out to be a heck of a sequence.
The vengeance of Scarlet Witch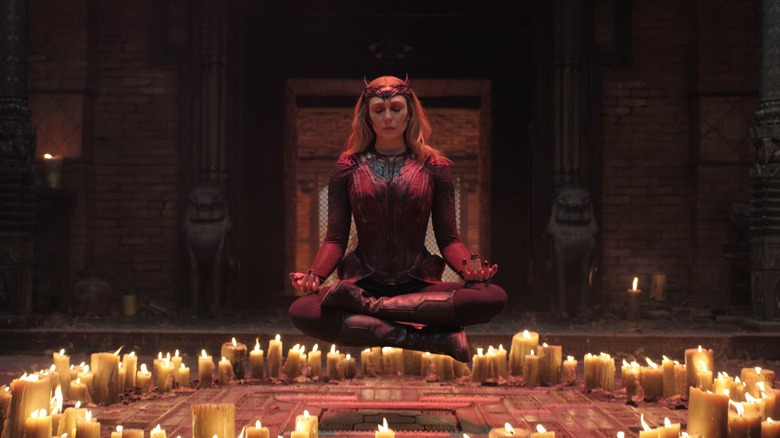 That sequence leads to one of the biggest departures for Scarlet Witch in the film, who brutally dispatches the members of the Illuminati. What was Elizabeth Olsen's reaction to her character's very violent actions when she first read about it in the script?
Like any great actor, she was curious and wanted to interrogate those actions from a character standpoint and make sure that she could inhabit Wanda in those moments in a way that made sense to her. Lizzie talks about wanting to be the ... She always tries to be the lawyer for her characters. I felt it was my job, then, to give her the stacks and stacks of evidence for her to be the lawyer for Wanda in those moments as she does worse and worse things. So she was great. She was an amazing collaborator. She made the movie and the character better every step of the way.
Now, about those deaths at the hands of the Scarlet Witch. The characters are in another universe, so which Illuminati members do you think may be brought back in the future? Captain Carter and Captain Marvel make sense because they're a part of the MCU already. But what about the fan favorite, John Krasinski? Could you see him coming back as Reed Richards in the Fantastic Four?
That question's above me, man — [that] remains to be seen.
I had to give it a shot! And while I'm at it, I don't want you to tell tales out of school, but was there any particular reason Jonathan Majors' Kang wasn't in "Multiverse of Madness"?
I love Kang. Kang's out there somewhere, I'm sure, but we had our dynamite villain in this one in Wanda. I don't think there was any need to overcrowd this thing any more.
Overseeing the ripple effect that led to Multiverse of Madness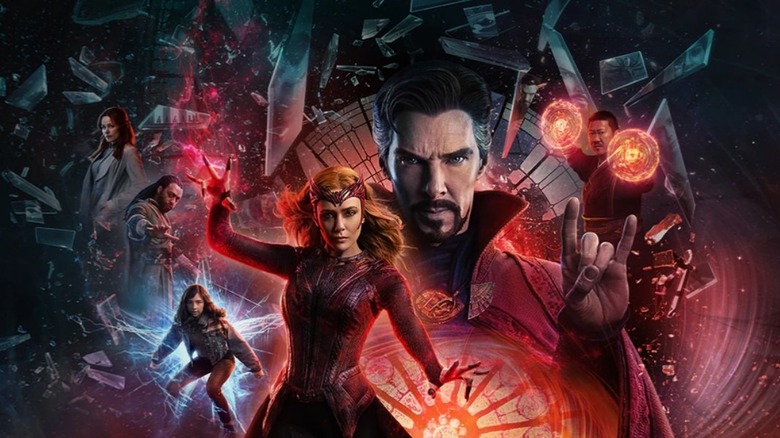 Marvel Studios/Disney
I caught clips of Kevin Feige on the "Doctor Strange 2" red carpet confirming that because of Loki and Sylvie's actions at the end of Season 1 of "Loki," it led to the botched spell in "Spider-Man: No Way Home," which led to the events of "Doctor Strange 2." You must feel really good knowing that your actions have had such a significant impact on the MCU. Your decision as the showrunner of "Loki" had a huge ripple effect.
That's totally flattering, and it certainly wasn't just me. That was the whole team on "Loki" working hard and selling that idea. But we said that in the writer's room early on, that we wanted that show to be vital and to have far-reaching implications across Phase Four and beyond — and I'm glad that now we're seeing [it], it's just me that's having to clean up the mess.
The influence of Star Wars and Rick and Morty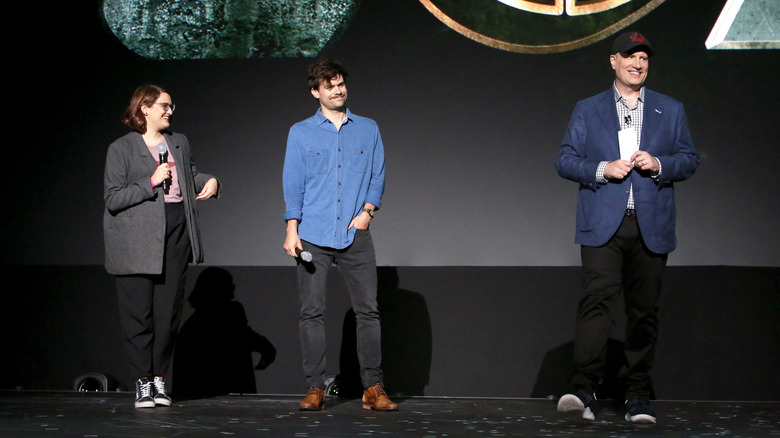 Jesse Grant/Getty Images
Again, I don't expect you to give me any information since I know already you can't say anything about the "Star Wars" film you and Kevin Feige have in the developmental stages. I'm wondering, though, how thrilling is it for you as a filmmaker to get an opportunity to do a "Star Wars" film? How influential has "Star Wars" been in your career?
The most influential — which is not really a novel thing to say, but it's true. There's not a world that I love more than that one. I'm so grateful to have an opportunity to be a part of it and to tell a little story in some corner of that universe, and yeah, it's been fun.
As one of the key creatives on "Rick and Morty," and now being a big contributor to the MCU, how has your experience on that brilliant animated series influenced what you do in the MCU?
So much. I was an intern on the very first season of "Rick and Morty." It was so much a part of my own origin story as a writer and then getting to come back as a writer. And I came up under Dan Harmon. That's a great training ground for the MCU because it's big, crazy sci-fi with a strong emotional heartbeat at its core, which I think is exactly what the MCU does so well. I'm lucky to have been a part of it.
Also starring Rachel McAdams, Benedict Wong, and Chiwetel Ejiofor, "Doctor Strange in the Multiverse of Madness" is now in theaters.

This interview was edited for clarity.