Becki Newton On The Joy Of Working With Neve Campbell On The Lincoln Lawyer And Her Dream Co-Star - Exclusive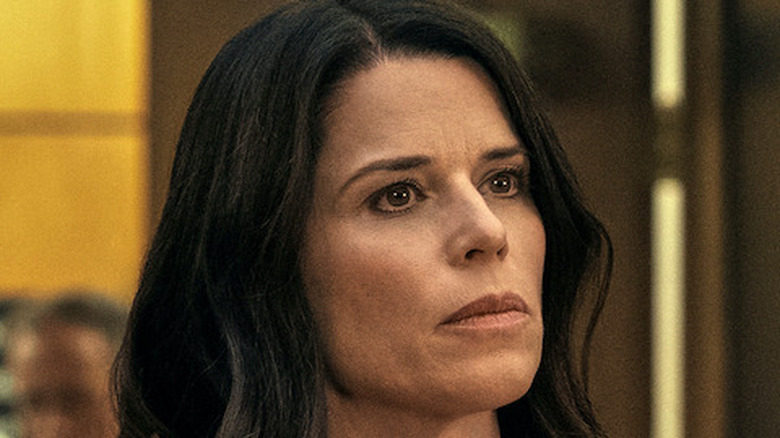 Lara Solanki/Netflix
Throughout her career, Becki Newton has worked with a string of talented actors, including Judith Light and Vanessa Williams on "Ugly Betty," Neil Patrick Harris and Cobie Smulders on "How I Met Your Mother," and Sarah Jessica Parker and Thomas Haden Church on "Divorce." She's continuing that streak with the new Netflix courtroom drama "The Lincoln Lawyer," in which she stars with Neve Campbell (also known for her role as Sidney Prescott in the "Scream" movie franchise).
In "The Lincoln Lawyer," Campbell plays Maggie McPherson, the first ex-wife of title character Mickey Haller. Maggie maintains a cordial if not exactly warm relationship with Newton's character Lorna, Mickey's second ex-wife. While Lorna continues to work with defense lawyer Mickey, Maggie is a prosecutor with the District Attorney's office, often leading the former couple to see the same cases different ways, even as they both hold an idealistic perspective on the American justice system. Still, even though they're divorced, Maggie continues to care about Mickey, and so does Lorna, a commonality that brings the two women together. Newton sat down with Looper to chat working with Campbell and also to give a shout out to the past co-star she dreams of working with again.
'One of my favorite days of filming'
Lara Solanki/Netflix
Becki Newton shared that she has been a long-time fan of Neve Campbell, and was excited to have the opportunity to work with her on "The Lincoln Lawyer" set. "This was one of my favorite days of filming," Newton reminisced. "I even think it was my first day. ... I've been a fan of Neve forever. I couldn't believe I got to work with her." Newton described the scene where Lorna and Maggie were both awkwardly standing with each other talking about Mickey, and how Campbell gave her spin on it. "Neve right away said to the director, 'I don't want this to be about two women bitching with each other. I want this to be about two women who are trying to help Mickey.' She right away didn't want the dynamic to be two ex-wives having a problem with each other. She wanted it to be more complex than that and smarter than that."
Newton said she appreciated Campbell's ability to articulate a goal that elevated the scene beyond what it could have been. "I was so grateful that Neve had thought about it so much, because I think it's much more interesting to have these ex-wives who are able to communicate, to talk about what's best for Mickey, to talk about what's best for Mickey's daughter, and with all of it coming from good intentions, as opposed to cat fighting." 
Newton's other dream co-star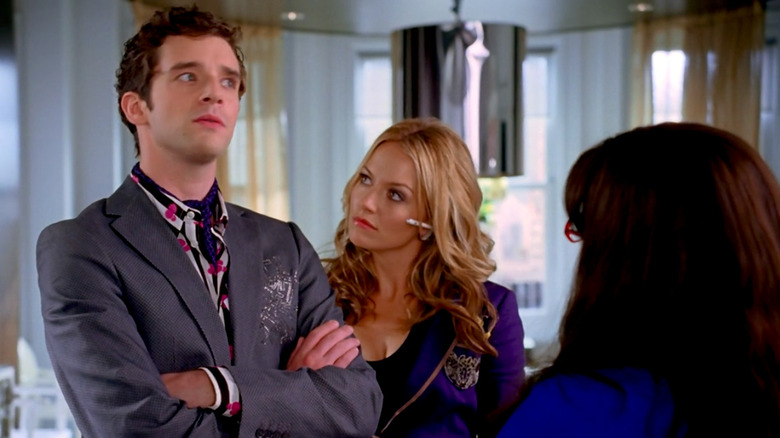 ABC
Newton also shared that she felt fortunate to work with Campbell and so many other accomplished actresses and reflected, "I continue to be inspired by these women who've been in the business for a long time, have so much integrity, such great work ethic, and are so talented. I can't even imagine who I could work with next, but I'm sure I have so much to learn from everyone I work with in the future."
However, there is one actor Newton's worked with in the past that she's hoping to pair up with on screen again: Her "Ugly Betty" co-star Michael Urie. "[Michael is] a dear, dear friend," Newton noted. "We were about to do a show together right before the pandemic with Michael Patrick King. And it would've been a dream. We would've played brother and sister. I do believe Michael and I will re-team. And I think it will be sooner rather than later. ... I would say if I had one dream co-star for the future, it's Michael Urie."
The 10-episode first season of "The Lincoln Lawyer" is available on Netflix.