Sam Raimi On The Cross-Collaboration Between Doctor Strange 2 And Spider-Man: No Way Home - Exclusive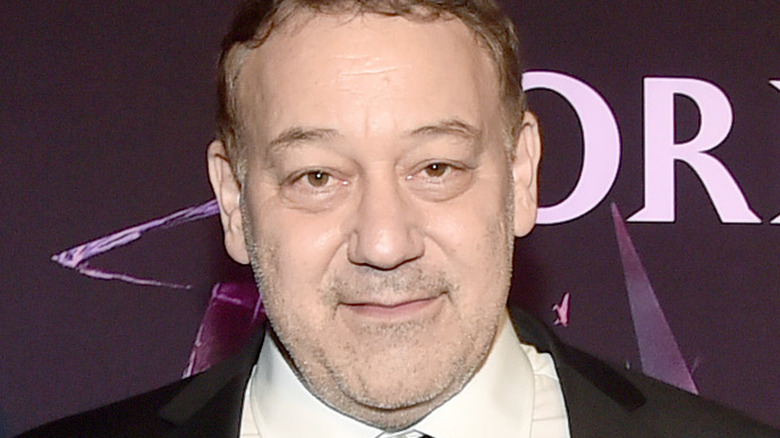 Alberto E. Rodriguez/Getty Images
Once a director of standalone superhero movies with his classic "Spider-Man" trilogy from 2002 to 2007, Sam Raimi had some serious catching up to do when he assumed the helm of "Doctor Strange in the Multiverse of Madness." After all, Dr. Stephen Strange (Benedict Cumberbatch) is one of the many time-honored Marvel comic book characters who have leaped into the Marvel Cinematic Universe, which has so far tied together more than two dozen films and television series to tell one massive superhero adventure.
Strange's adventure in the MCU began in 2016's "Doctor Strange," and since then, Cumberbatch has reprised the character in the MCU's "Thor: Ragnarok," "Avengers: Infinity War," and "Avengers: Endgame," and voiced him in the Disney+ animated series "What If...?" Just prior to "Multiverse of Madness," however, Cumberbatch also turned up in a pivotal supporting role in "Spider-Man: No Way Home," where Strange was meant to perform a spell to make the world forget Spider-Man's secret identity of Peter Parker (Tom Holland). An indecisive Peter caused Strange to botch the spell, though, tearing a hole in the multiverse that allowed the foes of two different versions of Spider-Man from different universes into Peter's dimension to wreak havoc.
While Spidey and his alternate versions (Tobey Maguire and Andrew Garfield) managed to save the day in "No Way Home," the film still left open some loose ends about the multiverse. As such, Raimi needed to be on the same page as his MCU predecessor with "Multiverse of Madness," since the events of "No Way Home" essentially set the stage for his film.
Raimi collaborated with the No Way Home production team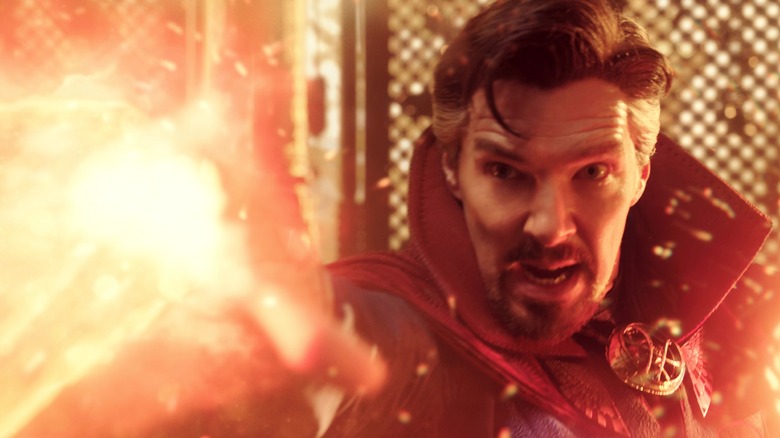 Marvel Studios/Disney
New in theaters, "Multiverse of Madness" finds Dr. Strange and Sorcerer Supreme Wong (Benedict Wong) entering the multiverse after finding America Chavez (Xochitl Gomez) in the middle of a fight with a monstrous creature. America has the rare ability to leap between universes, and Wanda Maximoff — aka Scarlet Witch (Elizabeth Olsen) — is behind the monsters trying to extract the young teen's immense powers. It's a move that could prove fatal for the multiverse if Strange's fellow Avenger succeeds.
Since "No Way Home" and "Multiverse of Madness" were at one point in production at the same time, Sam Raimi said there was a lot of cross-collaboration between the two films to make sure the "Doctor Strange" sequel was in alignment with the storyline of the latest "Spider-Man" chapter. The main point of contact for Raimi was his screenwriter, who had to implement many changes during filming.
"We had one big Zoom meeting together, but after that, our writer, Michael Waldron, spoke with their team often to keep abreast of the changes that they were making," Raimi told Looper in an exclusive interview. "Yes, Dr. Strange experiences the Multiverse for the first time in 'Spider-Man: No Way Home,' and we had to know, starting [with] this film, what did he know about the Multiverse? What lessons had he learned from their movie? Did he even remember the Multiverse? These are a lot of things that we had to really be clear on so that we wouldn't let the fans down."
While "Multiverse of Madness" took some of its cues from "No Way Home," Marvel Studios also allowed Raimi to infuse the film with his expertise as a horror director, which explains why part of the new "Doctor Strange" adventure is reminiscent of his cult film classic "Evil Dead II."
Also starring Rachel McAdams and Chiwetel Ejiofor, "Doctor Strange in the Multiverse of Madness" is now in theaters.