Dwayne Johnson Gives Fans The Best Look Yet At His Black Adam Transformation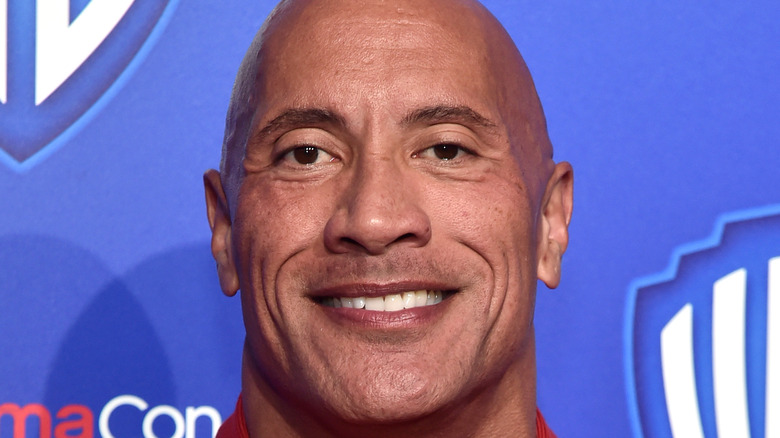 Alberto E. Rodriguez/Getty Images
Warner Bros.'s "Black Adam" is shaping up to be one of Hollywood's most anticipated comic book movies, with Dwayne "The Rock" Johnson finally making his long-awaited superhero debut. And while there have been trailers and numerous sneak peeks from the set of the forthcoming DCEU movie about the enigmatic antihero, the public still hasn't gotten a clear, full-length look at Johnson in all his godly glory. Well, guess what, "Black Adam" fans? The wait is finally over. 
For those who don't know, Johnson is a huge fan of social media. The former WWE star-turned-actor is extremely active on his Instagram and Twitter pages, regularly updating his followers on his movies, upcoming projects, and entrepreneurial ventures. For example, in the first week of May, Johnson shared an image of himself on Instagram not in costume, unfortunately, but in regular clothes while on the set of "Black Adam" during reported reshoots (via ET Canada). "Great to be back on [the] set of 'Black Adam' with our 750+ talented crew of filmmakers as we gear up to put some final details and last touches on our movie before we lock and deliver," the "Jumanji" actor wrote. "I've dialed in my diet and training intensity for weeks now to prepare, so I'm feeling good and in the zone."
Then, on Monday, May 9, Johnson decided to finally give people the update they've been waiting for: An exclusive look at what his Black Adam is going to look like, costume and all.
Dwayne Johnson shows off a dark and brooding Black Adam
The image Dwayne Johnson shared on Instagram on Monday not only represents what the A-lister wants to show off with regards to his Black Adam character, but it also perfectly sums up what fans hope the "Black Adam" movie will be: A no-holds-barred depiction of one of DC's most ruthless and brooding antihero stories.
"Intense week of production continues as we put the finishing touches on BLACK ADAM," Johnson wrote in the caption for the black-and-white photo of his DCEU character, looking both dark and menacing. "Throughout my career, I've had the privilege of playing some great (fun) characters over the years, but none speak to my DNA more than this antihero known as the man in black, Teth Adam," he noted, adding the phrase, "Rage against the dying of the light," which some might peg as an excerpt from Dylan Thomas' poem "Do not go gentle into that good night." He concluded the post with a sentence he's said regularly since taking on the role of Black Adam: "The hierarchy of power in the DC Universe is about to change."
At the time of writing, "Black Adam" is slated to hit theaters on October 21. The film's release date has been pushed back several times due to the COVID-19 pandemic and issues surrounding its shooting schedule (via Deadline). In addition to Johnson, the movie also stars Noah Centineo as the DC hero Atom Smasher, Pierce Brosnan as the Justice Society of America member Doctor Fate, Aldis Hodge as JSA leader Hawkman, Quintessa Swindell as the character Cyclone, and Sarah Shahi as Adrianna Tomaz.