Black Adam Trailer Teases A Host Of Fan-Favorite Comic Additions To The DCEU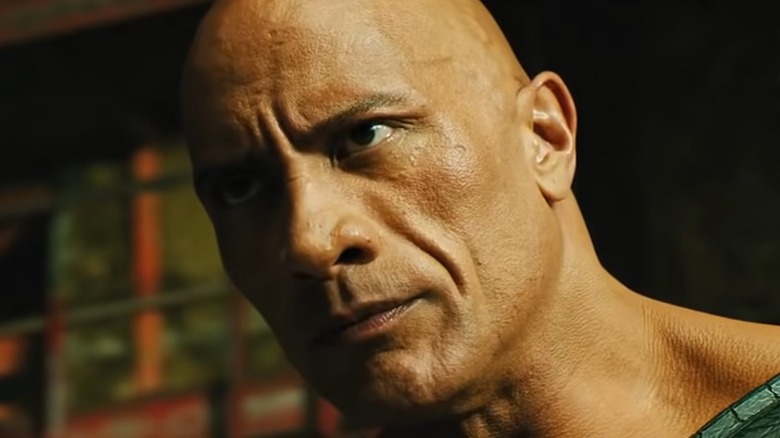 Warner Bros./DC Entertainment
The DC Extended Universe has put a spotlight on numerous comic book favorites over the years, often sticking with the true heavy-hitters from the DC Comics catalog. Superman (Henry Cavill), Batman (Ben Affleck), and Wonder Woman (Gal Gadot), to name a few, have naturally taken precedent over more obscure, lesser-known characters. Thankfully that has finally begun to change as of late, with the likes of Shazam (Zachary Levi) and Huntress (Mary Elizabeth Winstead), among others, getting some time to shine on the big screen. As it turns out, the Dwayne "The Rock" Johnson-led "Black Adam" will keep this initiative going.
Introduced on the pages of Fawcett Comics' "The Marvel Family" #1 in December of 1945, Black Adam went on to become a staple of the DC Comics universe in the decades that followed, yet hardly broke into the mainstream. Imbued with the same magical abilities as Shazam, Adam is often depicted as the ruler of Kahndaq as well as both a villain and an anti-hero, depending on the interpretation. For his DCEU and general live-action debut, "Black Adam" will present him as the latter, and as such, he'll come into contact with a handful of members of the famed Justice Society of America.
It's no secret that the JSA will factor into "Black Adam," but that didn't make seeing them in action in a CinemaCon 2022 trailer any less exciting.
Black Adam assembles the JSA in grand fashion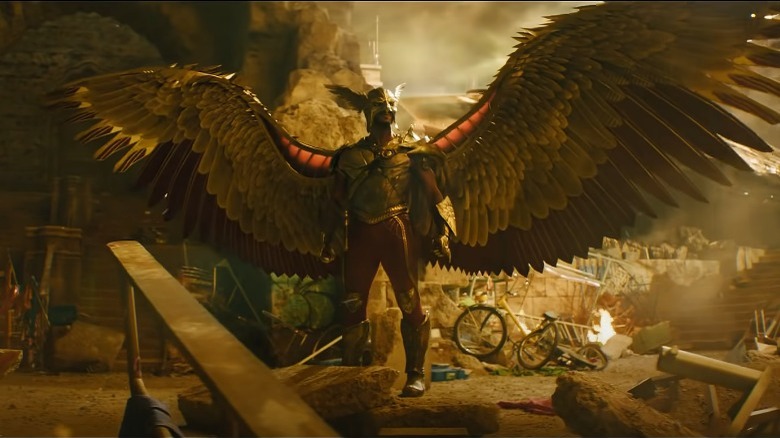 Warner Bros./DC Entertainment
As production on "Black Adam" got underway, various casting announcements naturally came to light. July of 2020 saw Noah Centineo sign on as Atom Smasher, followed by Aldis Hodge, who added himself to the cast as Hawkman that September. By December of that year, Quintessa Swindell joined the fray as Cyclone, with Pierce Brosnan tossing his hat into the ring as Doctor Fate, thus rounding out a pretty solid Justice Society lineup. We've since seen snippets of them in the film, but according to some, nothing so far measures up to what the CinemaCon 2022 teaser provided.
"The first #BlackAdam trailer is dark, dangerous & badass," wrote @ErikDavis on Twitter, recalling Dwayne Johnson's note that Black Adam operates in a moral gray area that most other characters don't. Upon seeing the reel, @JasonGuerrasio made the bold prediction that "Black Adam" has the potential to make a billion dollars, and @ScottDMenzel confirmed that Atom Smasher and Cyclone, as well as the Justice Society overall, will appear. Additionally, @TheInSneider tweeted out a few quotes from the trailer that reveal a bit about Adam and prove that he means business.
"Black Adam" is a long time coming, and on paper, it has a lot of potential. Bearing in mind these teaser reactions, though, it could very well be a standout part of the DCEU when it's all said and done.