Will There Ever Be A Pitch Perfect 4?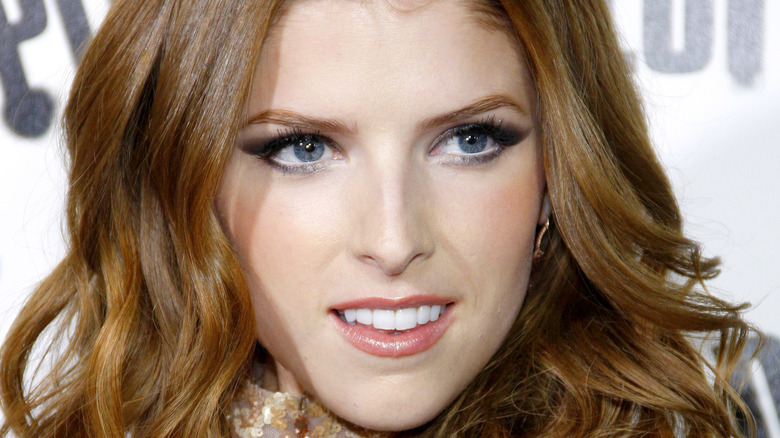 Tinseltown/Shutterstock
"Pitch Perfect" was one of the sleeper hits of 2012 (via BBC). The musical rom-com was released without much advertising to generally positive reviews and made more than six times its budget (via Box Office Mojo). It introduced Australian actor Rebel Wilson to North American audiences and brought an international spotlight to a cappella music. Plus, it was successful enough to garner not one but two sequels, released in 2015 and 2017, respectively.
The series follows collegiate a cappella group the Barden Bellas, whose main singers include Beca (Anna Kendrick), Chloe (Brittany Snow), Aubrey (Anna Camp), and Fat Amy (Wilson). Throughout the series, they go from underdogs into the national spotlight and then back to being scorned and in search of redemption. Along the way, they perform a cappella versions of an array of top 40 hits.
In "Pitch Perfect 3," the group reunites after the main singers have graduated college for an international USO tour. Not everything goes to plan, and they soon find themselves captive on a yacht. The ending left fans aching for more musical adventures, so where do plans for a sequel currently lie?
There are no official plans for a fourth film
"Pitch Perfect 3" was a disappointment for Universal. It was the worst-reviewed of the three films by fans and critics on Rotten Tomatoes alike, and it made $100 million less in ticket sales than its predecessor, which isn't a total flop but probably still left a sour taste in the mouths of the creative team (via The Numbers). Since the 2017 release, no plans have been announced for a continuation of the film series.
Fans were stoked the following fall when Rebel Wilson posted a photo on Instagram with fellow "Pitch Perfect" actors Brittany Snow, Anna Camp, and Chrissie Fit each holding up four fingers. The debate over whether this was a cryptic hint at a sequel never materialized into anything concrete from the studio, although Wilson later mentioned in an interview that the photo was taken at a cast reunion, which they've continued to do often in the decade since first meeting, and that they would all love to make a fourth film in the series (via Vanity Fair).
Snow has also expressed her desire to reprise her role. On "The Kelly Clarkson Show" in March 2022, she called making the films a "no-brainer." "I do love doing them," Snow said. "I get to be with my best friends, and we get to sing and dance. ... So I would love to do another because we would just all get to be together."
However, different exciting news involving the series has been announced.
A Pitch Perfect show is in the works
In September 2021, Variety reported that Peacock had ordered a "Pitch Perfect" series for its streaming service. The show is planned to follow Adam Devine's Bumper Allen from the first two films as he moves to Germany in pursuit of a music career after one of his songs proves to be a regional hit. Megan Amram is serving as showrunner, with Elizabeth Banks (who produced and appeared in all three films and directed the second) and Devine himself joining her as executive producers.
The series seems to be getting off the ground well, and it was revealed in March 2022 that Sarah Hyland (who previously worked with Devine on "Modern Family"), Lera Abova, and Jameela Jamil were cast in the series, according to E! The outlet also reported that production on the series will soon begin. Although no release date has been announced, a 2023 premiere seems like a possibility.