The Movie Like Pitch Perfect 2 That Rom-Com Fans Need To See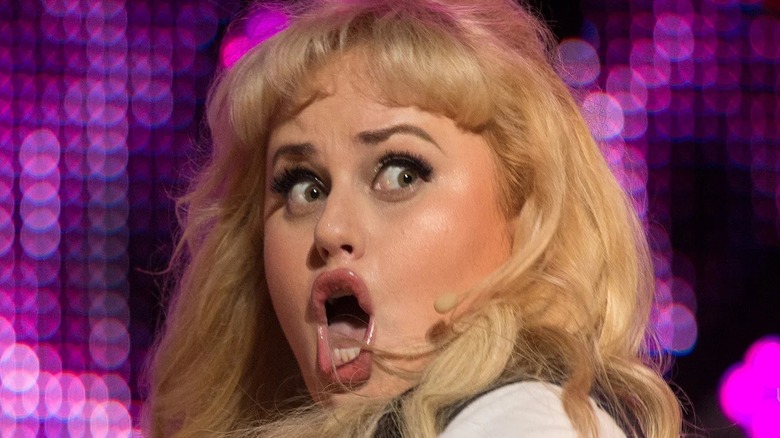 Universal Pictures
If you like your girl power movies wrapped up in harmonies, riff-offs, and over-the-top stage costumes, you've probably already watched the "Pitch Perfect" trilogy. Following a group of highly competitive collegiate acapella singers, the movies wholeheartedly embrace their cheesy concept, cramming in as many musical numbers as possible, while also finding time to sprinkle in romance.
"Pitch Perfect 2," for instance, features the most heartfelt rendition of Pat Benatar's "We Belong" ever sung by one person in a boat rowing frantically to reach another, with a road-crossing pause halfway through, and a passionate mid-line kiss at the end. There's a reason that scene earned Rebel Wilson an MTV Movie Award for Best Kiss (shared with Adam Devine) and a nomination for Best Comedic Performance (via IMDb). It's even enough to make us overlook her terrible singing performance in "Cats."
The "Pitch Perfect" trilogy is always good for a rewatch. But if you're looking for fresh material for rom-com night (or to sing to yourself in the shower), there's another title you should check out. It has the same blend of proto-feminism, on-the-nose humor, and musical success gone elaborately awry. Here's the movie like "Pitch Perfect 2" that rom-com fans need to see.
Josie and the Pussycats is about a girl band that unexpectedly hits the big time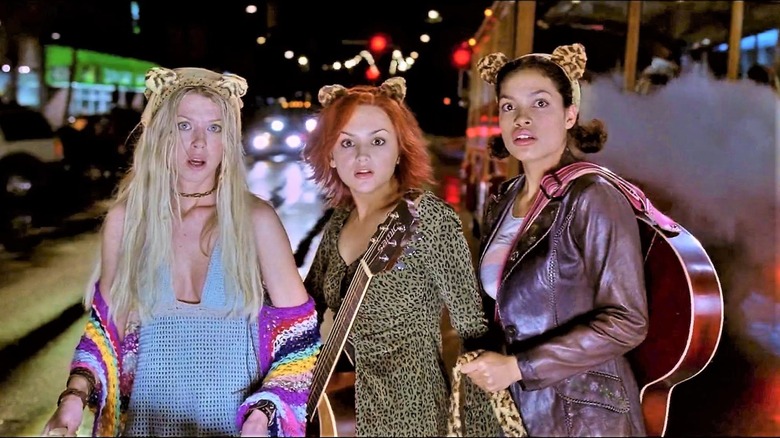 Universal Pictures
In 2001, a full 11 years before the Barden Bellas first shook up the acapella world, "Josie and the Pussycats" spotlighted another girl group who rode a hilarious road to pop stardom.
Dreaming of becoming a hit but stuck playing to disinterested bowlers, musicians Josie (Rachael Leigh Cook), Valerie ("The Mandalorian's" Rosario Dawson), and Melody (Tara Reid) — aka the Pussycats — are unexpectedly signed by a major record label. What they don't know is that the label has some shady ulterior motives, involving brainwashing the youth of America. Their newfound fame also causes tensions within the group and with Josie's would-be boyfriend Alan (Gabriel Mann).
Both movies follow girl bands who are dedicated to their music but find that with success comes road bumps. Like "Pitch Perfect," "Josie and the Pussycats" includes multiple upbeat musical numbers, complete with bold costume choices — including cat ears, in this case. And the casts of both nail the satirical elements as well as the high notes with well-placed comedic timing.
Another similarity: the "Pitch Perfect" series was based on a book about college acapella groups (via NPR). "Josie and the Pussycats" emerged from a world modern audiences may recognize: it was based on a comic book series by Archie Comics (via Graffiti With Punctuation). That's right: the band hails from Riverdale! (Today, though, going from performing in a bowling alley to a stadium practically overnight thanks to a brainwashing scheme wouldn't make the top 10 list of the craziest things to ever happen in "Riverdale.")
The "Pitch Perfect" trilogy is worthy of an encore. But the next time you need a movie about the struggles of making music while maintaining friendships, give "Josie and the Pussycats" a chance to win you over.