The Jake Lockley Easter Egg You Might Have Missed In Moon Knight Episode 6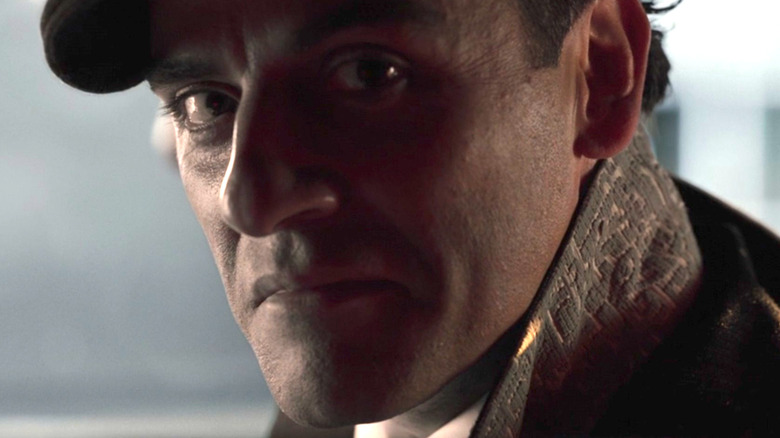 Marvel Studios/Disney+
Contains spoilers for "Moon Knight," Episode 6, "Gods and Monsters"
Season 1 of Marvel's "Moon Knight" has officially wrapped up on Disney+, with the sixth and final episode dropping Wednesday, May 4, to rave reviews (as seen on Collider, The Telegraph, and other notable sites). Not only do viewers get to see Marc Spector (Oscar Isaac) and Steven Grant (also Isaac) settle their scores with Arthur Harrow (Ethan Hawke) and Ammit (voiced by Saba Mubarak), but the show also delivers a surprise mid-credits scene featuring Khonshu (F. Murray Abraham) and another Moon Knight alter ego: Jake Lockley. But did you happen to catch the comics-accurate Easter egg that came along with him?
When the dust finally settled on "Moon Knight" Episode 6, "Gods and Monsters," fans were left with the very strong possibility of a second season. The mid-credits scene reveals the long hinted-at existence of Jake. The Marc Spector alter ego kidnaps Harrow-Ammit from a psychiatric hospital in London after Marc and Layla (May Calamawy) trap the Egyptian goddess in Harrow's body and stop him earlier in Episode 6. "Today is your turn to lose," Jake says in Spanish moments before he shoots Harrow-Ammit several times inside a limousine after Khonshu introduces him (via Marvel). It's a nonchalant and downright chilling execution of the villain by the newly introduced character, who smiles and revels in the bloodshed.
It's right about here when viewers are gifted with the "Moon Knight" comics Easter egg.
Jake is driving Marc's 'SPKTR' limo from the comics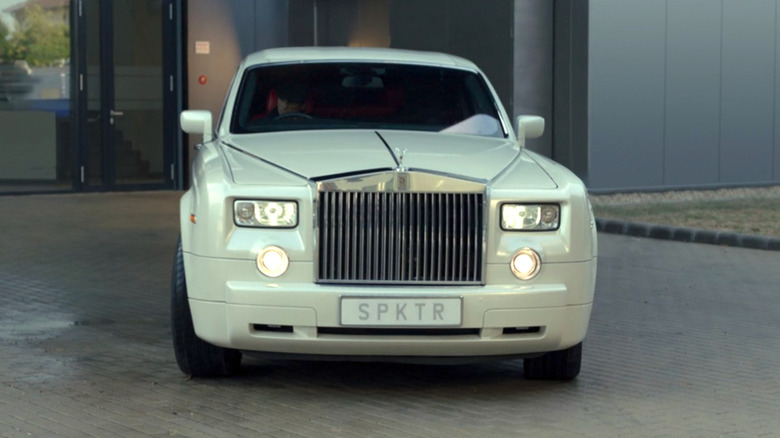 Marvel Studios/Disney+
While watching the mid-credits scene in Episode 6, there's a moment where the limousine pulls off and viewers are able to see the vehicle's license plate, which reads "SPKTR" — a clever play on Marc's surname and the ghostly nature of Moon Knight. What's even more important is that Jake Lockley is driving the limo, and Khonshu is in the backseat in a comics-accurate business suit. This not only signifies that the prim and proper Egyptian god isn't finished with Marc and Steven, but it also shows that Marvel is taking literal pages out of the "Moon Knight" comic book, in which Steven drives a limo with the very same license plate.
"The car of Jake on the mid-credit scene — it was taken straight from the comics," points out Twitter user @Danmatoz. "As a 'Moon Knight' comic book fan, seeing Khonshu in *that* outfit, and *that* certain character driving *that* limo in the mid-credit scene, beautiful," tweeted @ryanchessum. 
In the "Moon Knight" comics, Marc Spector's alternate personality Steven Grant is a millionaire while Lockley is a cab driver (via Marvel Database). It appears that fans could be getting an alternate take on the rich playboy dynamic in the Disney+ series, with Lockley (or perhaps another secret alter ego) serving as the money man. "The limo in the end with plate SPKTR, does it mean Khonshu's being [sic] playing millionaire playboy? As Marc is in the comic," Twitter user @Sakura__002 speculates. "Is Jake both millionaire and chauffeur or is there a fourth personality? How broken is he?"