The Staggering Number Of Law & Order: Criminal Intent Episodes Vincent D'Onofrio Actually Filmed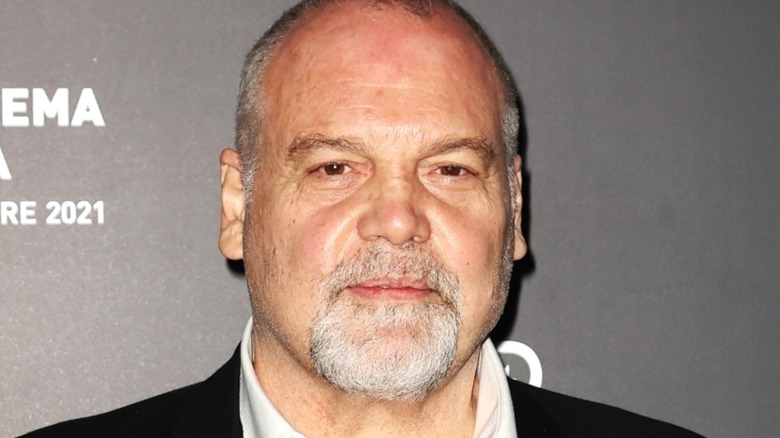 Ernesto Ruscio/Getty
When most people think about "Law & Order" spin-offs nowadays, "Special Victims Unit" or "Organized Crime" are typically the first two shows that come to mind, seeing how both are still on television. But there was once another popular "Law & Order" series that was largely talked about back in its heyday. Starring Vincent D'Onofrio and Kathryn Erbe, "Law & Order: Criminal Intent" was the third series in the franchise.
Airing from 2001 to 2011, the Dick Wolf procedural took a much more dramatic and in-depth look at crimes in New York City and the people committing them, with D'Onofrio and Erbe serving as Detectives Robert Goren and Alexandra Eames of the NYPD's major case squad. Nearly 200 episodes were rolled out for "Criminal Intent" during a 10-season span (via IMDb). D'Onofrio's portrayal of the intelligent and emotionally charged Det. Goren wound up taking center stage during the show's run, with many declaring him its biggest figure and main star (via Orange County Register).
Over the years, D'Onofrio missed some episodes of "Criminal Intent," and he even walked away from the series entirely at the start of Season 9 before returning for Season 10. Luckily, the Hollywood veteran's brief break from the show didn't stop him from racking up a staggering episode count.
Vincent D'Onofrio appeared in 141 episodes of Criminal Intent
According to IMDb, the legendary "Full Metal Jacket" star was in nearly 150 episodes of "Law & Order: Criminal Intent" throughout the show's lifespan. The exact count for D'Onofrio is 141, just three episodes shy of his co-star Kathryn Erbe.
Throughout his time on "Criminal Intent," D'Onofrio's portrayal of Detective Goren often received pushback and mixed reactions from fans, some of whom thought the character was a cocky know-it-all. "It's not for everybody, especially the way I play him is not to everybody's taste," D'Onofrio told the Los Angeles Times in 2011. "Unless they allow themselves to take the leap of faith," D'Onofrio added. "They don't like the intelligence, the ridiculous amount of knowledge he has." For those who did like the Detective Goren character, however, the show was a real treat. "The people who do take the leap love it," D'Onofrio explained.
After Erbe and D'Onofrio, the next two "Criminal Intent" stars with the most episodes are Jamey Sheridan, who played Captain James Deakins, and Courtney B. Vance, who played Assistant District Attorney Ron Carver. These actors each appeared in 111 episodes (via IMDb).