Paramount+ Releases First Look At Sylvester Stallone In Tulsa King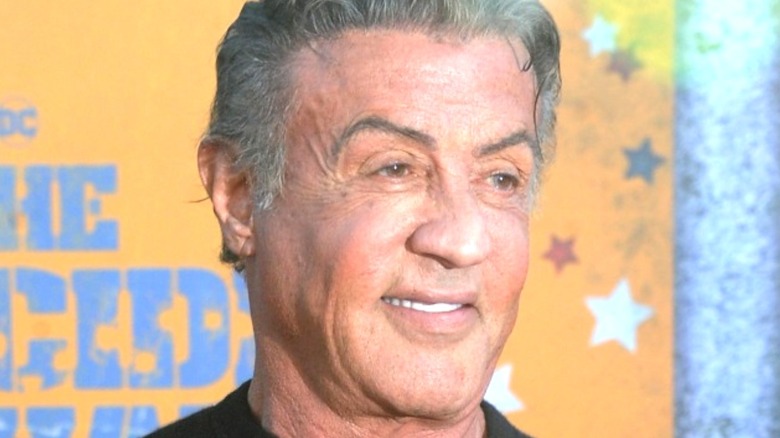 Albert L. Ortega/Getty
Taylor Sheridan's "Tulsa King" is gearing up to be another heavyweight hit for Paramount+, and who better to deliver the "Yellowstone" creator's punches this time around than Rocky Balboa himself — Sylvester "Sly" Stallone. On Friday, fans got their very first sneak peek of what Stallone's lead character will look like in the mob drama when it's expected to come out this fall, and folks have been loving it. 
For those who aren't aware, "Tulsa King" is a non-"Yellowstone" related TV series that will stream exclusively on Paramount+ and focus on the fictional life of Dwight "The General" Manfredi, played by Stallone. The New York mafia capo has relocated to Tulsa, Oklahoma after being exiled by his boss, and is looking to build his own empire there.
The show ultimately stemmed from an idea that Sheridan got during the 2020 COVID-19 lockdown. "I was talking with a producer, and it's COVID," Sheridan told Variety in an April 2022 interview. "Everyone's kind of going stir-crazy. He was asking me about ideas. I said, 'Look, all you need, in my opinion, to have an interesting TV show is take a really fascinating character and drop them in a world that we don't know anything about... I call [the producer] two days later and said, 'Hey, I wrote that thing we talked about.'" 
Paramount's social media team decided to finally become active on the "Tulsa King" Twitter page after creating it back in January. And that's when the Stallone sneak peek came.
Stallone's Dwight Manfredi looks tough and poised
When looking at the "Tulsa King" sneak peek, it's easy to see why Taylor Sheridan chose Sylvester Stallone to be his new leading man. The legendary "Rocky" actor can be seen standing in the middle of a street (which appears to be in New York) gazing up at the sky in all his mafioso glory. He dons a dark suit jacket and collared polo shirt, with his hands inside of his pockets and a sense of bravado that only Stallone could pull off. 
"The #TulsaKing has arrived," tweeted the show's social media team along with the photo. While the post was subtle, fans were excited to finally get an idea of what to expect from the Dwight Manfredi character. "I can't wait to watch this show," wrote Twitter user @edwardistheman. Another user named @djariya tweeted, "Really looking forward to Sly's 1st TV series."
Stallone, who is regularly active on social media, has been documenting his time in Oklahoma filming "Tulsa King" through his Instagram page. "Greetings from the set," he wrote in a post which featured a video of him inside his trailer. In the clip, he said, "I'm having the greatest time. This is a wonderful project. Great actors. I think this is gonna be a big hit and I'm proud to be involved in it."