The Tulsa King - What We Know So Far
Matt Winkelmeyer/Getty Images
You'd be hard-pressed to find a more sought-after creative talent in Hollywood these days than Taylor Sheridan. The former actor has swiftly become one of the premiere writing talents in showbiz, penning a series of critically-lauded Western-themed crime flicks in "Sicario," "Hell or High Water" (for which he earned an Academy Award nomination), and "Wind River" (on which he also made his directorial debut). 
He's likely best known, however, for creating Paramount Network's smash-hit ranching saga "Yellowstone," which continues to rank amongst the most-watched shows on cable. "Yellowstone" has indeed become the sort of titanic hit that allows a creative to punch their own ticket in terms of follow-up projects. Sheridan has more than seized the moment too, announcing new film and television projects on the regular of late.
One of the more exciting projects on Sheridan's slate is the gangster drama "The Tulsa King," which we admittedly don't know much about just yet. But a few juicy nuggets have been released about the new series in recent months. Here's what we know so far.
The Tulsa King is a mob drama starring Sylvester Stallone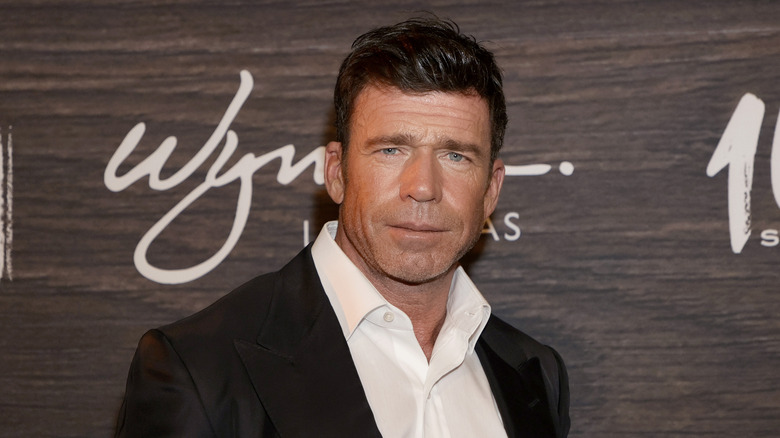 Ethan Miller/Getty Images
If you have been following the progress of the innumerable projects Taylor Sheridan has in the works, you know they're mostly flowing through either Paramount Network or the studio's streaming platform, Paramount+. Per Sheridan's recent promo video (in which also touted upcoming streamers "1932," "Bass Reeves," "Lioness," and "Land Man"), it was announced that "The Tulsa King" will indeed follow suit and stream exclusively on Paramount+. While no official release date has been given, The AV Club is reporting production on the series is soon to begin, with Sheridan and company eyeing a fall 2022 release.
We've, of course, known for a little while that screen legend Sylvester Stallone will star in Sheridan's upcoming gangster epic. And per The AV Club, we now know he'll be playing Dwight Manfredi, a New York gangster looking to stake his own claim to Tulsa's criminal underworld after a 25-year prison stint and being "unceremoniously exiled by his boss." While we don't yet know who will be joining Stallone in "The Tulsa King," given Sheridan's penchant for working with A-list talent, and his uncanny ability to pair the right actor to the right role, we can likely expect to hear some intriguing names when casting announcements start rolling in.
As it is, we cannot wait to see what Sheridan and Stallone will bring to the mobster realm with "The Tulsa King." And this one really cannot make its way to Paramount+ fast enough.