The Intense Chicago P.D. Scene Amy Morton Calls Her Favorite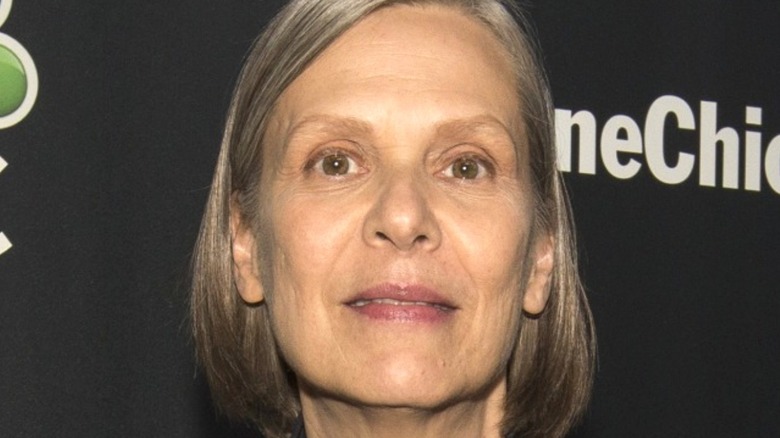 Barry Brecheisen/Getty
As fan favorite Trudy Platt in the long-running NBC hit "Chicago P.D.," veteran actress Amy Morton has forged a unique and memorable persona as the series' caustic, absolutely-no-nonsense-tolerated Deck Sergeant with the Chicago police department's District 21 Intelligence Unit. Serving alongside I.U. head Hank Voight (Jason Beghe), detectives Jay Halstead (Jesse Lee Soffer) and Hailey Upton (Tracy Spiridakos), officer Kim Burgess (Marina Squerciati), and others, Morton's Sergeant Platt has earned a loyal following on the show with her seemingly inexhaustible supply of sarcasm and not-so-gentle mockery of certain lower-level officers.
But reliably dealing out the snark on the show is by no means the only trait fans have come to expect from Sgt. Platt on "Chicago P.D." In addition to her long experience dealing with law enforcement colleagues and the various criminals they haul past her desk each week, Platt is a seasoned cop who on occasion sees action beyond the confines of the I.U. offices. In this regard, she recently singled out one especially powerful out-of-office scene in particular as her all-time favorite "Chicago P.D." moment.
Amy Morton loved her gripping scene in All Cylinders Firing
As noted in a YouTube interview clip of Amy Morton speaking at a recent "One Chicago" Day Chi-Hard Fan Event, the scene she looks back on as a true franchise highlight for her character took place in the Season 4 episode titled "All Cylinders Firing" — even though, confusingly, the on-screen caption in the YouTube video cites an entirely different episode.
Airing in October of 2016, the episode in question sees Sergeant Platt suffering a violent assault, followed by the intel unit finding her father brutally murdered by the same unknown assailant. When another officer reveals a key piece of evidence, however, Platt connects the dots and sets out to find and confront the killer on her own. Then, when Trudy eventually finds herself alone with the murderer, she's about to exact her own vigilante vengeance on him when Voight intercedes and pulls her back from doing something she'll regret. "You're not me, Trudy!" Voight tells her. "You couldn't live with yourself."
In the end, Trudy tearfully agrees with Voight that the killer should instead face justice in the courts and do his time in prison. So, while Morton doubtlessly has plenty of moments she's proud of from her time playing Trudy Platt, the actress cites this profoundly moving scene from "Chicago P.D." as her all-time favorite.