The Only Episode Of Chicago P.D. That Doesn't Feature Trudy Platt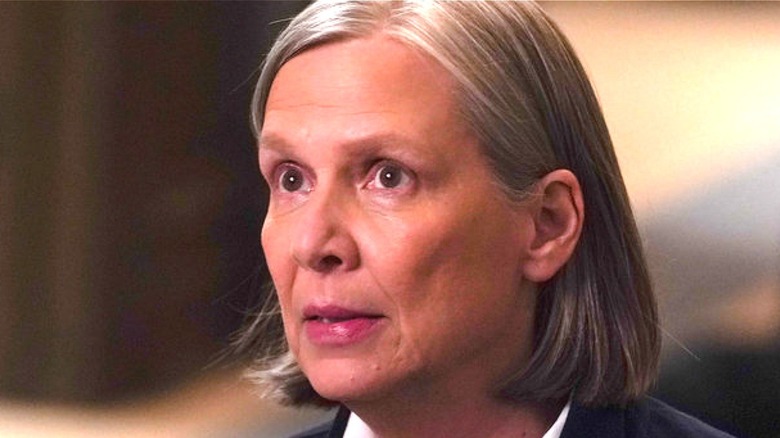 NBC
As a desk sergeant of the Chicago Police Department's 21st District, Trudy Platt (Amy Monroe) is a near-constant presence among the cops and detectives of "Chicago P.D." Always there to offer a witty, sarcastic remark to characters like Kim Burgess (Marina Squerciati) and Sean Roman (Brian Geraghty), Trudy isn't afraid to call things like she sees them. Though this behavior gives her a bit of a cruel streak, fans would be remiss if they couldn't say that they love Trudy, and would miss her if she were to ever leave.
It's a good thing, then, that Trudy is in almost every episode of "Chicago P.D." Every episode, that is, except for one. Funnily enough, that very episode also happens to be part of a two-part crossover event with the show "Chicago Fire," where Trudy's husband, Randall McHolland (Christian Stolte) of Firehouse 51, is a recurring character.
While Trudy's typically sharp tongue is woefully absent from the episode in question, one can't say it isn't without good reason. Any crossover event means that there's probably something bigger going on than the musing of a wonderfully snarky desk sergeant. So, which "Chicago P.D." episode suffers from a lack of Trudy? 
The episode Trudy Platt missed out on was one bombastic event
The only Trudy-less "Chicago P.D." episode thus far is Season 1, Episode 12, titled "8:30 PM."
Before we can get into "8:30 PM," it's important to take a look at the crossover episode that precedes it: Season 2, Episode 20 of "Chicago Fire," titled "A Dark Day." As the first episode of the two-part crossover, "A Dark Day" establishes the primary threat that the heroes of both series must overcome. In this case, a car bomb detonates outside of Chicago Medical on the same day as a charity race. "A Dark Day" covers the Chicago Fire Department's first response and rescue efforts, including the diffusing of a second bomb set for 8:30 p.m.
Hopping back over to "Chicago P.D." for "8:30 PM," this episode deals with the police department's investigation into the car bombings. Jin (Archie Kao) and Voight (Jason Beghe) investigate separately, but their combined work leads them to a suspect named Ted Powell (Matt Schwader). They eventually discover that Powell organized for a third car bombing, and manage to catch him just before the bomb squad defuses the final explosive. Along the way, they survive an intense shootout that ends in Voight dispensing a little bit of personal justice before taking Powell into custody.
All in all, "8:30 PM" is a pretty fast-paced and intense episode. With the lives of civilians at stake and a bona fide threat on the loose, there simply wasn't much time for Trudy Platt to add some levity to the situation.