Moon Knight Cinematographer Explains Which Films Inspired The Look Of Episode 4 - Exclusive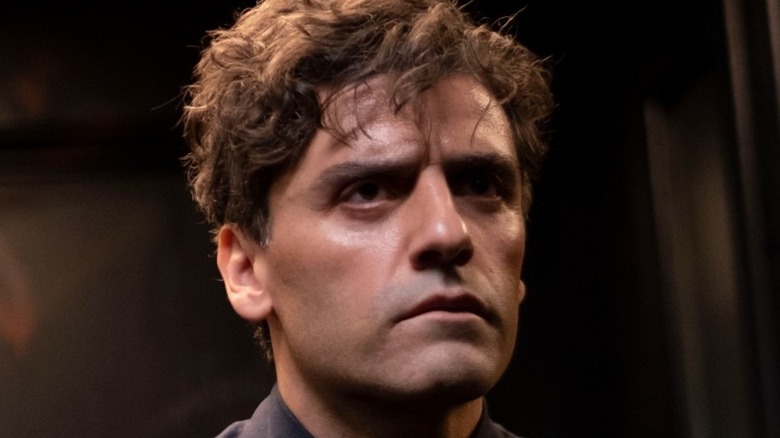 Marvel Studios/Disney+
This article contains spoilers for "Moon Knight" through Episode 4.
When filmmakers are shooting a superhero series like Marvel Studios' "Moon Knight," it's easy to presume that each episode will feature the title character at some point. However, directors Aaron Moorhead and Justin Benson's turn at the helm of Episode 4 with their cinematographer Andrew Droz Palermo took a detour when the ability of Marc Spector-slash-Steven Grant (Oscar Isaac) to summon Moon Knight's suit is taken away in Episode 3. As the avatar for Khonshu (voice of F. Murray Abraham) — the Egyptian god of the moon — Spector-Grant is no longer able to transform into Moon Knight and wield his superpowers because Khonshu defied his fellow gods and was locked away in an ushabti.
But not having Moon Knight in Episode 4 of the series — titled "The Tomb" — doesn't make the Disney+ streaming chapter any less interesting. Marc-Steven and Marc's estranged wife-slash-fellow adventurer, Layla El-Faouly (May Calamawy), venture into Ammit's tomb together and confront a whole new set of unforeseen dangers. Their goal is to acquire the trapped Ammit's ushabti from the body of Alexander the Great in his sarcophagus before it can be seized by Arthur Harrow (Ethan Hawke), since the wicked cult leader wants to resurrect Ammit and rid the world of anyone who might ever do evil.
While Moorhead, Benson, and Palermo were unable to summon Moon Knight himself in Episode 4, the cinematographer said that they took the opportunity to imbue the atmosphere with the feeling of a few cinematic adventure greats to give viewers another kind of ride in the superhero's absence.
They effectively summoned Indiana Jones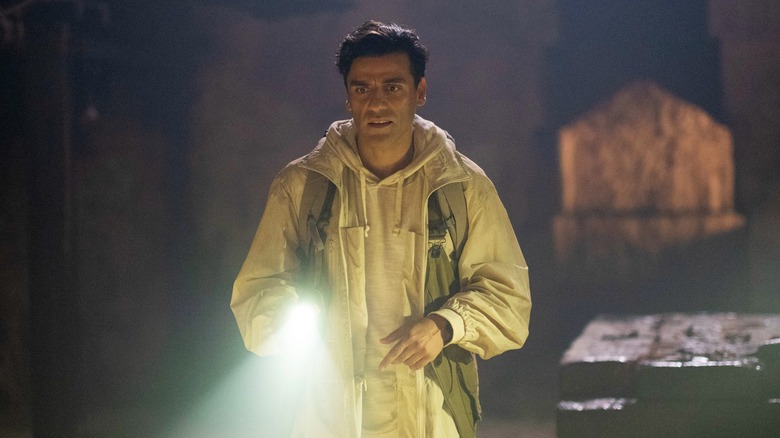 Marvel Studios/Disney+
In an exclusive interview with Looper, Andrew Droz Palermo said some very familiar films came to mind when it came to shooting the Ammit's tomb sequences, given the setting of the action.
"We looked at a lot of movies that take place in this exploratory archeology genre, like 'Indiana Jones' and 'The Mummy' series [from the late 1990s and early 2000s]. There's so many of them," Palermo recalled. "I looked at a lot of those for photographic inspiration and things that I wanted to do, or things that I maybe wanted to do differently. I drew a lot of inspiration because a lot of our scenes lean a little bit harder than some of those projects do."
Action and adventure weren't the only genres on Palermo's mind when filming the tomb scenes. He wanted to bring some chill to the atmosphere, too. "I really like this horror movie, 'The Descent,' and what lies in the shadows of 'The Descent' is the scary part," Palermo explained. "So I try to infuse a little bit of the show with something like that, but [tried] to keep it within the same world that we built without going too crazy down some alley where the genres shift so drastically [that] you can feel the shifts."
Apart from the tomb setting, the filmmakers were able to create an adventure scene from "Tomb Busters," a fictional, straight-to-VHS movie Marc is obsessed with while he's locked in an asylum in Episode 4. Palermo said it was fun going retro for a day to recreate the feel of the faux adventure film.
"That whole day we were shooting the "Tomb Busters" scene, I was laughing, having such a great time, letting loose, doing some lighting that I would think is distasteful now, but just had so much fun. And the performers were having so much fun," Palermo said. 
"Moon Knight" is streaming exclusively on Disney+, with the series finale set to premiere on Wednesday, May 4.