Rachel Zegler Tweets A Hilarious Tease For Shazam: Fury Of The Gods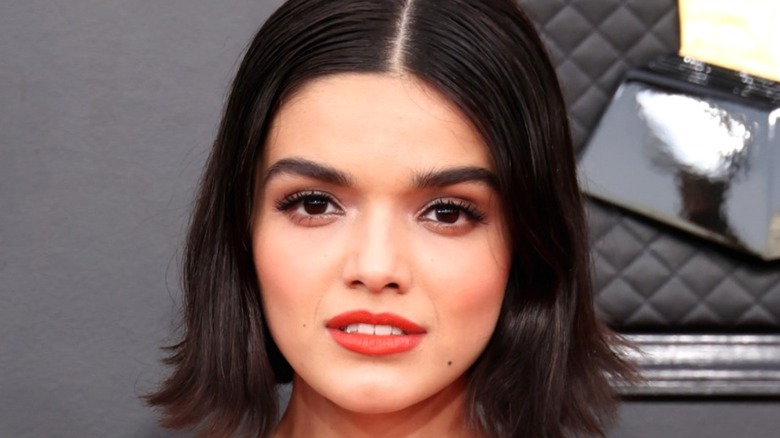 Amy Sussman/Getty
When "Shazam!" debuted back in 2019, expectations for the film were relatively tempered. That's largely because the super-powered Shazam (previously known as Captain Marvel, though he abandoned that name to avoid confusion with a certain other superhero from a rival publisher) has historically not been one of the more prominent headliners in the annals of DC Comics. It's safe to say that status changed once "Shazam!" hit theaters, with the Zachary Levi-fronted comic book flick proving to be a heartfelt, hilarious, and utterly thrilling addition to the cinematic superhero realm. It also proved a critical hit on Rotten Tomatoes, that more than held its own at the box office (via Box Office Mojo). 
With such an overwhelmingly positive response, greenlighting a "Shazam!" sequel was pretty much a no-brainer for Warner Bros. However, it's also no surprise that thanks to pandemic delays and ensuing release date shuffles, we're still waiting to see "Shazam! Fury of the Gods."
The film is finally set to hit theaters in December of this year. And according to Deadline, "Fury of the Gods" was one of the centerpieces of Warner Bros. Pictures' recent Cinemacon presentation as the studio debuted the first trailer for the sequel with stars Zachary Levi, Helen Mirren, Asher Angel, and Jack Dylan Grazer on hand. Though franchise newcomer Rachel Zegler (Maria in "West Side Story") was apparently not present for the presentation, she still did her part to boost interest in "Shazam! Fury of the Gods" by posting a funny tweet that promptly got the Twitter-verse buzzing.
Zegler's cheeky Tweet has fans eager to get a look at Shazam 2
It remains unclear exactly who Rachel Zegler portrays in "Shazam! Fury of the Gods," but per already released promotional materials, she appears to be a teenaged friend or classmate to Billy Batson (Angel) and his pal Freddy Freeman (Grazer). As for the tweet that put the internet in a tizzy, Zegler boldly claimed, "the thing about shazam 2 is that it's a cinematic masterpiece that will subvert expectations of superhero films and emphasize the importance of both blood AND chosen family and the way we view the world when we cultivate love in our hearts despite our circumstances."
The actor followed said tweet with another one, thanking the folks at Cinemacon before hilariously dropping, "i haven't seen shazam 2 i just work here." 
Needless to say, Twitter users promptly filled the comments section with praise and excitement about the "Shazam!" sequel, with @JessiV177 noting they may well lose sleep over Zegler's posts, "pls how am i supposed to go to sleep after reading this, im too excited now." And user @liveactionraya chimed in with excitement about the apparent emotional nature of the story, proclaiming, "so what you're saying is, it's going to wreck me emotionally."
There were naturally many posts begging Zegler to leak the film's trailer as well, with @jjameshowell posting, "triple dog dare you to drop the trailer to those who didn't go to cinemacon." Meanwhile, @star_child2002 is beyond excited to finally catch "Fury of the Gods" on the big screen, stating, "We love to hear it. i can't wait to see it in theatres!!" And @misskeyrole is already counting down the days until the film is released, noting, "233 days until the world sees it and i agree!" 
"Shazam! Fury of the Gods" is set to hit theaters on December 16, 2022.