Fans Will Lose It Over This First Look At Margot Robbie As Barbie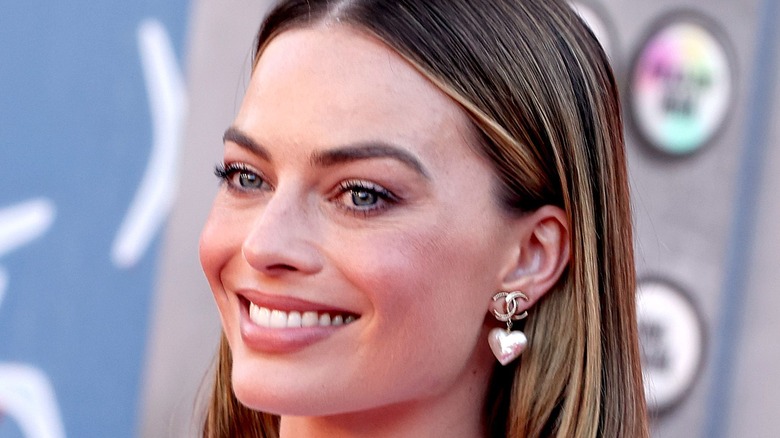 Kevin Winter/Getty Images
The live-action "Barbie" film is quickly shaping up to be one of the most fascinating movies of next year. The announcement that celebrated director Greta Gerwig had signed on to direct the project was shocking enough. Gerwig's previous solo directorial efforts have been quiet, intimate affairs focusing on nuanced portrayals of female interiority, and they've also been independent, so to see her taking the director's chair for a franchise film based on a Mattel toy raised a few eyebrows. What, exactly, will the director of "Lady Bird" do with a movie about a bottle-blond fashionista living out a glitzy upper-class lifestyle?
To make matters more interesting, Margot Robbie was cast as the titular Barbie and was named as a producer for the film. From there, the casting announcements only got more impressive. Heartthrob Ryan Gosling will feature as Barbie's boyfriend, Ken. Additionally, "SNL" alum Kate McKinnon, Marvel leading man Simu Liu, and comedy legend Will Ferrell round out the supporting cast in unannounced roles. It's a gangbusters lineup of talent that any movie would be lucky to have, and Gerwig has already proven with her Louisa May Alcott adaptation "Little Women" to be the kind of director who can eke surprising new performances out of even the most accomplished actors.
Now, thanks to a presentation at CinemaCon, we finally have our first look at Barbie and her Barbie world.
Margot Robbie drives a hot pink drop top in the first look at Barbie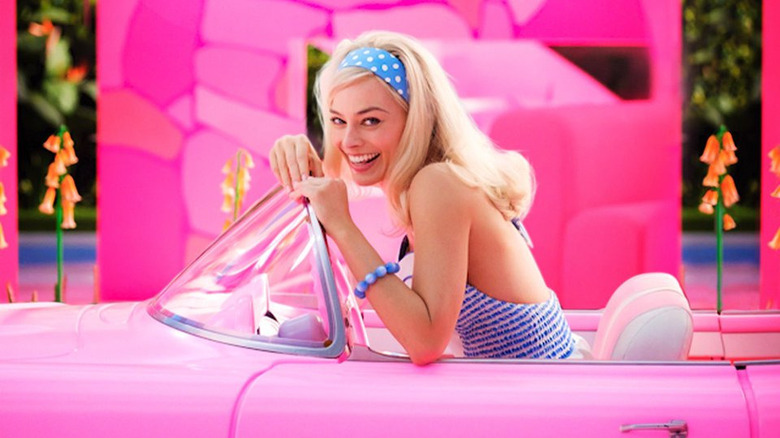 Warner Bros. Pictures/Twitter
At a CinemaCon presentation in Las Vegas, Warner Bros. finally unveiled a photographic first look at Margot Robbie in the titular role in Greta Gerwig's upcoming "Barbie" (via Warner Bros. Pictures on Twitter). In a picture dripping with delicious shades of pink, Robbie sits behind the wheel of a bubble gum-colored drop-top convertible, a pearly white grin on her face from ear to ear. She sports a blue-and-white halter top along with a chunky bracelet and headscarf that continue the motif.
The rich colors on display seem to signal that "Barbie" will lean into the playful elements of its source material rather than aiming for a more realistic tone. From the candy-coated tones of the wall behind her to the retro curves of her convertible, the entire shot feels reminiscent of Barbie playsets fans may remember from their own childhoods, and Robbie looks right at home in the middle of it all. Much like her portrayal of Harley Quinn in the DCEU, Barbie is a role Robbie seems born to play. It's hard to imagine another actor working today who so perfectly embodies the archetype of the character, and this first look at "Barbie" is proof.