Lightyear's Angus MacLane And Galyn Susman On LGBTQ Representation And Nostalgia - Exclusive Interview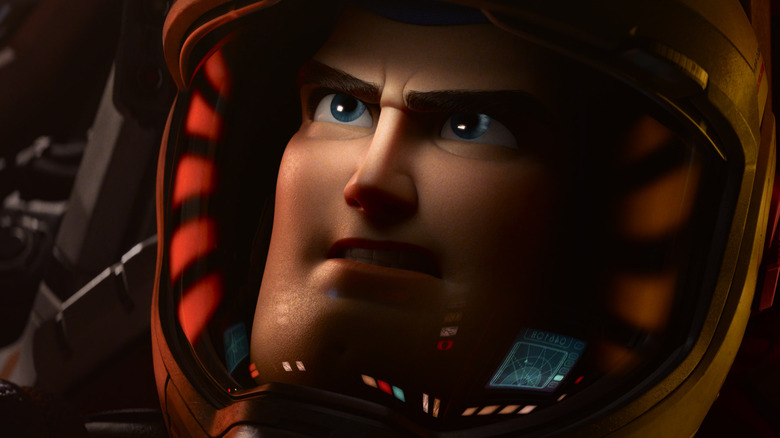 Disney/Pixar
Dial back to 1995. You've just met this animated kid Andy, and his toy named Buzz Lightyear. Over 20 years later, director and screenwriter Angus MacLane and producer Galyn Susman are bringing fans Andy's favorite film, "Lightyear." 
While Angus MacLane didn't direct the original "Toy Story" films, he helmed two of the franchise's short films, "Toy Story Toons: Small Fry" and "Toy Story of Terror," on top of co-directing "Finding Dory." However, the shorts weren't MacLane's first dalliance in the "Toy Story" universe. He also worked as an animator on the second and third installments of the "Toy Story" films — along with other projects like "A Bug's Life," " Finding Nemo," "The Incredibles," "Up," and "Monsters Inc." He was even the directing animator on "WALL-E." 
Like MacLane, producer Galyn Susman has had a heavy hand in the "Toy Story" universe from the very beginning. In addition to being a lighting supervisor on the OG film, Susman went on to become the supervising technical director on "Toy Story 2." She also produced both of MacLane's "Toy Story" shorts before going on to produce "Toy Story 4." Suffice to say, this duo has worked on a slew of projects together, "Toy Story" and otherwise, and they're bringing the magic back with "Lightyear." 
During an exclusive interview with Looper, Angus MacLane and Galyn Susman discussed the depth that Chris Evans brings to Buzz, how they went about casting the film's stars, and what went into the movie's lesbian representation. They also dove into the nostalgia of "Toy Story" and the movie's theme of time, along with some nods to the '80s and '90s.
Chris Evans' endless depth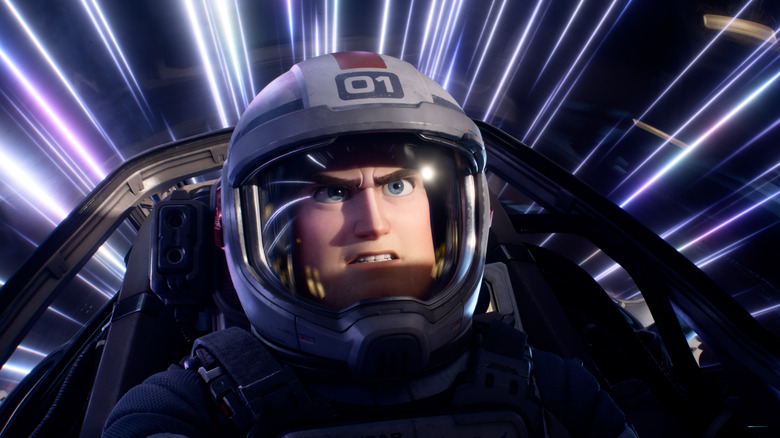 Disney/Pixar
What was it like developing this alternate version of Buzz with Chris Evans, and how do you think he made the character less two-dimensional than a toy?
Angus MacLane: We originally thought of Chris for the role because [we] wanted to change the character from a side character, a comic relief, to the protagonist. In doing so, we were going to have to expand and make the character a bit deeper, but we wanted to not lose the comedic roots.
[Chris'] performance style allows for a character that has a lot of depth to it and a lot of comedy while not undercutting the drama through the comedy. He has a way to be self-deprecating and very funny, as you saw, as Captain America and the other roles that he's done.
He influenced it in a lot of ways, and then we would try things out and see what worked best for his particular take on the character. A lot of it is expanding the character and capitalizing on his acting talents.
Pixar's first onscreen lesbian kiss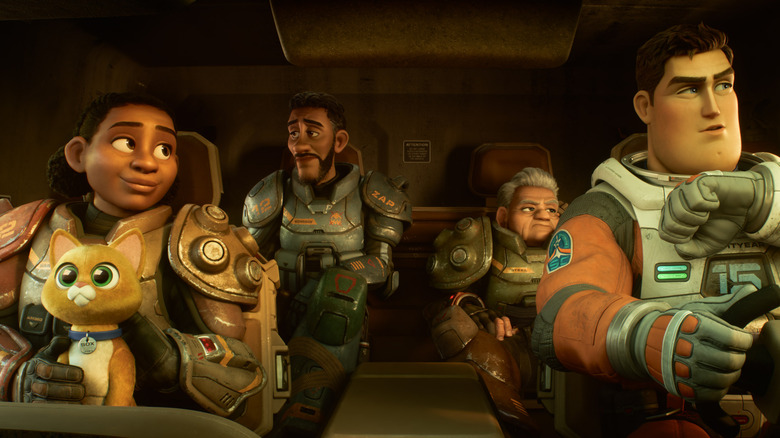 Disney/Pixar
Lightyear has some wonderful LGBTQ+ representation. What has it been like to put forth some of the first substantial lesbian representation in an animated film, and what did some of those early conversations look like when you were planning those details?
Galyn Susman: We pride ourselves [on] research, right? Go to NASA to get into the real nitty-gritty of what [that experience is like.] Same thing [here]. Meeting with a group of people within the LGBTQ community to have conversations [like] 'What should this character look like? What are the hallmarks of authentic representation? How do we do this in a way that feels like you can own this character like you are going to see yourself on screen?'
That was probably the most important aspect of this development of this character ... we make our films to be seen by everybody, but everybody wants to be seen in the film. You need to learn about people. It's mostly what it's about, talking to people and learning what makes them tick and trying to get that into the film as well.
MacLane: Also, we wanted the characters to be essential to the movie and not be a superfluous thing. If anything, baking that into the story was something that was necessary and also really functional for us. I wanted Buzz's relationship to not be [a] romantic relationship with Alisha and that's served double duty. It was also accurate representation ... it was not a question you were answering. They had a non-romantic relationship because Buzz is best when he is not entangled in romantic [relationships].
A star-studded cast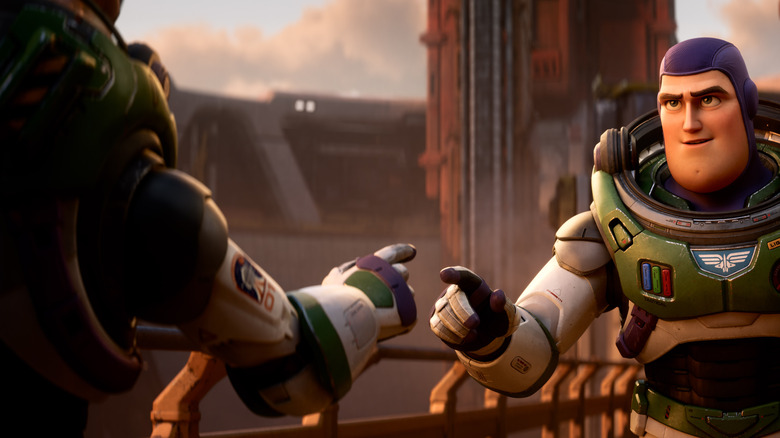 Disney/Pixar
The film has some big names like Taika Waititi, James Brolin, Uzo Aduba, and Chris Evans. Did you immediately have any of them in mind as their characters began taking shape, or did that casting unravel organically through auditions, or a mixture of both?
MacLane: We always wanted Chris. James Brolin, I always liked his performance, but his voice just fit. It had the gravitas for Zurg.
Susman: Then, we had to figure out what Buzz's arc was going to be before we could even begin to understand who we needed to cast. What was going to help Buzz grow over the course of the second act before we could really even talk about casting them? They all [came to us], pretty quickly, once we knew who those characters needed to be, the voices that we wanted to go in.
MacLane: I could talk for days about...
Susman: The cast...
MacLane: The cast is really great. One thing ... Keke Palmer was really useful as a foil for Buzz — her ability to be really charming and rapid-fire direct as she is. She's this force of nature, and it worked really well, rhythm-wise, with the character.
Uzo had to be a character that could be commanding and poke at Buzz without us being defensive about, "Oh, she's picking on Buzz." She had to have this warmth to her. It's a really tricky balance, and she had to have the gravitas of the commander. You'd be like, "Oh yeah, she's definitely..."
 Susman: She's in charge.
MacLane: She's better than Buzz, and you believe it. She could go toe to toe with Chris, and they work really well together. When you get to make these movies ... As such a big film fan, getting to work with each of these actors, who've done work that I adore and have such connection to from other properties, but to come together to work on this film was such a dream come true.
Production challenges, and a blast from the past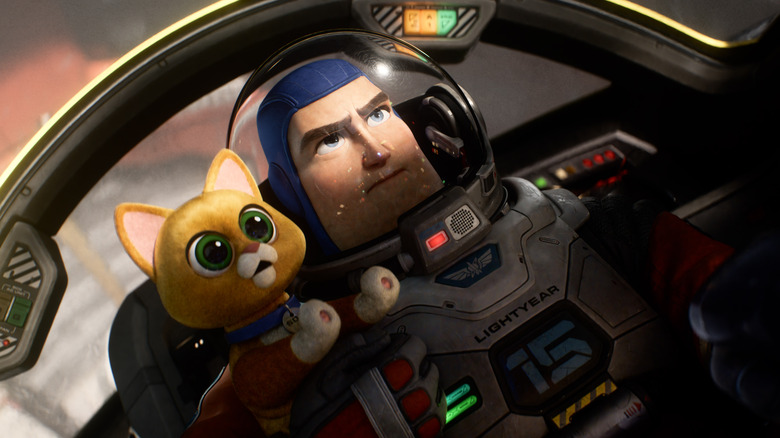 Disney/Pixar
The movie is visually stunning. In terms of the film's art, were there any visions that you had that you wanted to include that ended up not working out for any reason?
Susman: There were story elements we cut.
MacLane: We had to cut some stories. Visions? You have only a certain amount of run time and a certain modeling budget. Originally, you saw the planet, for other story reasons, get really more developed. We spent more time in those developed areas, but that became really cost-prohibitive. It's pretty much what we started...
Susman: We pretty much got everything that [we] wanted.
MacLane: It's true.
Susman: ... And then some.
MacLane: It's true. It looks amazing. Looks amazing.

It does. There are so many clear homages and subtle references to the '80s and '90s throughout the film. Were you inspired by any films or TV shows from this decade that helped inform the final product?
Angus MacLane: Structurally, it's not ... sci-fi, I always thought of it as a skin. It's a liberal helping of mayonnaise supplied over a story, which is weird because I don't like mayonnaise, and it's a little bad under lights. It's a bad metaphor, but the cheese, maybe? Anyway, I like cheese, and it's better under lights.
I wanted to look at thrillers and at action films to see how they worked. The structure of it is much more understanding and dissecting a thriller than it is like a sci-fi movie as a structure. Visually, there are some nods here and there to things, but nothing where ... [We] never want anything that you go, "Oh, that's this, or that's that." It should have a warmth to it. A familiar warmth is better than a recognizable reference. That's really where we try to be warm in that, through that chunk. We're influenced by everything we're always excited about, so it's a collection of all of these visual things that we like.
Capturing nostalgia and time for Toy Story fans
Disney/Pixar
Time is such a palpable character in the film. How do you think that the concept of time will impact the now adults who grew up with "Toy Story"? [How] do you think [that] growing up with ["Toy Story"] will excite old fans into watching this movie? And are those some of the reasons that you chose [time] as a central theme?
MacLane: I've never thought about that. That's fascinating. I was thinking about it earlier today, that I've been here for 25 years, but it really feels like it started yesterday. There's a thing about that, that when you're doing something you love, time can melt by.
I really feel like we're making the movie that we want to make, and that's the only way you can make a movie that's universal ... It's someone's vision, someone's nerding out about this so that you can enjoy it.
The idea of nostalgia, [and the] potential for it, only really came about when we started working with the voice casting, and when we were recording Uzo doing, "To infinity and beyond." It was a big deal for her on a fan level. I didn't quite understand it because we've never experienced really, the movie. I liked the first movie, [but] I was already in college by then. The stewardship we had over the property was really, "Can we make a great movie?" I'm glad I didn't think about it too much about the weight of responsibility on a nostalgia level because that would seem really daunting to me, and I'm glad to hear it went over well.
I could see it just as easily irritating so many people because you're giving a voice to something that everyone has a point of view. When we're making the movie, we're like, "It's not really the movie." People have an opinion about it. The only way we were going to solve that is by making something that's so exciting and awesome that ... while the details may not have been what you expect, at least [the] final product is something that's really exciting. You go, "Well, it's not what I thought it was going to be, but it's amazing." Everyone has a point of view about what that world is.
"Lightyear" premieres exclusively in theaters on June 17.