The Real Reason Netflix's The Ranch Was Canceled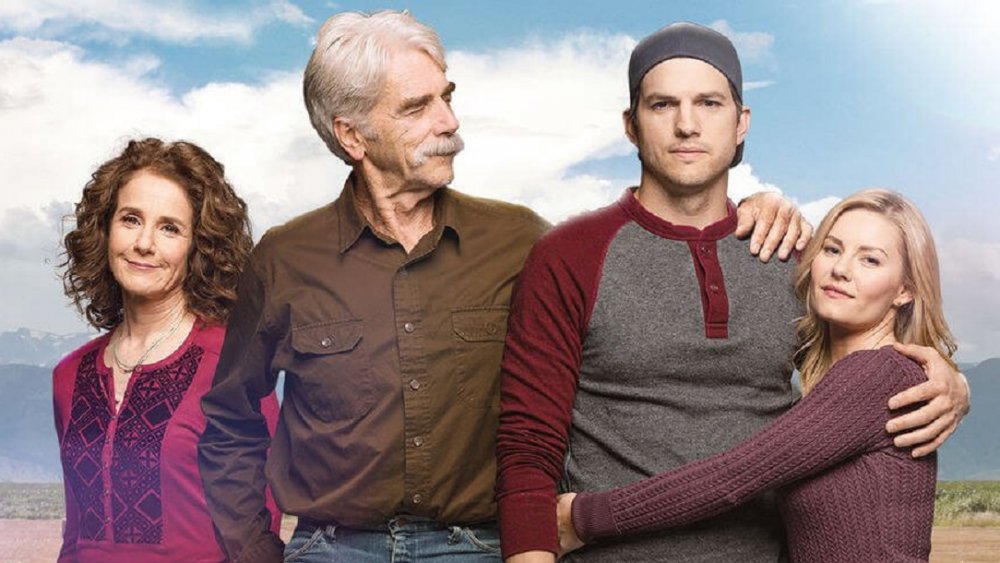 Netflix
Since 2016, the slightly dysfunctional family at the center of the Netflix original series The Ranch has taken us on a ride full of ups and downs, laughs and drama, bitter feuds and sweet moments. The series focuses on Colt Bennett (Ashton Kutcher), a marginally successful pro football player who returns to help his dad Beau (Sam Elliott) reverse the fortunes of their family cattle ranch in the fictional small town of Garrison, Colorado. While there, he attempts to rekindle a relationship with high-school flame Abby (Elisha Cuthbert) under the watchful eye of his mother Maggie (Debra Winger), who is separated from Beau.
Earlier seasons also starred Kutcher's fellow That '70s Show alum Danny Masterson as Colt's acerbic older brother Rooster; Masterson's well-publicized legal troubles precipitated his exit from the series during its third season, after which Rooster was written off. The Ranch barely skipped a beat in his absence, going strong for the remainder of that season and another before ending in 2020.
While The Ranch had endured some criticism for its predictable plotting, the strength of its performances elevated it above your average multi-camera sitcom. When its cancellation was announced in June 2019, its fans were none-too-thrilled with Netflix, which has earned a well-deserved reputation for axing its original series prematurely. Many even took to social media to threaten to cancel their subscriptions (via Popculture) — but if Kutcher is to be believed, their ire is misplaced. He has indicated that The Ranch wasn't a victim of Netflix's itchy trigger finger; the show's creative team had simply told the story they wanted to tell.
Ashton Kutcher says it was time for The Ranch to end
Netflix
Kutcher spoke about the end of The Ranch with Marc Maron on the latter's WTF podcast. He indicated that the show's cast and crew were given ample notification that the series was drawing to a close, which gave them time to prepare for the end of a gig that he says was well-loved by all involved. "The story was told," Kutcher said. "I love everything that we did. Everybody there was still highly in love with each other ... We got to the point where we were able to let everybody know this was the last season, and that we were going to wrap it up, so everybody had time to find their next gig" (via TV Insider).
Kutcher went on to explain that while network series are often incentivized to extend their natural shelf lives in order to hit the prescribed number of episodes for syndication, this isn't a consideration for streaming series. "Netflix owns the show, so it's not like there was this big syndication boon that's going to come if we shoot two more seasons," he said. "I've been on shows where you keep going, and you keep going, and then you've got a brother who's a gorilla."
Kutcher was obviously poking fun at his stint on the hit long-running CBS sitcom Two and a Half Men, but his point makes a great deal of sense, especially as it pertains to The Ranch. Each of its seasons were released in two ten-episode "parts," meaning that each season was comprised of 20 episodes, rather than the 10-13 episodes which are generally standard for streaming series. (According to The Hollywood Reporter, this model is helpful for locking in writers, crew, and supporting cast at a standard rate.) In its four seasons, The Ranch fielded a whopping 80 installments — more than most comparable series would have produced even with one or two additional seasons.
The stars of The Ranch will be back onscreen soon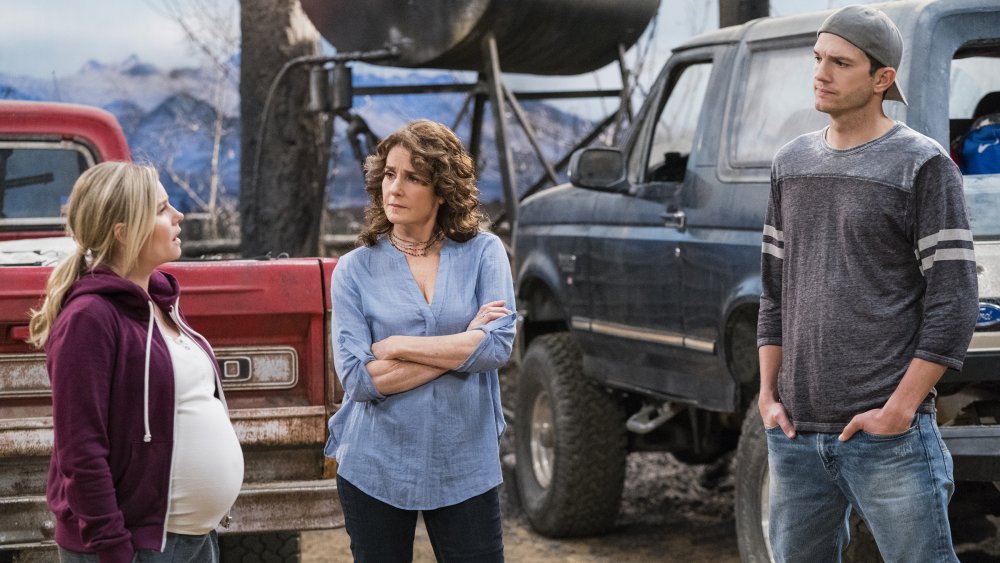 Netflix
Like Kutcher mentioned, the advance warning of The Ranch's impending curtain call allowed the main cast to scope out other gigs to jump into relatively seamlessly, meaning that we'll be seeing them all again fairly soon. Elliott, we'll be seeing in animated form: He's taking over for the late Adam West as the new mayor of Quahog on Family Guy, which we can all agree is a stroke of casting genius (via Entertainment Weekly).
Kutcher's next project, The Long Home, a dramatic feature based on the William Gay novel of the same name, is sporting an all-star cast. Along with Kutcher, the flick's players includes James Franco, Giancarlo Esposito, Josh Hartnett, Tim Blake Nelson, Courtney Love, Analeigh Tipton, Garret Dillahunt, and Timothy Hutton; that flick is currently in post-production. Gearing up to go before the cameras in Vengeance, which stars Kutcher as a radio show host whose girlfriend is murdered; that film also co-stars Tipton, along with Dove Cameron, Issa Rae, and B.J. Novak, who also writes and directs.
Cuthbert also has a feature film in the can, and another getting ready to shoot. Currently in post is Eat Wheaties!, a comedy from first-time feature writer-director Scott Abramovich; its cast also includes Tony Hale, Robbie Amell, Lamorne Morris, Alan Tudyk, and Sarah Chalke. Readying to enter production is Friday Afternoon in the Universe, a comedy featuring Cuthbert as an alcoholic playwright forced into an impromptu road trip; that film, from writer-director Scott Ballard, co-stars Bojana Novakovic and Jay Chandrasekhar. Finally, Winger has kept herself busy during this long year of quarantine with With/In, an anthology film focusing on an array of characters navigating the COVID-19 pandemic. She's joined by the likes of Adrianne Palicki, Julianne Moore, Gina Gershon, Chris Cooper, Sanaa Lathan, Don Cheadle, and Rosie Perez.
As tough as it was to say goodbye to The Ranch, it's nice to know that the series' familiar faces won't be strangers in the future.