Unbearable Weight's Director, Writer Recall Pedro Pascal's Mandalorian Moment During Filming - Exclusive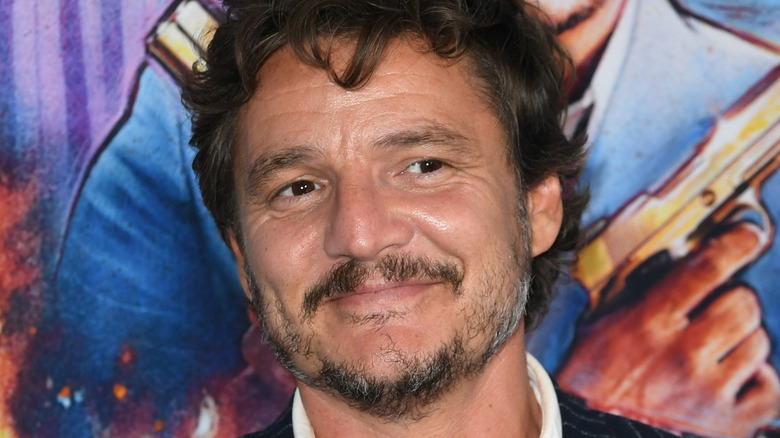 Jc Olivera/Getty Images
After starring in dramas like "Narcos," fantasy projects including "Game of Thrones," and science fiction with "The Mandalorian," the new film "The Unbearable Weight of Massive Talent" no doubt marks a major career departure for acclaimed actor Pedro Pascal. Not only is "The Unbearable Weight" an action comedy, it takes the meta movie concept to an entirely new space since it stars Oscar-winning actor Nicolas Cage playing a heightened version of himself.
In the film, Cage stars as Nick Cage, the famous movie actor whose career has hit a rough patch, so he takes up an offer to appear at a billionaire superfan's birthday party for a payout of $1 million. Unbeknownst to Nick, though, the superfan Javi (Pascal) also happens to be a crime lord wanted by the feds. Seizing a rare opportunity to get their man, a pair of CIA agents — Vivian and Martin (Tiffany Haddish and Ike Barinholtz), enlist Nick to spy on Javi, which creates a quandary since Nick and Javi form an unlikely bond. However, when Javi's crew kidnaps Nick's wife, Olivia (Sharon Horgan) and daughter, Addy (Lily Sheen), and bring them to Javi's estate, Nick has no choice but to channel the action heroes he's made iconic and spring into action, creating a meta movie-like scenario.
Unlike "The Mandalorian," Pascal didn't have hide his identity under a helmet at all during the filming of "The Unbearable Weight of Massive Talent," but that doesn't mean the actor's massively popular streaming series didn't come up during production.
Even the Mandalorian trips himself up from time to time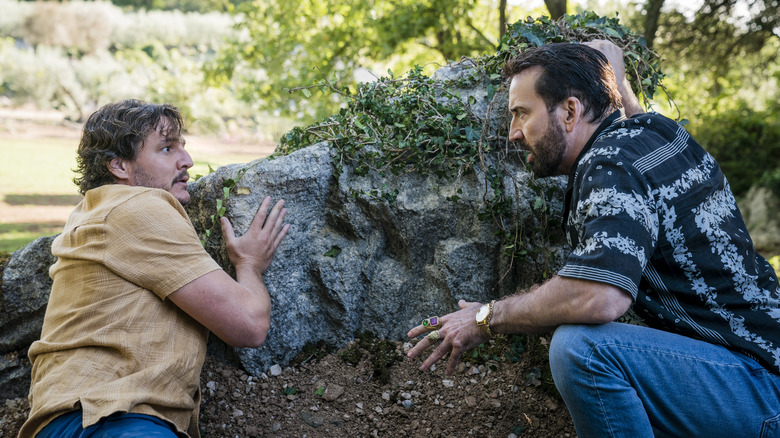 Lionsgate
For anybody who watched "The Mandalorian," they know Pedro Pascal has an incredible command of the screen in the titular role, as the sure handed "Star Wars" bounty hunter handles his adversaries with skilled accuracy. Pascal rarely stumbles, but that was not the case when he was filming "The Unbearable Weight," as director and co-writer Tom Gormican said, revealing "a funny 'Mandalorian' story" to Looper in an exclusive interview.
"Pedro was walking across the set, and there's a goofiness to him in real life. He ended up tripping over a C-stand [camera mount], and everybody was watching," Gormican recalled. "We were like, 'Oh no, is he okay?' He stands up. He's totally fine and our head of our makeup department, Bill Corso, who's very funny, he broke the ice and he said, 'Ladies and gentlemen, the Mandalorian!' as Pedro was standing up. It was a great moment of levity, [and] that's the closest we came to any insights on who the Mandalorian actually is," Gormican added with a laugh.
Sharing another Pascal story, co-screenwriter and executive producer Kevin Etten told Looper that "The Mandalorian" wasn't the only smash project starring the actor that came up during the production of "The Unbearable Weight."
"What was interesting is, where we were shooting in Dubrovnik in Croatia was maybe a half-mile from where Pedro had done his big death scene for 'Game of Thrones,' the viper scene," Etten remembered. "He was able to bring us back and go ... He was doing 'Game of Thrones' tours over there."
"The Unbearable Weight of Massive Talent" is now in theaters.