Pedro Pascal Owes More To Nicolas Cage Than We Ever Imagined
Dimitrios Kambouris/Getty Images
We're soon going to see what might be the most Nicolas Cage film that ever existed with the arrival of "The Unbearable Weight of Massive Talent." The king of kook and the greatest Superman we never saw is set to play himself in the film that sees Nicolas Cage struggling to make ends meet. Thankfully, a blessing comes in the form of an incredibly extravagant meet and greet with a crime lord who also happens to be his biggest fan. "Game of Thrones" star and the man behind "The Mandalorian" himself, Pedro Pascal, took on the role of the fan who becomes good pals with Cage.
Of course, any buddy movie, even one as wild as this, is dependent on chemistry, and by all accounts, Pascal has bucketloads of the stuff with Cage. As it turns out, though, conjuring this sort of perspective wasn't difficult for Pascal. Based on a recent interview with the actor, it seems that he's been a die-hard fan of Cage long before the movie came about. In fact, it sounds like Cage was somewhat of an inspiration for Pascal.
Pascal sees Nicolas Cage as a teacher with an incredible career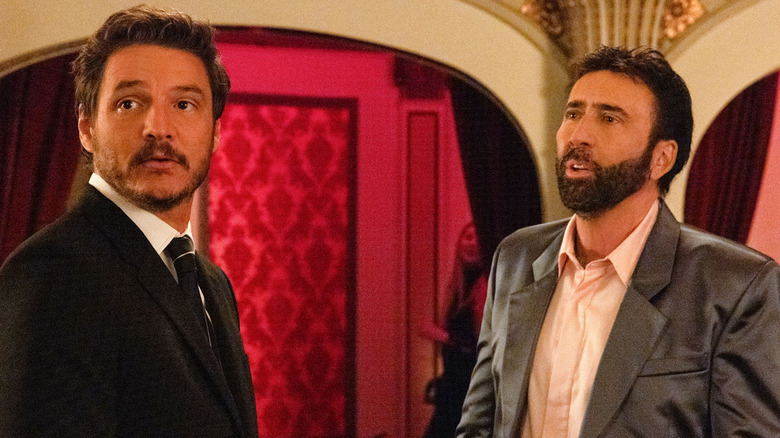 Lionsgate
Speaking to GQ, Pedro Pascal recalled first discovering and becoming inspired by the wild talent of Nicolas Cage at a young age. When asked what his favorite films were, one, in particular, got a lot of praise. "I remember going to the movies with my father and seeing 'Peggy Sue Got Married.' And he was doing something so interesting — he went from, y'know, this high school reunion to back in time, with these like teeth, and hair, and voice in a higher octave," Pascal explained, switching to full fan-mode for the Oscar-winning actor. "It was this really theatrical, risky performance that seemed to work perfectly."
From here, Pascal went on to list several Cage classics that display the actor's incredible range. Gems like "Raising Arizona," "Vampire's Kiss," "Moonstruck," and "Wild at Heart" all earned a mention from Pascal, who highlighted just what Cage is capable of. "In terms of wild, comedic, dramatic, frightening, spontaneous, interesting, original performances — in the medium of comedy, and the medium of independent cinema, and the medium of something commercial, romantic, art house. He kind of ran the whole gamut," Pascal said, highlighting just how much love he has for the actor, who is clearly happy to lock back on his career and laugh in his latest film. Of watching those Cage classics, Pascal said, "So it's just like, okay, all right, you are my teacher."
See how he handles the firsthand lesson when "The Unbearable Weight of Massive Talent" arrives in theaters on April 22.