Unbearable Weight's Lily Sheen On Playing Nicolas Cage's Daughter And Working With Pedro Pascal - Exclusive Interview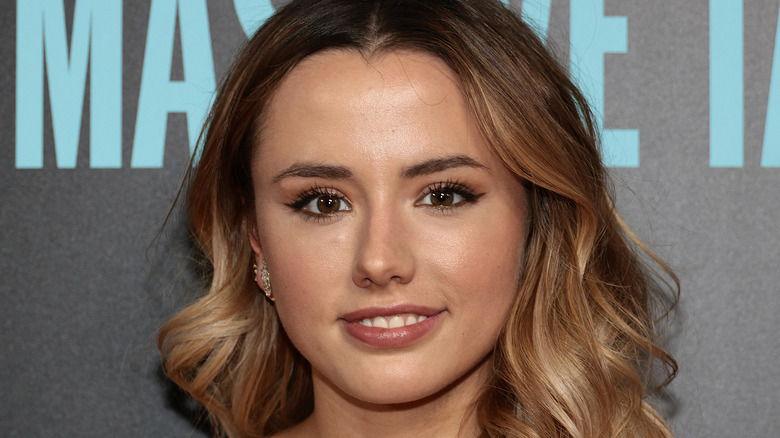 Dimitrios Kambouris/Getty Images
There's an unbearable weight of responsibility on the shoulders of any person starring in a multimillion-dollar film production, but as successful actors in Hollywood have discovered, that weight is even greater off screen. It's called the unbearable weight of being responsible for your own well-being, and even more importantly, for the people those stars are caring for — especially their children.
Fortunately for Lily Sheen, the daughter of acclaimed actors Kate Beckinsale and Michael Sheen, the pressures of her parents' respective careers never became as burdensome as the subject of the new action comedy "The Unbearable Weight of Massive Talent."
Now in theaters, the film stars Nicolas Cage as a heightened version of himself, a successful actor who has hit a rough patch in his career and is dealing with a strained relationship with his wife, Olivia (Sharon Horgan), and teen daughter, Addy (Sheen). Strapped for cash, Nick (a "k" was added Cage's "Nic" name for a layer of separation) accepts an offer of $1 million to attend the birthday party of billionaire superfan Javi Gutierrez (Pedro Pascal) on a remote island, unaware that the host is actually a notorious drug kingpin.
Once Nick is made aware of that deadly fact, he is recruited by a pair of CIA agents (Tiffany Haddish and Ike Barinholtz) to spy on Javi and his operation. Nick's stay intensifies when Olivia and Addy are kidnapped and brought to Javi's estate, and facing a cruel fate, the actor has no option but to channel the action heroes he's known for playing, thus creating a meta-action movie-like scenario with real life-or-death stakes.
In an exclusive interview with Looper, Sheen discusses the unique opportunity to play the daughter of a famous actor, her first real-life encounter with Cage, the bond she shared with her onscreen dad, and her work with "The Mandalorian" star Pascal.
The unexplainable excitement of a unique script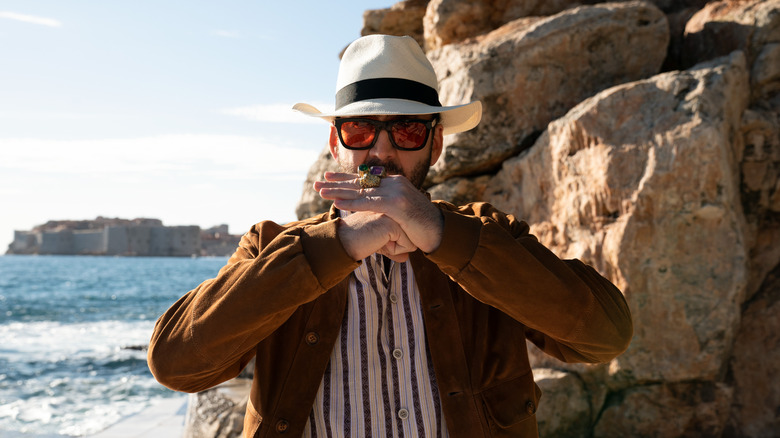 Lionsgate
As a viewer, it was really a thrill watching "The Unbearable Weight of Massive Talent" unfold because it's so strikingly original, and seeing how it only could work with Nicolas Cage's participation. What were your initial thoughts when you read the script?
It's like you say, this is one of the most original, funny, interesting scripts I've ever read in my life, and it was a movie that I would want to see as an audience member. I was really desperate to be a part of it and the rest of the cast can relate to that, too. Everyone who was in the movie really wanted to be there. That's what made it so special — everyone was really dedicated to keeping this moving and making this vision come to life.
I was so excited, and I felt really honored to be able to be taken seriously and get a chance to be in this movie, so every audition felt like the real thing. When I finally actually got it ... I was so excited, I'm still excited. I was a huge Nic Cage fan before and I'm a bigger one now, if that's possible.
Taking flight with the star of Con Air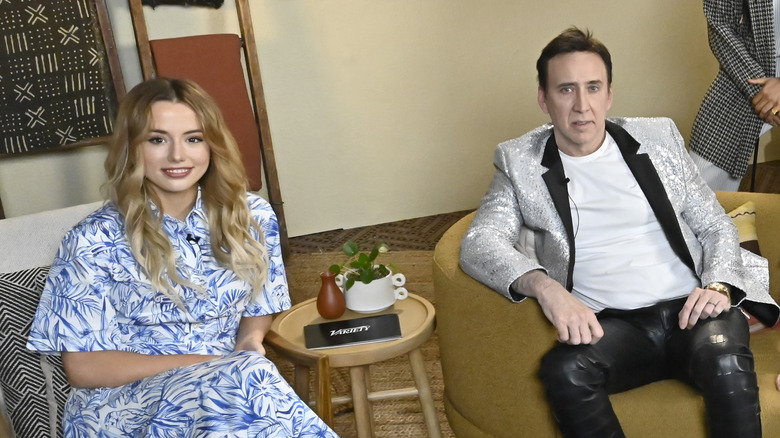 Astrid Stawiarz/Getty Images
Being raised in the showbiz family, you can't assume that everybody knows everybody, but did you ever meet Nic growing up? You might have had a better chance at access to Nic than anybody else.
Completely. I wish I could say that we've ever interacted before, but I did ... One time I saw him on a plane, actually. I had really bad plane anxiety as a kid, and my mom, one time we saw Nic on the plane and she went, "Don't worry, the plane is not going to go down because Nic Cage is on the plane." [Laughs] That was great, it really did soothe me. That was lovely, but no, I've never met him before. The first day when we met on set, he was already so paternal and welcoming. It felt like I'd already met him, but I wish.
Nic Cage on a plane, it's like "Con Air" — yes, you are completely safe!
All over again. I know! [Laughs]
Sheen feels lucky to have avoided her character's upbringing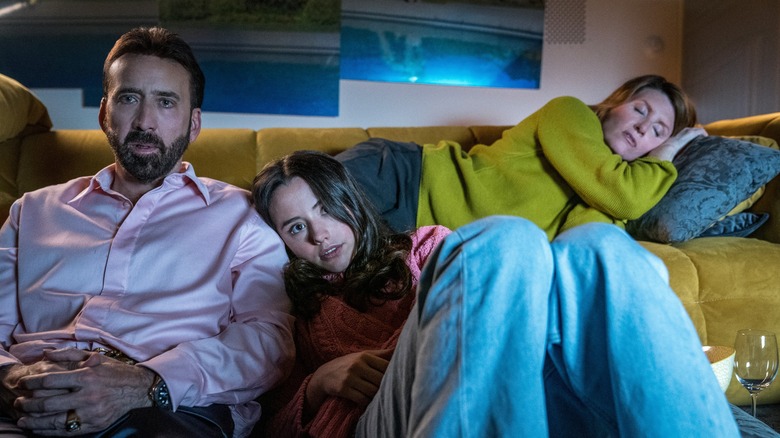 Lionsgate
Given your showbiz lineage, was it really surreal playing the daughter of a famous actor in this film?
Yeah, it was surreal and what was really fun for me was to be able to ... At first glance, you go, "Of course, this is exactly the same as me," but there are so many differences, and as an actor, the beauty of the character really started to solidify for me when I started drawing those comparisons and noting what I could relate to and what I couldn't. I'm very lucky to have not had this upbringing, but this is real, and the industry can really fray relationships, especially between kids and parents. It was something that I was really looking forward to being able to explore.
You also have a front row seat to odd situations, and hopefully, your parents have never encountered super fans like the one Pedro Pascal plays in this film. At the very least, have there been aspiring actors, writers, and directors coming up to them and saying, "Hey, could you take a look at my script here?"
I haven't had that at all. I'm probably one of the aspiring actors who is trying to force my script and everything onto other people! [Laughs] That's definitely something that I'm sure my parents are about to deal with. Nic has said something about this ... because he's so iconic and it's impossible not to find someone who has a connection to Nic Cage or one of his movies or something like that.
He's the actor of his generation, of my generation, and he said something lovely about appreciating the fans, and being happy that they love him and that they love the work. That's something that my parents definitely can relate to. You wouldn't be where you are without people supporting you, and everyone has started somewhere at some point, so it's only fair to really take everyone as seriously as you've been taken seriously.
The real Cage vs. the screen Cage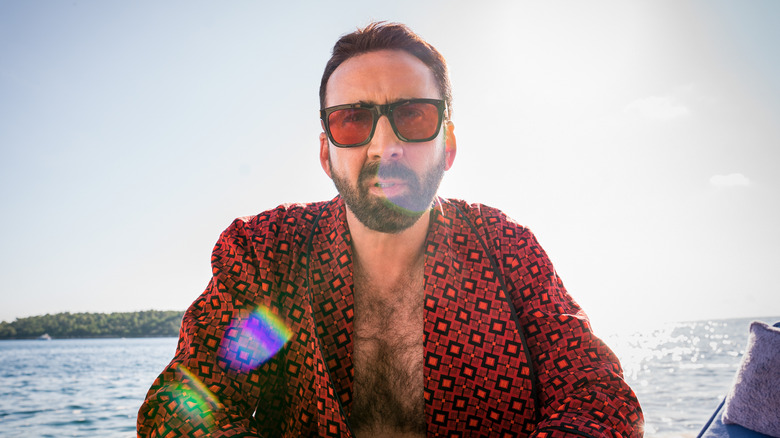 Lionsgate
I really can't imagine this film being centered around anybody but Nicolas Cage. Having watched this meta performance, I guess you could say, in person, how close was the off-camera Nic Cage that you got to know working on the film, as opposed to the off-camera Nic Cage in the film?
It was night and day, he's really amazing. What's so cool about him is he really does build characters. I'm sure it was incredibly vulnerable and very brave of him to actually explore this character, but it was difficult. I liked him so much as a person and actually ... I'm supposed to not like "[The Cabinet of Dr.] Caligari" and all those classic films. I actually really love them.
We were able to talk off camera and connect over movies and food or whatever. Really, I did feel a lot of connection to him that I had to tuck behind me and yell at him about how much he's disappointed me, which was very difficult, but it ended up being lovely. [Laughs]
Sheen has many Cage movie favorites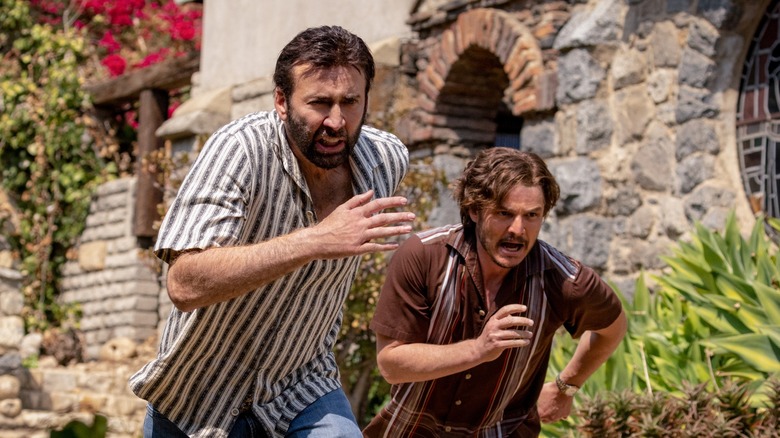 I have to give a big shout-out to director and writer Tom Gormican and writer Kevin Etten for coming up with this brilliant concept, and weaving in Nic's previous work into this film. Do you have a particular favorite of Nic's?
That really is a difficult choice ... "National Treasure" came out when I was a little kid, and I was able to grow up with him as this big-time action star. When I became a bit more cognizant of his actual talent and how amazingly huge his body of work is, I could get into it. One of the first movies that I saw when I started really appreciating him as an actor was "Leaving Las Vegas," which is such a master class. You really can't see another performance like that.
Then, there's [his acclaimed 2021 independent film] "Pig." I talk about it all the time, but this movie, it blew my mind. It's such an achievement and he's phenomenal. It's a testament to how much duality there is in his performances and in his creativity to be able to have these performances that in "Leaving Las Vegas," and in "Raising Arizona," there's so much absurdity and heightened reality and over-the-top chaos, and then he really pulls it back in "Pig" — and does this really grounded, sensitive, emotional performance. It's incredible; you can't believe that he's the same person in all of his movies. He's really fantastic. I'm so happy that this movie celebrates his body of work, it's incredible.
Sheen recalls meeting Pascal and reveals her Star Wars aspirations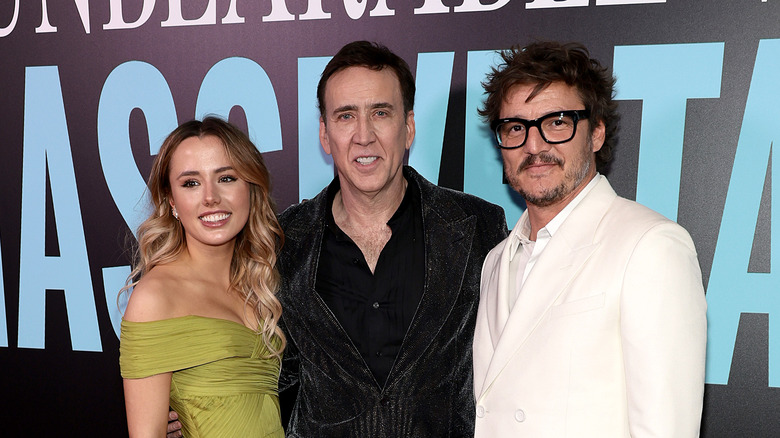 Dimitrios Kambouris/Getty Images
We have to mention Pedro Pascal. I mentioned him before being the person that invites Nic into this crazy world of his, but he really gives a hilarious performance in this film. For you, it had to have been cool, being in the film with the Mandalorian, so I'm wondering if you had a chance to pull him aside and say, "Hey, look, Pedro, if you need an alien in Season 3, give me a call." Did you talk about—
[Laughs] No. He's so humble, that's the thing. He's this amazing actor, he's the most wanted person in the world and he's so humble, he doesn't carry himself as if he is "The Mandalorian." He's so amazing, he was so loving and really wanting to make sure everyone on set was having a good time. The connection that [he] and Nic have in the movie, it's really special. It's a celebration of male friendship and how important male friendship and creativity can be in general, in the world, and how much of a force that can be for good. 
[He] and Nic were the perfect people to carry that vision out because they're both really genuinely good people, and I can see them in some universe actually sitting down and dropping acid and writing a script together, I can really see it. [Laughs]
In all seriousness, given the opportunity to be in a "Star Wars" project or maybe a DC or Marvel project, would you be open to something like that?
Of course! I'd be silly not to. I love those projects, they're amazing. I love fantasy and that's such a huge element in those movies. I could probably do a very good Jar Jar Binks if they were interested in doing a character profile, so, keep me in mind!
A return to Underworld?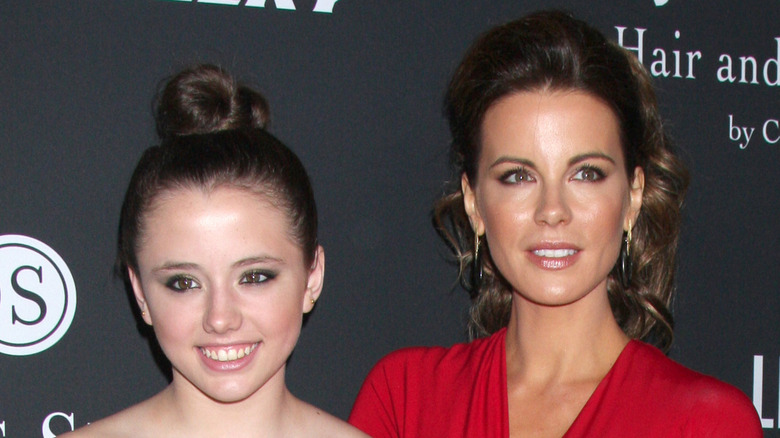 Kathy Hutchins/Shutterstock
Your mom was terrific as Selene in the "Underworld" movies, and one of your onscreen credits is the Young Selene in "Underworld: Evolution" in 2006. Would you say yes to bringing back the franchise with you in the Selene role? Mom can come along too — we're not going to push her off to the side!
Look, I don't know if anyone ... it's similar to this movie. No one could play Nick Cage except Nic Cage, [and] I don't know if anyone could play Selene except my mom. I think I wouldn't do it justice, but I would be thrilled to see her do it again for sure. We can get the lycra suit back out!
Also starring Neil Patrick Harris, Jacob Scipia, and Alessandra Mastronardi, "The Unbearable Weight of Massive Talent" is now playing in theaters nationwide.
This interview has been edited for clarity.