The Role You Likely Forgot Freddie Prinze Jr. Played On Bones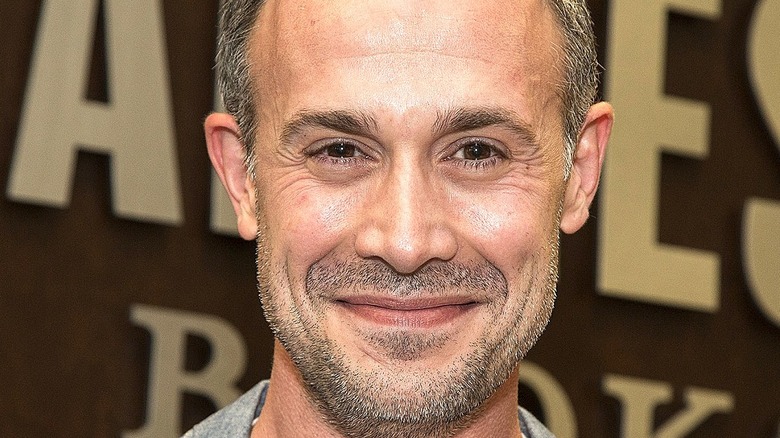 Vincent Sandoval/Getty
If you were born in the '80s (or perhaps even the very early '90s), then you probably don't even really need an introduction to Freddie Prinze Jr. The son of the late comedian and actor Freddie Prinze, this star blew up the '90s as a teen heartthrob in movies like 1997's "I Know What You Did Last Summer" and 1999's "She's All That." Although the actor's big-screen roles began to slow down after a turn in 2002's live-action "Scooby-Doo," he's kept active with a steady stream of television appearances.
Over the years, Prinze Jr. has played a number of memorable recurring roles including Denny Crane Jr., the illegitimate son of Denny Crane (William Shatner), in "Boston Legal" and The Male Nanny in "Friends." Of course, the actor is probably even better known for his more substantial television roles. Prinze Jr. played a series-regular character alongside Kiefer Sutherland in the final season of Fox's "24" and also portrayed Jedi Master Kanan Jarrus in the Disney Channel animated series "Star Wars Rebels."
Long before those roles, however, Prinze Jr. starred in his own short-lived series, a sitcom that began airing around the same time another notable show in his filmography premiered. 2005 ultimately served as the debut year for both ABC's "Freddie" and Fox's "Bones." While you might not remember the one season of the former, the latter series is surely more memorable as one of Fox's longest-running dramas (via USA Today).
Indeed, "Bones" had several big-name guest stars throughout its years on the air, including Billy Gibbons of ZZ Top. However, you may have forgotten that Prinze Jr. also popped into two episodes of the popular police procedural.
Freddie Prinze Jr. played CIA Agent Danny Beck
Long before picking up a badge at the FBI, Special Agent Seeley Booth (David Boreanaz) served his country as a soldier in the United States Army. In fact, Booth's military history, his inherent patriotism, and his combat readiness are recurring themes throughout the 12-season long run of "Bones." On more than one occasion, Booth discovers one of his old military buddies at the center of an investigation. Interestingly, this is where the series introduces a character played by Freddie Prinze Jr.
In "Bones" Season 9, Episode 1 ("The Secrets in the Proposal"), remains are discovered in an air-conditioning unit located inside a hotel. Once the victim is identified, the team goes to his condo to search for more clues about his untimely demise. Here, the team discovers Danny Beck (Prinze Jr.) cleaning up evidence. While such actions would normally lead to a fairly swift arrest, Beck is ultimately given a pass because he opts to help the team. In the course of the investigation, Booth discovers that Beck is working for another intelligence agency. Whereas Booth opted to join the FBI after his deployment, Beck chose the CIA.
Beck appears again in Season 9, Episode 16 ("The Source in the Sludge") as the team chases after a terrorist originally thought to have been killed in a bomb blast. Although Booth struggles to work with Beck on the case as a result of the latter's continuous evasiveness, the team eventually solves the case, and the two former Army buddies are able to reconcile their friendship.
Although it was only a small part, seeing Boreanaz team up with the real-life husband of Sarah Michelle Gellar (Boreanaz's former co-star on "Buffy the Vampire Slayer") was surely a great throwback for '90s kids everywhere.