Kareem Abdul-Jabbar Has Some Scathing Words For HBO's Lakers Drama Winning Time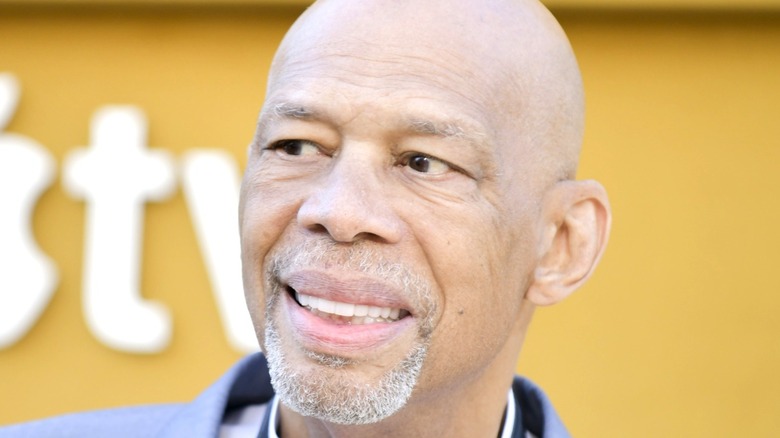 Rodin Eckenroth/Getty
The recent HBO series "Winning Time: The Rise of the Lakers Dynasty" puts the spotlight on the popular LA-based basketball team. Based on the book "Showtime: Magic, Kareem, Riley, and the Los Angeles Lakers Dynasty of the 1980s" by Jeff Pearlman, the series focuses on the "Showtime" era of the Lakers, which began in 1979 and ran through 1991. The show's characters are made up of a slew of notable figures such as players Magic Johnson (Quincy Isaiah) and Kareem Abdul-Jabbar (Solomon Hughes), as well as Lakers majority owner Jerry Buss (John C. Reilly) and basketball executive Pat Riley (Adrien Brody), amongst many others.
The series, which was created by Max Borenstein and Jim Hecht, also features some major names behind the camera (via IMDb). "Don't Look Up" director Adam McKay helms the pilot episode, while Jonah Hill takes on the director role for the following episode. Other directors include Damian Marcano ("Snowfall"), Tanya Hamilton ("The Deuce") and Payman Benz ("Brooklyn Nine-Nine").
All in all, there are a lot of creatives behind the scenes putting in the work to showcase the true story of the rise of the Lakers. This includes portraying the lives of quite a few real life figures who are still alive, all of whom are bound to have opinions about how their story is presented.
One of those individuals is Kareem Abdul-Jabbar, who played for the Lakers from 1975 to 1989 — and he was not impressed. In fact, Abdul-Jabbar has some scathing criticism for the HBO series.
Abdul-Jabbar says Winning Time is boring and humorless
Kareem Abdul-Jabbar took to his Substack to write out his feelings about HBO's "Winning Time." He began by clarifying that his post is not a response to the way he is portrayed on screen, nor is it because he thinks all adaptations of real events should be entirely factual.
Rather, he took issue with the quality of writing on "Winning Time," beginning with the fact that he found the show boring. He expressed his surprise over this fact because he is a fan of Adam McKay (who, along with directing the pilot, produced the series), apart from "Don't Look Up." Abdul-Jabbar continued, "I thought the poor quality of 'Don't Look Up' was an anomaly. I hoped that perhaps because he was overwhelmed by his passion about global warming, he let his commitment overshadow his critical eye. But now that 'Winning Time' suffers from some of the same shallowness and lazy writing, I'm not so sure." He also specified that, despite McKay being deft with humor in some of his other films, "Winning Time" is humorless.
He went on to note that it's boring because it lacks characterization. He wrote, "The characters are crude stick-figure representations that resemble real people the way Lego Hans Solo resembles Harrison Ford. Each character is reduced to a single bold trait as if the writers were afraid anything more complex would tax the viewers' comprehension." He then argued that because the characters lack depth, the plot becomes drama for drama's sake, and there are no stakes for the audience to care about.
Abdul-Jabbar says the fictionalization minimizes the real people involved
Kareem Abdul-Jabbar reiterated that he understands the need to take liberties with real-life events in order to form a compelling plot. However, with "Winning Time," he argued, there wasn't enough care taken to preserve the legacies of those depicted — many of whom are still alive.
He used the example of Jeanie Buss, the daughter of Lakers owner Jerry Buss, who is portrayed by Hadley Robinson in the series. Abdul-Jabbar wrote, "Jeanie Buss was 17 when her father bought the Lakers, but she didn't come to work for them until after she'd earned her business management degree from the University of Southern California and been general manager of the Los Angeles Strings, a World Team Tennis franchise. She wasn't the naive daddy's girl portrayed in the first few episodes. Making her a girl-child belittles her early achievements on her own." He expressed similar disapproval for the portrayals of Claire Rothman (Gaby Hoffmann) and Jerry West (Jason Clarke).
Abdul-Jabbar also specified that the scene in which Norm Nixon (DeVaughn Nixon) beats Magic Johnson in a one-on-one game, humiliating Johnson, never happened — he speculated that the writers were too focused on making sure to throw in a melodramatic moment.
All in all, Abdul-Jabbar was, unfortunately, not impressed with the way that "Winning Time" turned out. The former Laker concluded his post: "Yeah, there's an amazing, compelling, culturally insightful story in there. 'Winning Time' just ain't that story."