The Bones Episode You Likely Forgot Featured Zooey Deschanel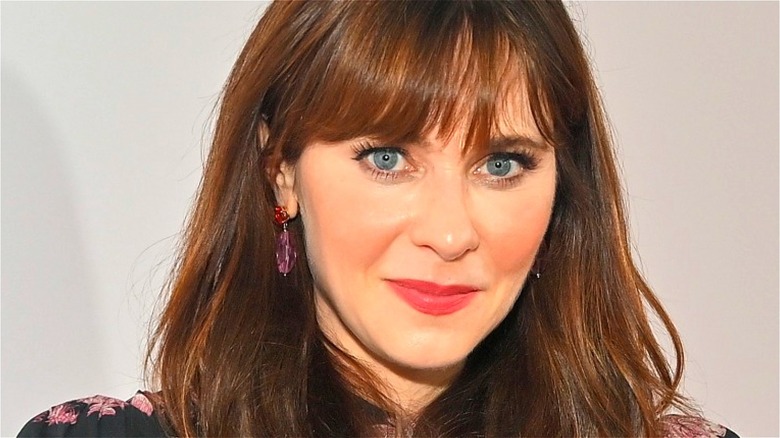 Stefanie Keenan/Getty
Of all the primetime series that enjoyed lengthy small-screen runs, Fox's goofy, gory, and frequently thrilling procedural drama "Bones" was one of network television's bigger success stories. The series aired a whopping 246 episodes over the course of a 12-season run on the network, with stars David Boreanaz and Emily Deschanel appearing in every single episode.
That duo naturally shared the screen with a regular cast of supporting players during the series' primetime tenure. But with its "murder of the week" format, and the revolving door of so-called "squinterns" who helped the Jeffersonian gang crack each case, "Bones" was better suited than most shows to shuffle new faces in and out of its cast, and series creatives made the most of that setup. Notably, they even occasionally landed big-name stars like Giancarlo Esposito, Danny Trejo, Michael B. Jordan, and Betty White for one-off roles on the show.
You may not remember it, but "New Girl" star Zooey Deschanel even turned up on "Bones" during the show's fifth season.
Zooey Deschanel appeared in a holiday episode of Bones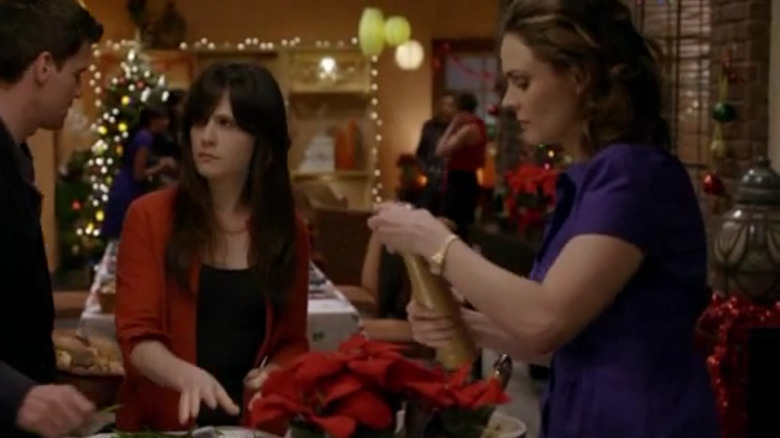 Fox
Zooey Deschanel is, as you likely know, the younger sister of "Bones" headliner Emily Deschanel. She's also arguably the bigger star in the Deschanel family. As such, it was a pretty big deal when Zooey joined her big sis for a kooky episode of "Bones" that features a bit of murder, mayhem, and holiday cheer.
A couple of years before the younger Deschanel took on a Fox series of her own, she joined the cast of "Bones" for a special holiday episode. Season 5, Episode 10 ("The Goop on the Girl") finds Booth and Brennan working a case involving a Santa Claus-clad criminal who blows himself up while robbing a bank. It also finds Emily Deschanel's Brennan opting out of a trip to El Salvador to spend the holidays with her Jeffersonian family, her father (Ryan O'Neal), and her distant cousin, Margaret Whitesell (via IMDb). 
Of course, there's a pretty good reason the resemblance between these two cousins seems uncanny. The actress playing the role of the socially-awkward Margaret is Zooey Deschanel. Outside of a slightly cringe-worthy recurring joke about how she and Emily look like sisters, Zooey's one-off appearance quickly makes her one of the series' most memorable guests. Of course, this is in no small part due to the delightful chemistry the Deschanel sisters share in their scenes together. 
This episode also marks the only hour of scripted television the two have ever shared on the small screen. Notably, Emily Deschanel never made an appearance in her sister's best-known series, but her husband, "Mythic Quest" star David Hornsby, guest-starred in "New Girl" Season 6, Episode 8 ("James Wonder") (via IMDb).