The Bones Character Everyone Forgets Betty White Played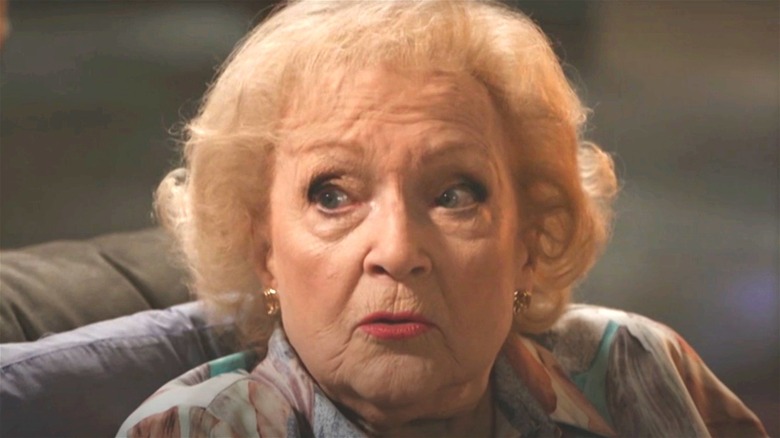 FOX/Hulu
Betty White is one of the most iconic actors in Hollywood. She's been around since the mid-1940s, cementing herself in the hearts and minds of her fans as Rose from "The Golden Girls." But even after NBC's most successful comedy sitcom wrapped production in 1992, that was far from the end of White's career.
Since then, she has graced dozens of movies and TV shows with her talented presence. One of her best and most entertaining shticks is turning the trope of the sweet old lady on its head for maximum comedic effect, like in this behind-the-scenes parody she filmed with costars Ryan Reynolds and Sandra Bullock on the set of "The Proposal." But that was far from the only time she played a little old lady who practically gets away with murder based on her seemingly innocent appearance. 
Although the character she plays on the FOX crime drama "Bones" isn't exactly on the business end of a crime investigation from the team, she does play an important role helping the main characters bust the bad guys nonetheless.
White played Dr. Beth Mayer during the final seasons of Bones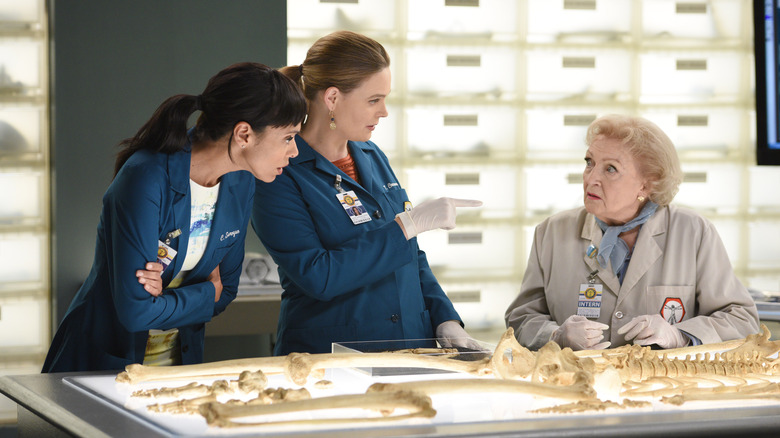 FOX
Betty White only appears in two episodes of "Bones," so it's understandable that her cameo may have flown under the radar — despite how much of a memorable actress she is. Her first appearance as a forensic anthropologist named Dr. Beth Mayer is in Season 11, Episode 4, "The Carpals in the Coy-Wolves." Her second (and last) appearance is near the end of the 12th and final season in Episode 10, "The Radioactive Panthers in the Party." In the role, White gets to sprinkle in lascivious erectile dysfunction jokes and giggle unsettlingly over the depressing sex life of prairie dogs while helping Dr. Brennan (Emily Deschanel) and her team. 
In the first episode, Mayer's pioneering research helps the team solve the murder of a real estate agent, and Brennan has to deal with the simultaneous jealousy and admiration she has for her wizened senior anthropologist. In White's second and last appearance on the show, Brennan learns that Meyer has retired after realizing that her passion for anthropology has fizzled out. But the advice Mayer gives Brennan about passion for her work leads Brennan to recommend that a beloved colleague of hers, Wendell Bray (Michael Grant Terry), pursue a career in a different field.