The Interstellar Character You Likely Forgot Timothee Chalamet Played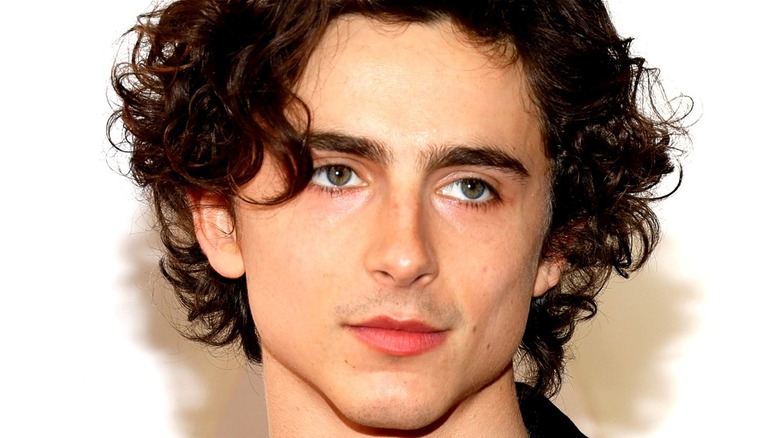 Mike Coppola/Getty
After wrapping up the "Dark Knight" trilogy, director Christopher Nolan took to the stars with "Interstellar" in 2014. The sci-fi film grossed over $675 million (via Box Office Mojo) and was praised for its extensive special effects, performances, and visual language (via Rotten Tomatoes), making it one of Nolan's most popular films.
The film, co-written by Nolan and his brother, Jonathan, focuses on a future Earth that is light on resources. In a bid to survive and continue the human race, NASA taps various scientists and astronauts including Joseph Cooper (Matthew McConaughey) to find potential planets to house humanity. Things naturally don't go as planned, forcing Cooper's children to be without him longer than he expected. The rest of the film focuses on the astronaut trying to return to Earth.
"Interstellar" features a cast full of Hollywood A-list stars, including Anne Hathaway (who previously teamed up with Nolan for "The Dark Knight Rises"), Jessica Chastain, Casey Affleck, and Michael Caine, a frequent collaborator of Nolan's. Among all the superstars, audiences might have forgotten that "Interstellar" served as one of Timothée Chalamet's earliest roles.
Timothée Chalamet played Cooper's teenage son
Before he rose to prominence for his roles in "Lady Bird," "Little Women," and "Dune: Part One," Timothée Chalamet appeared briefly in "Interstellar." Despite Cooper's focus being on his daughter, Murph (Mackenzie Foy), he also has a son, Tom.
Chalamet plays a teenage Tom, who doesn't particularly get much screen time compared to his sister. In fact, Cooper never really seems to care about his son, a plot point that fans of "Interstellar" have frequently lambasted online (via Reddit). Casey Affleck plays the older Tom, who grows up to become a farmer like her father.
"Interstellar" served as one of Chalamet's earliest roles before he received his first Oscar nomination — for "Call Me By Your Name," which served as his breakthrough role (via IMDb). The young actor is now on track to appear as the chocolate proprietor Willy Wonka in a prequel film and will return for the upcoming "Dune" sequel.