New Mother! Poster Will Have You Seeing Double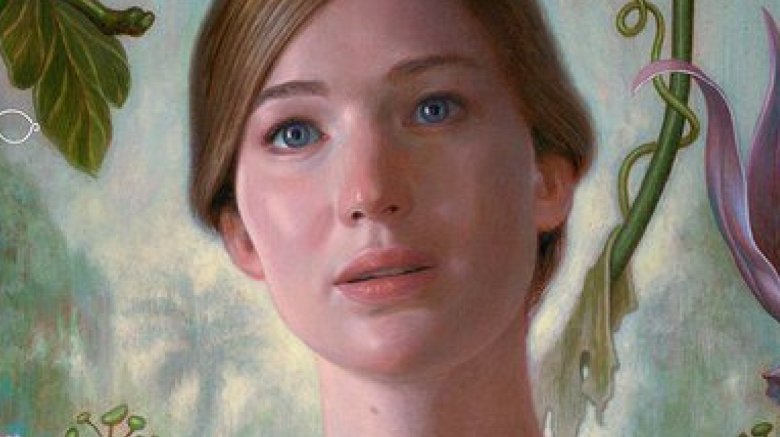 Jennifer Lawrence already tore her own heart out in her mother! solo poster, and co-star Javier Bardem was set ablaze in his, but this new poster is something entirely different.
Featuring mirrored images of Lawrence and Bardem, as well as doubled-up snaps of a spiral staircase and a stack of books near a few candles, the latest poster advertising the Darren Aronofsky-helmed thriller seems to provide more clues as to what the movie is actually about than previous ones did. 
Both Lawrence and Bardem's characters look dismayed, and with typical trappings of a family home appearing between them, it could indicate that the film will focus on tensions within a single household. It would make sense given the movie's title. However, certain elements could point in a completely different direction. The staircase may hint that some creepy, clandestine activity is going on in the home's basement, and the candles on the table could be part of a shrine, indicating cult behaviors occurring at some point. 
More than all of that, if you look extremely carefully at the image, you'll see the mirror image of a baby, held up by a bunch of hands, directly in the center. This is perhaps the biggest hint we've gotten so far in regards to the film's actual plot, as marketing for mother! has been purposefully vague and mysterious. All we know for sure is that Lawrence and Bardem play a couple whose relationship is tested after uninvited guests show up in their home and disturb their otherwise peaceful existence. 
Director Aronofsky recently said of the film: "It has home-invasion elements and is definitely a thriller. You can see the tension in their relationship as it's pulled by all these forces... We'll see what the results are. It's been an interesting way to approach it—trying to capture a single emotion and trying to tell that two-hour story out of that emotion." 
The filmmaker, who directed 2010's Black Swan, also stated that mother! is closer to that film in spirit than anything he's done in a while. Beyond those remarks, specifics about the psychological thriller pic haven't been revealed.  
Ed Harris, Michelle Pfeiffer, Domnhall Gleeson, and Kristen Wiig join Lawrence and Bardem in mother!, which was recently pushed up from its original October release date and allotted a September 15 debut.