Darren Aronofsky Teases Plot Details Of Mother!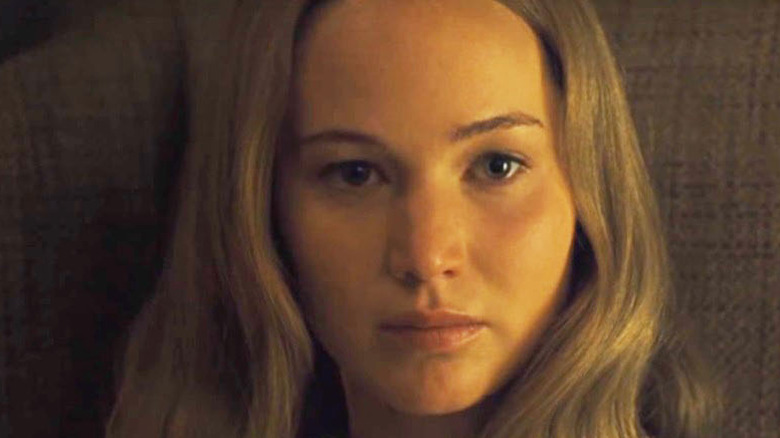 With a month to go until release, the story of Darren Aronofky's Jennifer Lawrence-starring seventh movie mother! is finally beginning to come into focus. 
Speaking to Entertainment Weekly, the writer-director unspooled some loose details about the film, which the first trailer reveals to be an exercise in surreal tension and claustrophobia.
"It has home-invasion elements and is definitely a thriller," said Aronofsky. In the film, Lawrence and co-star Javier Bardem appear to live together in a spacious, isolated fixer-upper of a home, alone until their lives are interrupted by the arrival of two mysterious visitors played by Ed Harris and Michelle Pfeiffer.  "You can see the tension in their relationship as it's pulled by all these forces." 
Usually known for being meticulous about his screenplays, sometimes taking years to translate a project from page to screen, Aronofksy switched it up this time by burning through the script stage over the course of one feverish long weekend. "We'll see what the results are," the filmmaker said. "It's been an interesting way to approach it—trying to capture a single emotion and trying to tell that two hour story out of that emotion."
In typical fashion, Aronofsky declined to specify what that emotion actually is, but he did allow one tantalizing tip in saying that the upcoming film would be "closer to Black Swan in spirit than anything I have done in a while." In that 2010 film, Natalie Portman played a ballerina under great stress whose grip on reality began to slip in increasingly violent and horrifying fashion.
"Jen and Javier are experiencing things in different ways," Aronofsky added. It's also worth noting that even the filming of mother! was intense enough that Lawrence ended up making use of an off-set haven stocked with oxygen and Keeping Up with the Kardashians episodes to keep herself grounded during production.
With only one intense, enigmatic trailer released so far, details on the film's specifics have been scarce, which members of the production say is completely intentional. 
"We all know every f***ing thing all the time," said Bardem of the secrecy surrounding the film's plot. "That's good for some things and bad for others. We have to keep this mystery going if we can."
Viewers will be able to check out the mystery for themselves when mother! hits theaters on September 15. In the meantime, check out our list of other movies with sets that were notoriously tense.