The Chicago Fire Duo Whose Amazing Chemistry Got Their Storyline Re-Written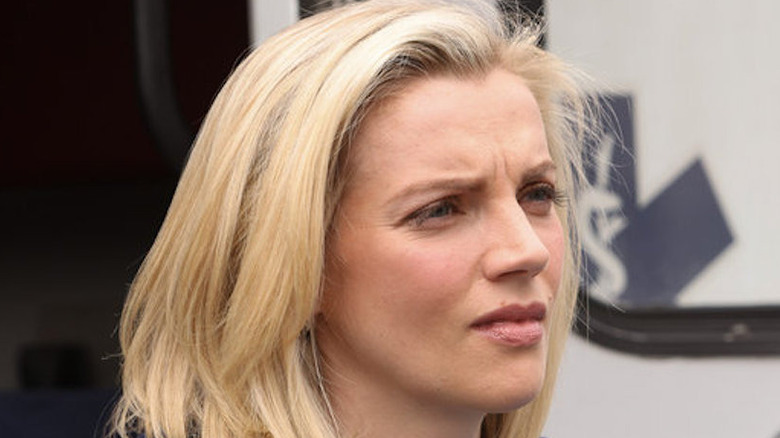 Adrian S. Burrows Sr./NBC
With more than 200 episodes behind it, "Chicago Fire" has a long history, with every character dealing with their fair share of heartbreak and love and everything in between over the years. The Dick Wolf-produced series is one of the last network dramas producing more than 20 episodes a season, making room each season for plenty of correction and for a little bit of experimenting. 
"Chicago Fire" is in its 10th season, meaning that stretched history includes characters who have been around since the beginning, newcomers, short-timers, and a few relationships here and there that seem to become just as important to the drama as the tense and harrowing situations the show's first responders find themselves in. One fresh couple on the series has quickly become a fan favorite, even earning a nickname. But if the twosome felt a bit surprising to viewers, that's because it was never in the plans for either characters' future.
One Chicago Day is a fan event that promotes NBC's One Chicago Universe shows, and in the most recent of these events, "Chicago Fire" co-showrunner Andrea Newman addressed just how that relationship blossomed while speaking to media outlets.
Hawkins and Mikami were never supposed to be together
"Chicago Fire" co-showrunner Andrea Newman revealed that while producers "loved" both Evan Hawkins (Jimmy Nicholas) and VIolet Mikami (Hanako Greensmith), a relationship between their characters was never in the cards. It was the chemistry on camera that convinced writers to drop their plans and rework things on the spot. As they say, you don't know what you got until you throw it in front of a camera. 
Newman explained that Nicholas and Greensmith "just popped on the screen so beautifully that we were like, 'This is where we're gonna go." She went on to say that the two performers were "bringing it so majorly" and the chemistry was undeniable that there was no choice. "So we knew there would be professional trouble for them because of this, but we also wanted to see them fight through that. So for us, that was the challenge and the fun," she continued.
With Hawkins being the paramedic field chief and Mikami a paramedic, both characters are risking a great deal being together. The tension between them came to a head in Season 10, Episode 12, titled "Show of Force" where the two share a kiss when they find themselves alone at a gala. A relationship immediately bloomed and the two have now earned their own fan nickname: Hawkami.