Every Grey's Anatomy Season Ranked Worst To Best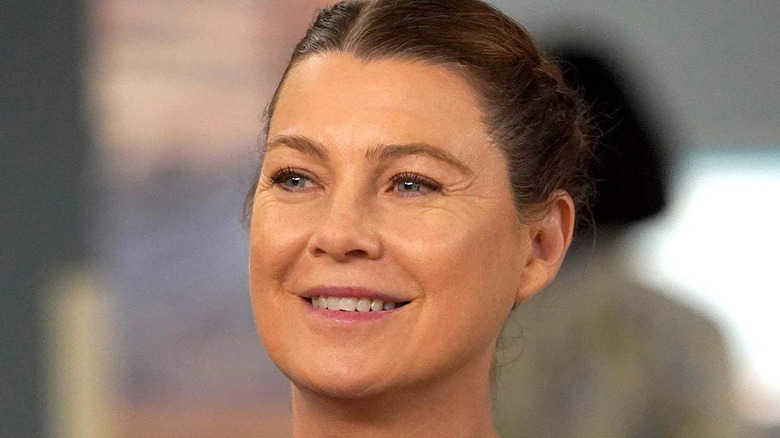 ABC
If you're not quite sure how long "Grey's Anatomy" has been on the air, just think of it this way: babies who were born during the first season are now old enough to drive, and may even be heading off to college soon. Obviously, that's a long time for a series to run, and the medical drama has hit a lot of highs and a lot of lows along the way — with some seasons having a much higher concentration of one than the other. After all, with the show's large ensemble cast and seasons that often stretch out over 24 or more episodes, a lot can happen over the course of a single season, with some characters getting married or having babies in one episode, and others dying in the next.
Because of that, ranking the seasons can be tricky — especially those that contain particularly polarizing or exceptional episodes — and even aggregators like Rotten Tomatoes and IMDb don't see eye to eye on where some of the seasons should fall (for example, IMDb believes that Season 8 is the third best overall, while Rotten Tomatoes puts it in 12th place). So rather than following one site's rankings to the letter, we've tried to take both into consideration for our rankings, as well as factor in whether there might be any outliers (like, say, a musical episode) which could be skewing the season's overall placement. With that in mind, here's every season of "Grey's Anatomy" ranked from worst to best. Seriously.
18. Season 17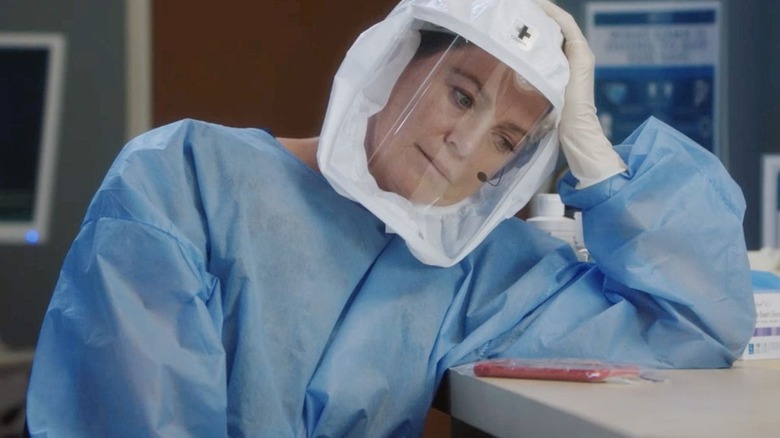 ABC
It would be unfair to blame the worst "Grey's Anatomy" season entirely on the show's writers. After all, the coronavirus pandemic threw a wrench in the plans of the entire world, and much like the rest of us, the "Grey's Anatomy" creative team just had to do the best with what they had. As a medical drama, "Grey's Anatomy" decided to incorporate the pandemic into its storytelling, both as a safety precaution for the actors (since it allowed most scenes to incorporate COVID-19 precautions, including many scenes that placed the doctors in full PPE) and because it felt odd for a medical show not to address, as showrunner Krista Vernoff put it, "the medical story of our lifetimes."
Still, the execution left quite a bit to be desired. Most of the season saw Meredith Grey (Ellen Pompeo) in a COVID-induced coma, and although she received some delightful dream visits from former cast members Patrick Dempsey, T.R. Knight, Chyler Leigh, and Eric Dane, it still didn't make up for the slog of having the show's main character spend half the season unconscious. Adding insult to injury, the series lost two popular characters (and one less popular character) during Season 17, all with little to no warning, with Andrew DeLuca (Giacomo Gianniotti) getting murdered midway through the season, Jackson Avery (Jesse Williams) deciding to move to Boston, and Tom Koracick (Greg Germann) opting to tag along. That combination of a real-world disease plus some major cast departures added up to the worst season of "Grey's Anatomy."
17. Season 18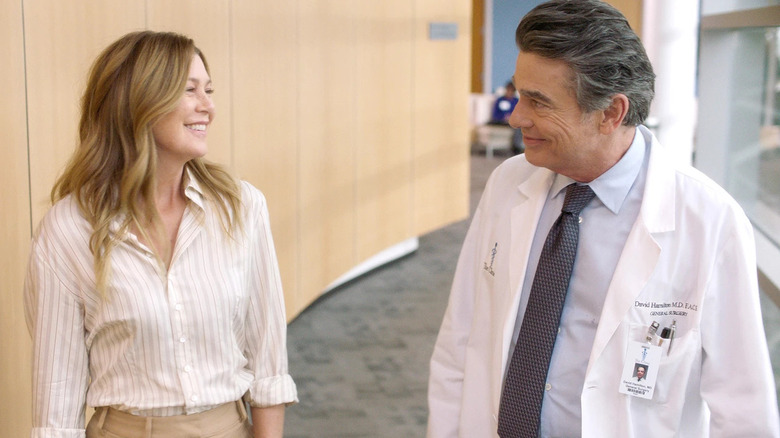 ABC
Season 18 hasn't done much to excite or disappoint viewers, more or less spinning its wheels on the heels of a heavy season of loss and near-death. Meredith gets recruited to head up a team developing a groundbreaking new treatment for Parkinson's disease ... but it's in Minnesota. While she splits her time between Grey Sloan Memorial and the Mayo Clinic, she also reconnects with a former patient who showed up for a single episode back in Season 14, and the two strike up a romance. Meredith's sister-in-law Amelia (Caterina Scorsone) also signs on to Meredith's project, and likewise finds sparks flying with someone in Minnesota — much to the irritation of Link (Chris Carmack), the father of her child whose proposal she rejected at the end of Season 17.
Meanwhile, back in Seattle, Richard Webber (James Pickens Jr.) pioneers a risky new resident training technique he dubs the Webber Method, Jo Wilson (Camilla Luddington) switches specialties, and Owen Hunt (Kevin McKidd) nearly dies in a car accident. But none of the events of Season 18 feel on par with the dramatic high stakes of former seasons, especially since it's hard to imagine "Grey's Anatomy" writing off its main character (especially since Pompeo has repeatedly said that she won't quit the show, and it's already been renewed for a 19th season), rendering the Minnesota plotline fairly toothless.
16. Season 16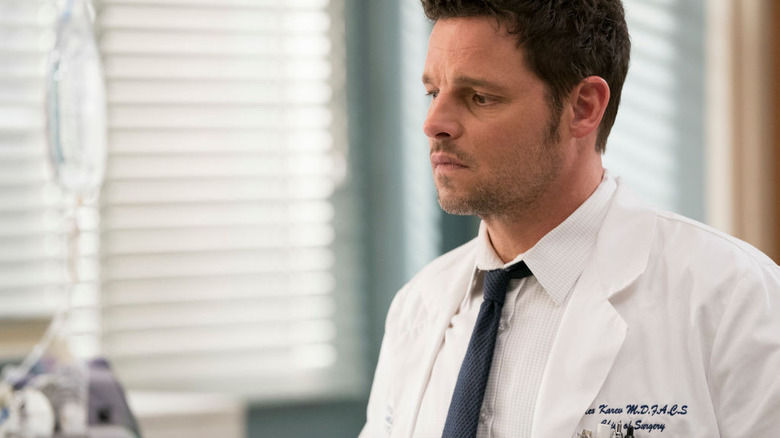 ABC
There's a lot that happens in Season 16 of "Grey's Anatomy," but the thing most viewers are likely to associate with it is the poorly handled departure of series original Alex Karev (Justin Chambers), who goes MIA midway through the season only to later bid an abrupt farewell to his wife, friends, and colleagues via several Dear John letters. Although fans learned in early 2020 that Chambers had left the series, the possibility still remained open for Alex to receive a meaningful sendoff, similar to Sandra Oh's exit from the series at the end of Season 10. Instead, in what felt like a hugely out-of-character move, Alex's letters revealed that he'd reunited with his ex-wife Izzie (Katherine Heigl, who departed in Season 6), who had given birth to his children without his knowledge years before. Coming on the heels of Alex becoming Chief of Surgery at Pacific Northwest Hospital and reaffirming his wedding vows to Jo, nothing about the departure felt right, casting a pall over the season.
And unfortunately, there wasn't much elsewhere in the season to redeem it. Also in Season 16, Meredith's medical license comes under fire due to insurance fraud, Andrew DeLuca experiences a mental health crisis, Teddy Altman (Kim Raver) cheats on Owen, and Amelia becomes pregnant. Plus, for much of the season, Richard holds a grudge against Miranda Bailey (Chandra Wilson) for firing him, creating hostility between two characters whose supportive relationship had always been part of the bedrock of the show. All in all, it just wasn't a very enjoyable season, made that much worse by the baffling exit of one of the show's most beloved characters.
15. Season 15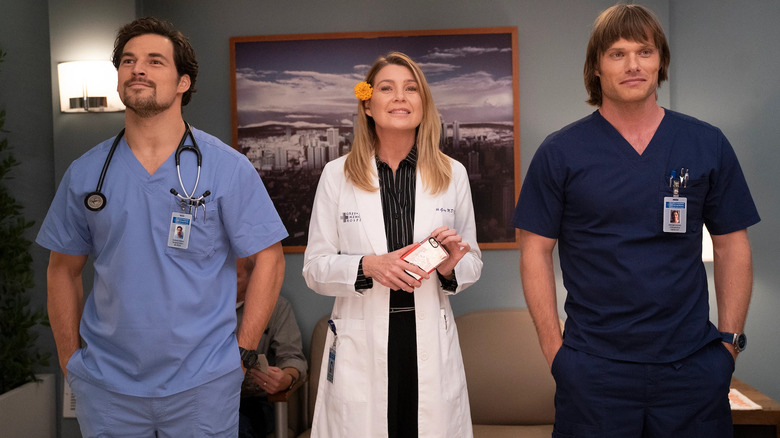 ABC
The 15th season of "Grey's Anatomy" holds the distinction of being merely fine, without much to offer in the way of standout episodes of either the positive or negative varieties. Still, even though few of the developments of Season 15 are mind-blowing, they're at least nice: Owen and Amelia become foster parents, Alex and Jo enjoy being newlyweds, and Meredith finds herself at the center of a love triangle between Link and Andrew DeLuca. Plus, for at least the first half of the season, Teddy appears to be in a healthy relationship with Tom Koracick ... until of course she realizes she's actually in love with Owen.
However, like many of the seasons near the bottom of this list, Season 15 also contains its fair share of irritating storylines, primarily one centered around Meredith committing insurance fraud in order to treat an uninsured patient. The storyline suffers not just because it's unpleasant to know that Meredith could lose her medical license, but also because it doesn't really make sense within the world of "Grey's Anatomy," since Meredith does, after all, partially own the hospital, and could probably offer a pro bono surgery if she wanted to.
14. Season 13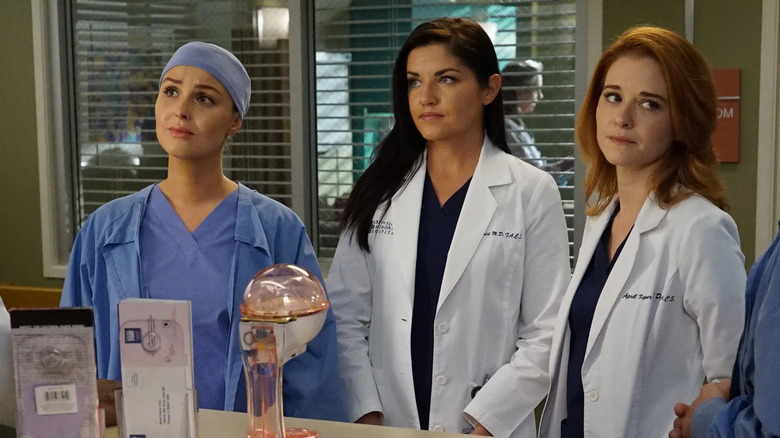 ABC
After spending a dozen seasons with the doctors of "Grey's Anatomy," fans were understandably protective of them by the time Season 13 rolled around, which is perhaps why a storyline revolving around education consultant Eliza Minnick (Marika Dominczyk) didn't receive the warmest reception. As soon as Minnick arrives, she starts suggesting changes in the way the residency program at the hospital is run, which don't go over well with the vast majority of the hospital's staff. Unfortunately, this storyline takes up most of the season, dragging down some otherwise interesting storylines.
Chief among them is a tender plotline involving Maggie's (Kelly McCreary) mother undergoing cancer treatment, Jo revealing her traumatic past to Alex (and subsequently having to come face to face with her abusive ex-husband), and Alex experiencing the consequences for his jealous assault on Andrew at the end of the previous season. But perhaps the strongest episodes of the season come at the very end, when resident Stephanie Edwards (Jerrika Hinton) is abducted by and subsequently outwits a dangerous assailant, and then saves a young patient from a raging fire.
13. Season 14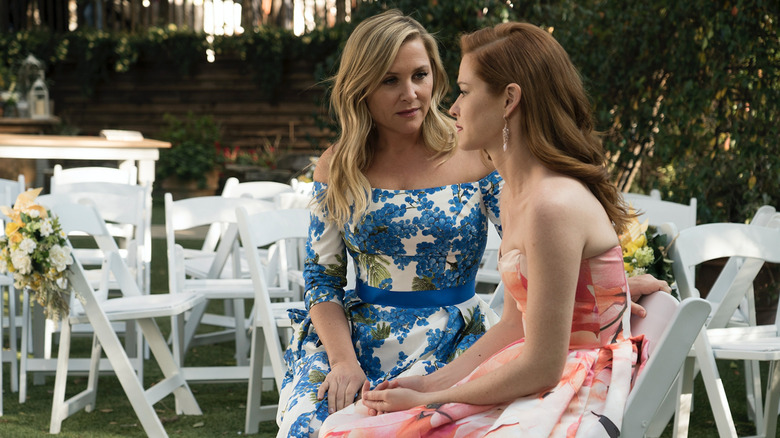 ABC
Season 14 of "Grey's Anatomy" saw a major change behind the scenes, as series creator Shonda Rhimes departed the series and handed over the creative keys to new showrunner Krista Vernoff. With Vernoff came a number of significant changes, including the decision to write off two long-established members of the main cast: Arizona Robbins (Jessica Capshaw) and April Kepner (Sarah Drew). Despite both actors having been with the show for around a decade and having no desire to leave, they were told that they'd be written off by the end of the season. Both exits wound up feeling pretty hasty, with Drew drawing the shorter of the two straws, as her exit was justified by a near-death experience and an offscreen reconciliation with her former fiancé. Capshaw, at least, got a more natural ending, with her character departing Seattle for the good of her daughter, who was tired of splitting her time between her divorced parents' homes on opposite sides of the country.
Also bidding farewell in Season 14 was Nathan Riggs (Martin Henderson), who had been brought in as a potential love interest for Meredith, but was written off to reunite with his long lost love (and Owen's long-lost sister). And while Amelia and Owen stuck around, their marriage hit some serious bumps with the revelation that she did not want to have children while he did. But despite the departures, the season still ended on a high note with the long-awaited wedding of Alex and Jo, officiated by Meredith.
12. Season 7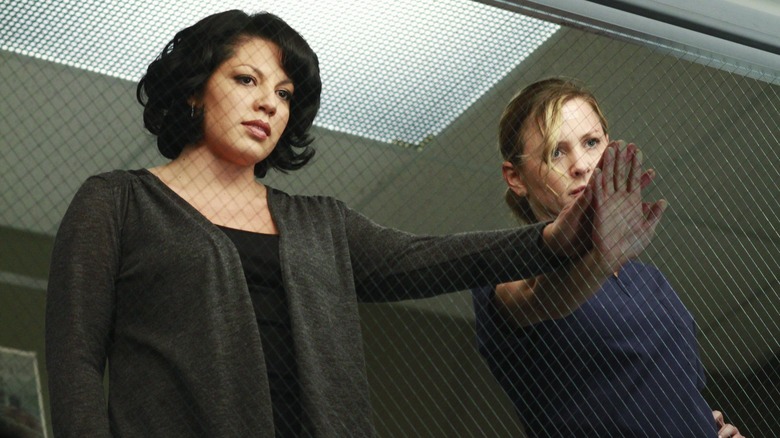 ABC
Following a dramatic and tense conclusion to Season 6, which saw the hospital locked down as an armed shooter roamed the halls, Season 7 dealt mostly with the aftermath of that traumatic event. The characters all grappled with their experiences in different ways, with Cristina quitting her job and later getting married to Owen, Arizona deciding to leave for Africa, and Teddy deciding to date the trauma therapist assigned to treat the hospital staff. Later, when Richard's wife Adele (Loretta Devine) is diagnosed with Alzheimer's, Meredith tampers with a clinical trial Derek is running in order to ensure Adele receives treatment, leading to the trial being invalidated and a rift forming between Derek and Meredith.
But of course, probably the episode Season 7 is best known for is the polarizing musical episode "Song Beneath the Song," which centers around Callie (Sara Ramirez) and her treatment following a serious car accident. While there's no doubt that Ramirez and several of her castmates are great singers, fans were seriously divided over whether the episode worked, with it elevating the season for some and tanking it for others.
11. Season 4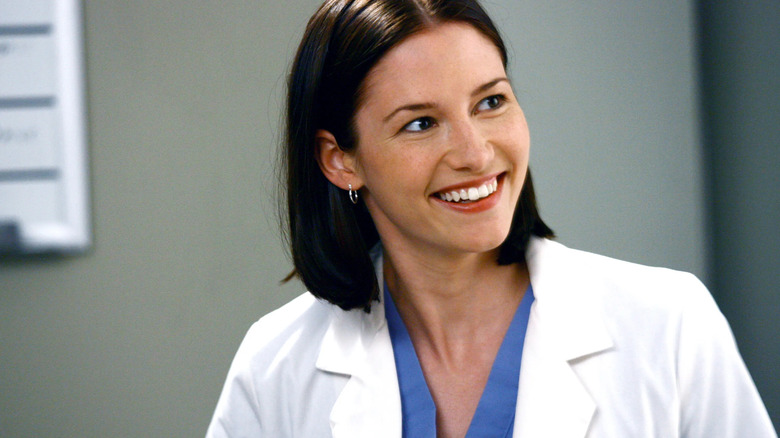 ABC
For the first few years of "Grey's Anatomy," the core cast remained mostly the same, but starting in Season 4, the show started exploring what would eventually become a habit of bringing on brand new main characters in surprising ways. Lexie Grey (Chyler Leigh) showed up in the closing moments of Season 3 and became a regular cast member in Season 4 (with a departure after Season 8), beginning her internship while Meredith and the original crew (with the exception of one) graduated to residents.
Unfortunately, George O'Malley didn't manage to pass his internship exam, and had to repeat the year of residency alongside Lexie and the other interns. It's a little painful watching George get left behind while the others move on, made that much worse by his hasty marriage to Callie — and then prompt (and even more awkward) affair with his best friend, Izzie. Actually, no one is making the best romantic decisions in Season 4, with former patient Ava/Rebecca (Elizabeth Reaser) showing back up to explore an ill-fated romance with Alex, and Derek and Meredith deciding to break up.
10. Season 10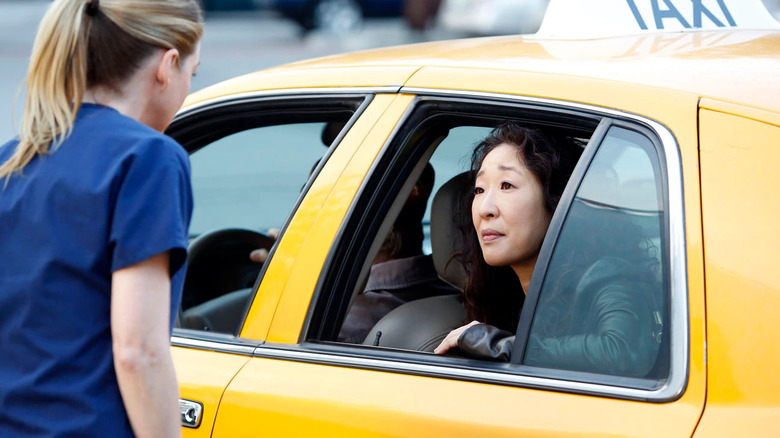 ABC
Probably the event most "Grey's Anatomy" fans most strongly associate with Season 10 is the departure of Cristina Yang, otherwise known as Meredith's "person," at the end of the season. Out of all the many characters to come and go from "Grey's Anatomy," Sandra Oh's Cristina probably got the most celebratory sendoff, with the season helping establish that she'd outgrown Grey Sloan Memorial Hospital, and then offering her a surprising new opportunity to take over for her former fiancé as Chief Medical Officer at the Klausman Institute for Medical Research in Zurich, Switzerland.
Elsewhere in the season, though, other characters are also going through major life changes. Season 10 is the one where Jackson interrupts April's wedding to proclaim his love for her, and the two spontaneously elope, and is also the one where Derek and Meredith become parents when they adopt their daughter Zola. It's a season packed full of major shifts and dramatic moments, and gives Cristina the ending she deserves ... even if we can't quite forgive it for letting her leave at all.
9. Season 12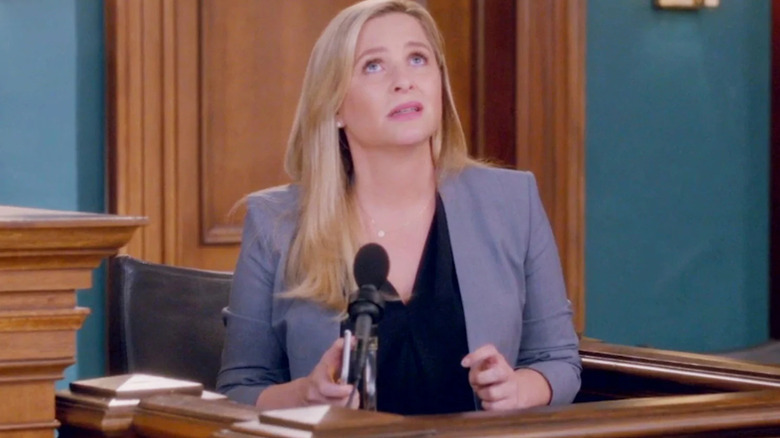 ABC
Season 12 of "Grey's Anatomy" brings a major paradigm shift as Meredith and the other doctors at Grey Sloan Memorial Hospital are forced to learn to live without Derek Shepherd for the first time since the show's inception. Obviously, Derek's loss leaves a serious hole in the show, which "Grey's Anatomy" chose to fill with copious drama. In a season that features a wedding, a divorce, a custody hearing, and a baby (a couple of those even involving the same characters), there's no shortage of distractions.
While Season 12 includes Owen and Amelia's wedding as well as April and Jackson's divorce (and subsequent baby), the relationship that probably receives the most attention is Callie and Arizona's, which turns ugly when Arizona sues Callie for custody of their daughter to prevent her from taking her to New York. The custody battle ends with Arizona being awarded full custody, but then deciding to compromise, and agrees to share custody with Callie, who then leaves the show. Also in the season is the acclaimed episode "The Sound of Silence," which sees Meredith get violently attacked by a patient and slowly recover, forced to observe the lives of her family and friends unfolding around her from the confines of her hospital room.
8. Season 11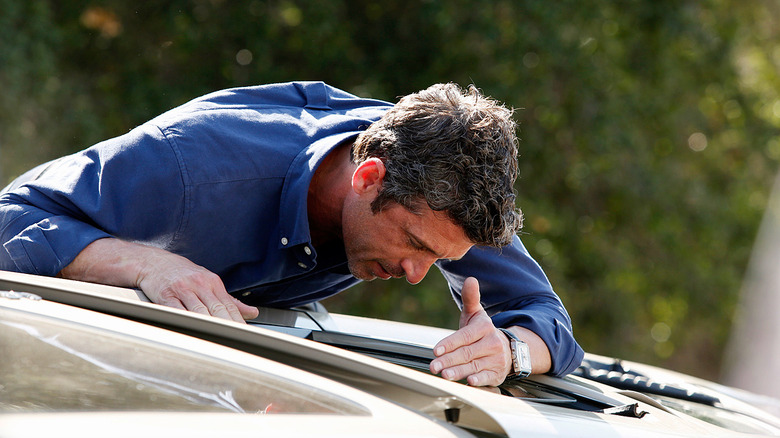 ABC
When it comes to a character as central to "Grey's Anatomy" history as Dr. Derek "McDreamy" Shepherd, it's only reasonable that losing that character would define the entire season in which it happens. That's certainly true of Season 11, which sees Derek commuting back and forth between Seattle and Washington, D.C., putting a strain on his marriage to Meredith — until he shockingly dies from his injuries following a car accident. The episode showing Derek's death is made that much more painful by having Derek himself narrate the many ways his life could have been saved if the doctors treating him were a bit more competent.
However, a lot more happens in Season 11 besides just Derek's death. In one of the series' most heartbreaking episodes, Jackson and April choose to deliver their baby early so they can hold him before he dies. Elsewhere in the season, Amelia shows up in Seattle fresh off her stint on "Private Practice," and Callie and Arizona attend counseling together (although their therapist leaves quite a bit to be desired) in a desperate attempt to save their marriage. Despite its many heartbreaking moments, it's a strong season with a couple standout episodes that never fail to draw out the tears.
7. Season 1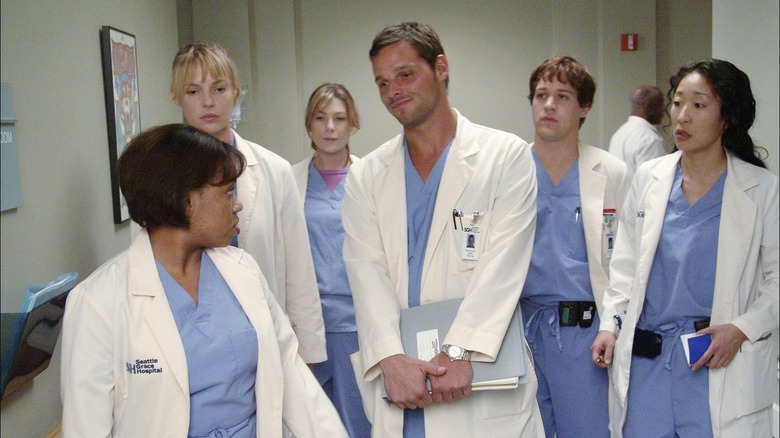 ABC
There wouldn't be a list ranking all the seasons if not for the inaugural season of "Grey's Anatomy," which introduces viewers to competitive surgical interns Cristina Yang, Alex Karev, Izzie Stevens, George O'Malley, and Meredith Grey, the daughter of a world-renowned surgeon who is desperate to forge her own legacy. The first season is filled with the eager young surgeons eagerly gobbling up every bit of surgical knowledge they can get their scalpels on, plus plenty of interpersonal and romantic drama as they compete with one another, develop friendships (and rivalries), and fall in love.
In Season 1, "Grey's Anatomy" was a very different show than it is today, centering around doctors would barely knew a whipple from a lap chole, napping and snacking on gurneys in the tunnels on the ground floor of the hospital, and frequently sneaking into break rooms for steamy hookups. The first episode opens with Meredith saying goodnight to someone she assumes is a one-night stand, only to then learn that he's her boss — and at the end of the season, that he's married. It's a scandalous, soapy melodrama where everyone is a motivated mess, and it grabbed viewers' attention while setting the stage for everything that would come after.
6. Season 9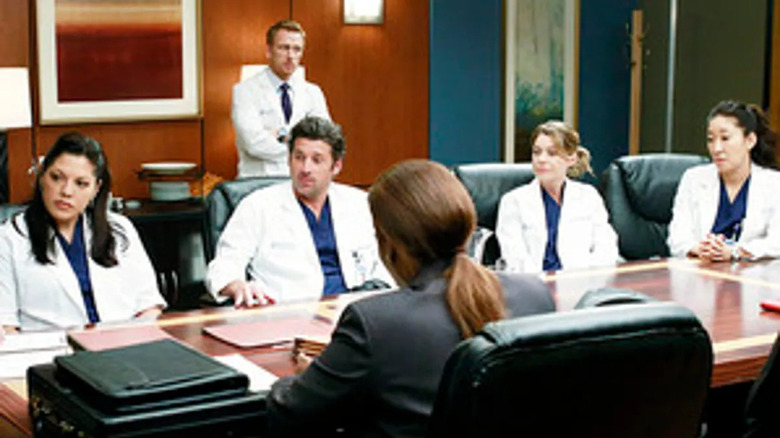 ABC
Following the fatal plane crash at the end of Season 8, the ninth season of "Grey's Anatomy" opens with the shocking death of Mark Sloan (Eric Dane) and continues to explore the trauma of the plane crash from there. All of the survivors carry the effects of the crash in different ways, some physical, some emotional. While Derek struggles to regain the use of his hand and Arizona works through the stages of grief regarding the loss of her leg, Cristina heads to Minnesota for a job at the Mayo Clinic where she can avoid planes, and Meredith takes out her grief over Lexie's death on the new crop of interns, earning her the nickname "Medusa."
As the season progresses and the survivors realize that their best course of action is to sue not the airline, but the hospital that hired an airline with known safety issues — in other words, Seattle Grace Mercy West — they receive a large settlement, which then winds up sending the hospital into a financial crisis. This leads to the survivors purchasing the hospital — with the help of Catherine Fox (Debbie Allen) and the Avery Foundation — and making up its new board of directors, who also vote to change its name to Grey Sloan Memorial, in honor of Lexie and Mark. Obviously, it's a season with a lot of change, but the show handles it well, showing that even nine seasons in, it's not afraid to reinvent itself.
5. Season 8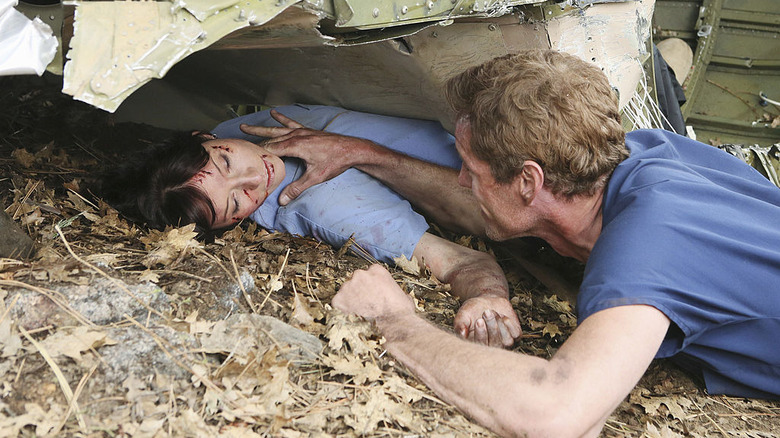 ABC
It seems a little odd to rank a season highly when so many of its storylines revolved on conflict between some of its most beloved characters, but that just goes to show you how much difference it can make when something is executed well. "Grey's Anatomy" is a medical show, but the thing that has kept viewers interested all these years has always been its characters and their relationships with one another. So what better way to increase audience investment than to make us wonder if some of those central relationships might be in jeopardy?
Season 8 sees Meredith and Derek on the rocks after he learns that she tampered with his Alzheimer's clinical trial, rendering the whole thing invalid. Yet the two still have to figure out a way to coparent their daughter, while also figuring out if there's a way they can move forward together (spoiler: they do). Meredith's interference with the trial and the subsequent fallout of that decision also creates tension in her relationships with Alex, Miranda, and Richard, as well as their relationships with one another. Season 8 also introduces some major conflict between Cristina and Owen over their stances on having children, bringing to the forefront just how many steps they skipped over in their hasty path to trauma-induced marriage.
And of course, who could forget Teddy's impulsive marriage to her patient Henry (Scott Foley) in order to give him access to her health insurance, their subsequent slow burn romance, and his shocking and dramatic death? Season 8 is a great reminder that while the medical cases-of-the-week and the unusual surgeries are definitely fun, it's the characters, their motivations, and their personal struggles that keep us tuning in for more.
Oh, and then the season ends with a plane crash.
4. Season 3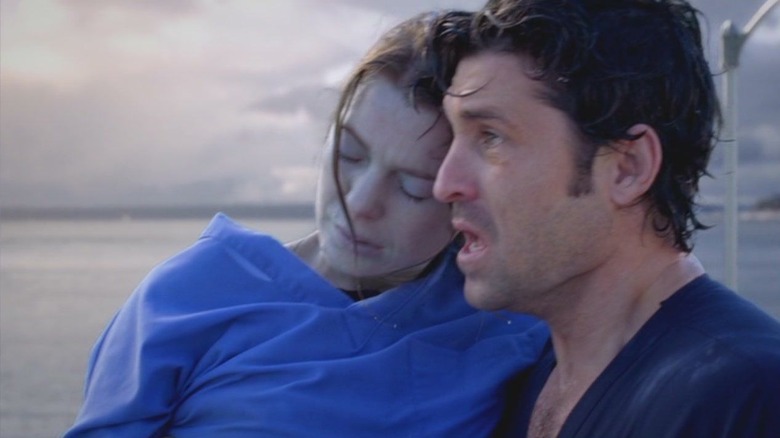 ABC
"Grey's Anatomy" really found its identity by Season 3, and started having some fun taking risks in both format and the types of stories it was willing to tell. Early on in Season 3, the Seattle Grace doctors head to the site of a ferry boat crash, and the Impact of that crash reverberates throughout the rest of the season and beyond. Alex's arc over the course of Season 3 revolves around a pregnant patient rescued from the crash who has no memory of who she is or her life before the hospital. While Alex consults on her case, including building her a whole new face from scratch, they also form a deep emotional bond that, while sweet, may not be exactly healthy.
Also while attending to the crash, Meredith falls into the water and nearly drowns, leading to the first of what would eventually turn out to be several "Grey's Anatomy" episodes set almost entirely in Meredith's version of limbo. Her mental state when she went into the water also continues to be a recurring element for many seasons to come. Season 3 also sees the departure of Addison (Kate Walsh) to star in her own show, as well as the abrupt exit of Burke (Isaiah Washington), who leaves Cristina at the altar at the end of the season, marking the first time that "Grey's Anatomy" was willing to say goodbye to any of its main cast members.
3. Season 5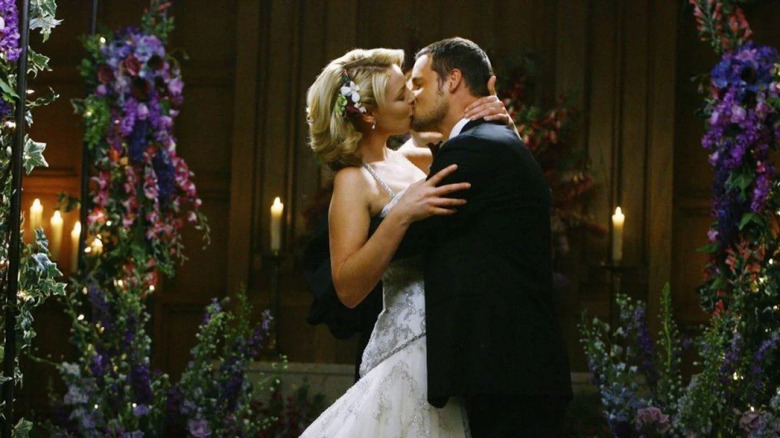 ABC
Look, no one loved the Ghost Danny storyline, but what came out of it was still a pretty solid season of "Grey's Anatomy." Season 5 begins with Izzie experiencing hallucinations of her former patient/fiancé, Denny Duquette (Jeffrey Dean Morgan), who memorably passed away in the Season 2 finale. In a truly bizarre storytelling choice, Izzie then begins to date (and sleep with) her imagined version of Denny, before it eventually occurs to her that something may be seriously wrong. Once the season reveals Izzie's cancer diagnosis, things really begin to take off.
Season 5 is also one of the most romantic seasons of the show, with Meredith and Derek gifting their entire elaborate wedding to Alex and Izzie, then opting for an informal Post-It note marriage themselves. It also sees the formation of one of the show's most popular couples, Callie and Arizona, as well as the arrival of Owen Hunt, who sweeps onto the show by saving his future wife (and later ex-wife) Cristina from a rogue icicle that impales her. And while we can't say that we enjoyed finding out at the end of the season that the heroic John Doe who had been horribly disfigured after jumping in front of a bus to save a stranger was George (who really hadn't had much to do for the rest of the season anyway), it's still one of the show's best-crafted reveals.
2. Season 6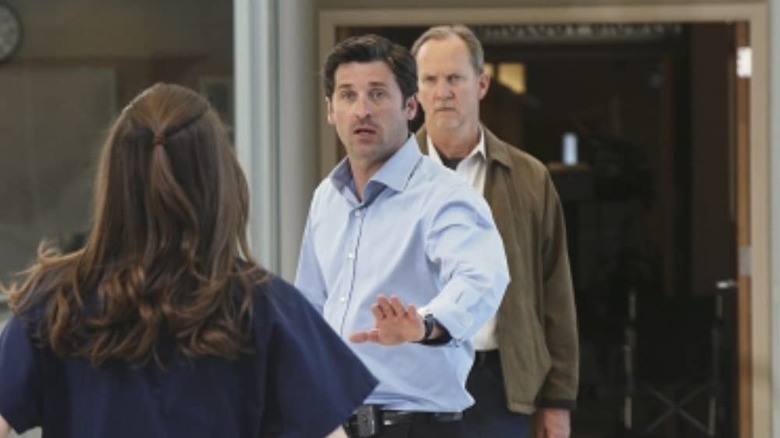 ABC
Although Season 6 opens with the death of George O'Malley, one of the original five surgical interns and the first major cast member to exit the show in a body bag, there's still a lot more to love about the season than not. Season 6 marks the first of what would eventually turn out to be several name changes for the hospital, when Seattle Grace merges with Mercy West, bringing both facilities' residents together in one building. Much of the season focuses on the merger and the complicated dynamic between Mercy West residents and the Seattle Grace residents, who mutually decide to become instant rivals for no real reason other than the color of their scrubs. Included in the merger are April Kepner and Jackson Avery, who would each go on to become central members of the "Grey's Anatomy" cast in future seasons.
Season 6 culminates in what is arguably the most dramatic and tension-filled pair of episodes that the show has ever had, when the grieving husband of a former patient returns to the hospital with a gun, determined to seek revenge on the doctors he holds responsible for his wife's death. The two-part season finale plays out like a movie, and no member of the cast feels safe, especially after Alex is shot in the opening moments of the show. It's hard to decide which storyline in these episodes is the strongest, whether it's Miranda and guest star Mandy Moore trying to save the life of a wounded resident, Jackson and Cristina operating on Derek while held at gunpoint, or Callie and Arizona locked in the children's ward with their pediatric patients. It takes what was already a strong season and makes it exceptional.
1. Season 2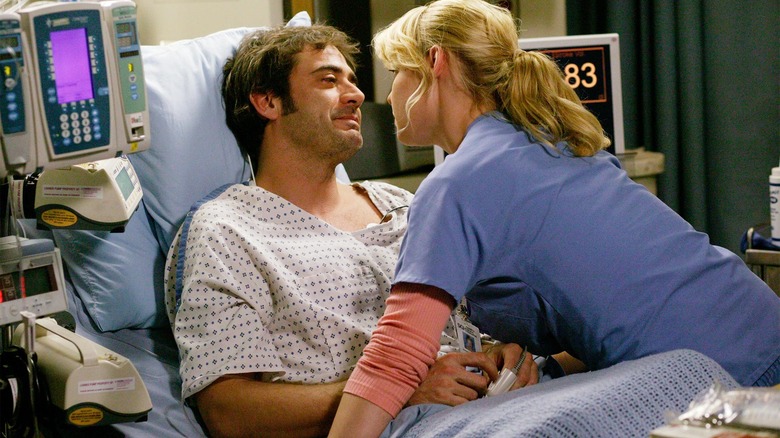 ABC
If Season 1 of "Grey's Anatomy" was all about establishing the characters and rules of the show, then Season 2 was about pushing them all to their absolute extremes, and having a blast doing it. Season 2 sees Meredith and Derek navigating an extremely unwelcome love triangle with the arrival of Derek's estranged wife Addison, leading to yet another love triangle when Meredith decides to start dating her dog's vet, played by '90s heartthrob Chris O'Donnell. All of this romantic tension leads to some truly delicious drama, as both Meredith and Derek try to suss out what they really feel, and who they really feel those feelings for.
But of course, the main focus of Season 2 for most viewers has got to be the ill-advised romance between Izzie Stevens and her patient Denny Duquette, leading to such moments as Izzie cutting his LVAD wire (which enabled "Grey's Anatomy" to have its own "I am Spartacus" moment) and the haunting visual of all of the interns walking in solidarity with Izzie when she quits her job after Denny dies. While Denny wasn't a main character on the series, his death was definitely the most significant character loss at that point in time, making the stakes of the show feel higher than ever. And that's not even mentioning the brilliant standalone storylines in Season 2, such as the patient with a bomb in his body and the two train crash victims connected by a pole through both their chests. Season 2 really was "Grey's Anatomy" firing on all cylinders, often in the wildest way possible, and we loved every second of it.