Will Smith's Oscars Slap Is Already Having A Major Effect On Chris Rock's Career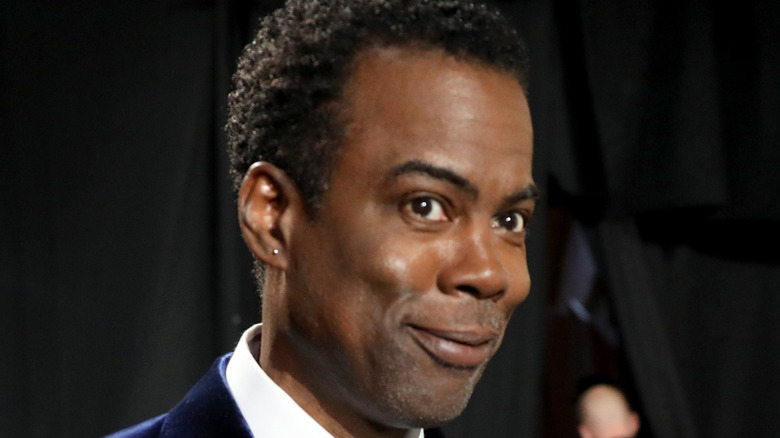 Handout/Getty Images
Will Smith's unforgettable slap of Chris Rock during the live broadcast of the 94th Academy Awards ceremony is going down as one of the most memorable moments in live television broadcast history. The uncomfortable altercation — Smith's angry outburst came in response to Rock's joke about Jada Pinkett Smith's short hairstyle, a result of her struggles with alopecia — turned even more bizarre when Smith won the award for Best Actor some 30 minutes later and was allowed to return to the stage to make a tear-filled speech about being "a vessel for love" and pointedly offered apologies to the Academy and the show's audience, but not to Rock himself. 
The slap left social media ablaze, and has inspired think pieces on the nature of Rock's joke, Smith's response, and the Academy's inability to handle an unprecedented altercation during the show, as well as plenty of memes from social media users along the way.
Smith offered up a personal apology to Rock via Instagram the day after the ceremony. Similarly, Jada Pinkett Smith posted a graphic on Instagram calling for healing. However, Rock has not spoken publicly about the altercation since he walked off the stage at the Dolby Theatre in Los Angeles on Sunday. It remains unclear whether Rock and Smith have settled the dispute privately, as Sean "Diddy" Combs reportedly implied at an Oscars afterparty (via Page Six). Rock, a stand-up comedian at heart, could be waiting for his next show to give his own thoughts on what he immediately dubbed on-stage as "the greatest night in the history of television" — and the possibility of him doing so is already impacting his ticket sales in a huge way.
Chris Rock stand-up comedy tickets are skyrocketing in demand post-Oscars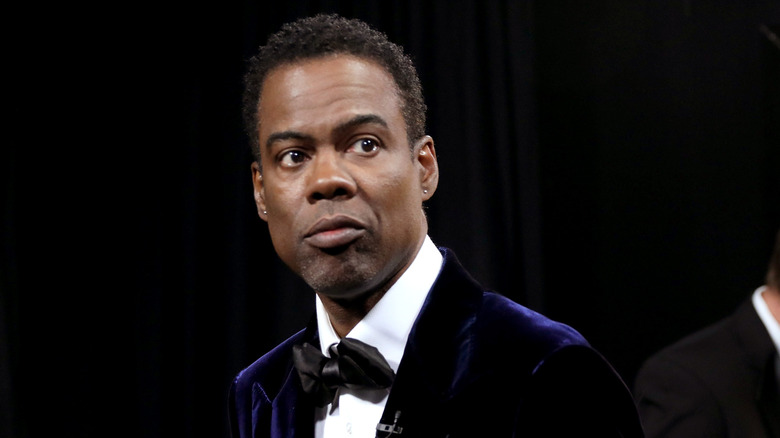 Handout/Getty Images
According to The Hollywood Reporter, live events ticket company StubHub said that their ticket sales for Rock's current tour have exponentially increased in popularity in the days since the Academy Awards, jumping to about $250 on average for each ticket and selling more tickets this week than the rest of March combined. A StubHub spokesperson told THR that daily ticket sales for Rock's shows are currently 25 times higher than the rest of the month — clearly, people are anxious to see whether the 57-year-old comedian will work being slapped by Will Smith into his upcoming sets. 
While Rock reportedly declined to press charges against Smith the night of the awards show, he still has yet to offer public comments on the altercation. On stage, he appeared shocked at Smith's bad reaction to his "G.I. Jane" joke before composing himself and moving on with presenting the award for Best Documentary Feature. Rock reportedly made a backstage joke about being slapped by Muhammad Ali to Oscars crew members, in reference to Smith's role as the legendary boxer in 2001's "Ali," but has otherwise remained quiet (publicly, at least).
Rock's tour, dubbed the Ego Death World Tour, is currently slated to run through November 18, according to the comedian's website. Coincidentally, the tour is scheduled to end with two shows at the Dolby Theatre in Los Angeles, where the Academy Awards — and the slap still dominating headlines over two days later — took place on Sunday.
The highly anticipated tour kicks off on March 30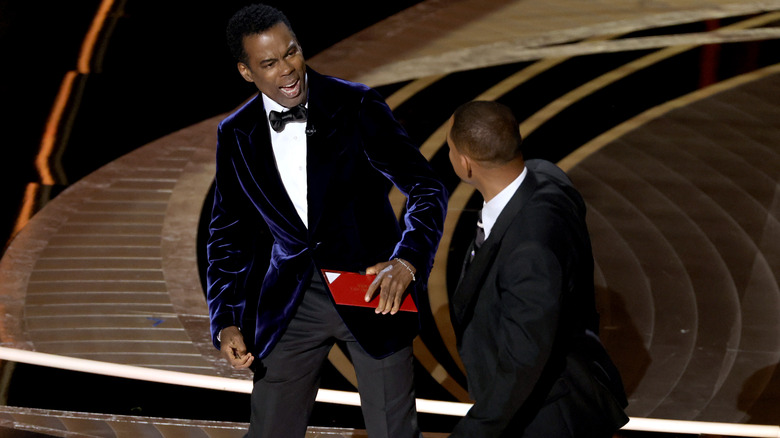 Neilson Barnard/Getty Images
As ticket sales continue to skyrocket for Rock's upcoming Ego Death World Tour, much of the focus has shifted toward his now sold-out shows in Boston. He will be performing five shows at the Wilbur Theatre, with the first slated for March 30. Rock will presumably be breaking his silence on the jaw-dropping incident, and social media users are clamoring for last-minute tickets — especially considering the show has a no-phones policy.
"I hear people in Boston are taking out second mortgages to attend tonight's legendary Chris Rock show," tweeted @ScottFriedman3. Other users shared screenshots from StubHub showing that ticket prices for the show ranged from $720 to $1,035 apiece.
"They better lift the no-phone-recording mandate at the next chris rock show," wrote @rodb. Many users echoed this sentiment, eager to see how he addresses the situation and whether or not he accepts Smith's apology, which was rejected by Rock's brother, Tony (via Twitter).
The comic was spotted arriving in Boston on March 30 before his first show and was asked by the paparazzi if he had time to answer any questions. Rock kept his head down and remained silent, further adding to the buzz around his first show post-Oscars (via TMZ).
When Rock announced the Ego Death World Tour — his first cross country tour in five years — he said it would feature new, introspective material that was "very personal and very funny" (via Instagram). Now more than ever, he has the chance to capitalize on a timely, unprecedented scenario that broke the internet.