These Brutal Comments Prove Not Everyone Is On Chris Rock's Side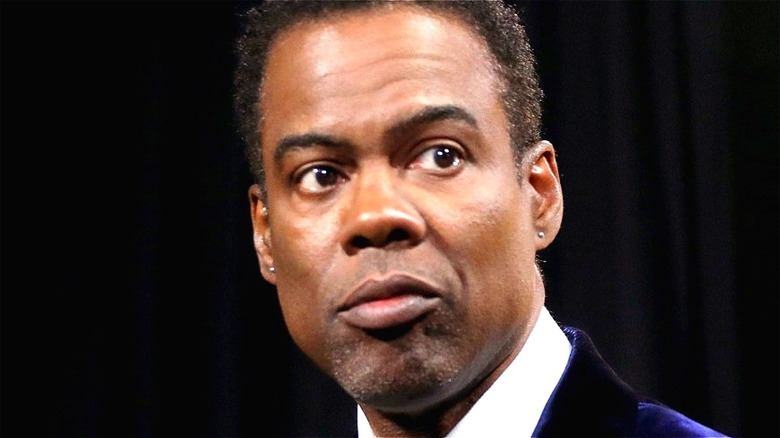 Al Seib/A.M.P.A.S./Getty
To say that the 94th Annual Academy Awards ceremony was an eventful one would be a massive understatement. Last night's Oscars should have been memorable for Ariana DeBose and Troy Kotsur's history-making wins or for its unprecedented but effective hosting arrangement. Instead, the ceremony will forever be recalled as the night Will Smith slapped Chris Rock on a live broadcast and then cursed him out in front of a stunned Dolby theater crowd and millions watching at home. The attack was in response to a "G.I. Jane" joke Rock made about Jada Pinkett Smith's close-cropped haircut, a consequence of the autoimmune disease alopecia.
Smith initially laughed at the joke, but Pinkett Smith was immediately and visibly upset and within seconds Smith could be seen striding to the stage to deliver his now infamous slap to the understandably shocked comedian presenter. While he was clearly and visibly shaken by the incident, Rock recovered quickly, referring to the ceremony's broadcast as "the greatest night in the history of television" before resuming the show. The moment, unsurprisingly, has been the talk of the town ever since it occurred and has elicited numerous, wide-ranging reactions on various different TV shows and social media platforms.
Of course, the moment has also resulted in many viewers believing that they need to side with either Rock or Smith. Taking that into account, many social media users and Oscar viewers were initially quick to side with Rock over Smith.
Many viewers were appalled by Will Smith's actions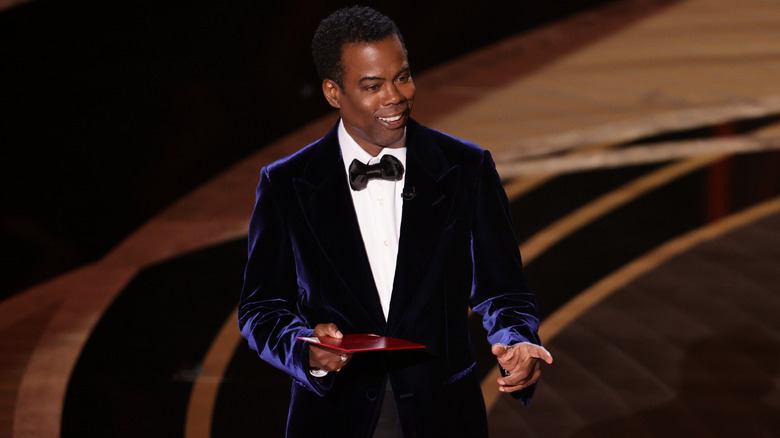 Neilson Barnard/Getty Images
Following Will Smith's public attack on Chris Rock, a number of both celebrities and casual viewers alike quickly took to Twitter Sunday night and Monday morning to share their thoughts on the incident. Understandably, some viewers immediately jumped to Rock's defense.
Kathy Griffin, for instance, tweeted that "it's a very bad practice to walk up on stage and physically assault a Comedian. Now we all have to worry about who wants to be the next Will Smith in comedy clubs and theaters." Meanwhile, podcast host Ethan Klein echoed Griffin's sentiments, writing that he was "in awe the show went on like nothing happened.. will smith punched a comedian for doing his job."
Elsewhere, Twitter user @craigspoplife noted that "Violence against cultural commentators, whether journalists or comedians, has a dangerous trickle down effect" and @digital_junkie pointed out that Smith's response to Rock's joke and explanation constituted "literal textbook abuser" behavior. "Stand by Me" and "A Few Good Men" director Rob Reiner similarly tweeted, "Will Smith owes Chris Rock a huge apology. There is no excuse for what he did. He's lucky Chris is not filing assault charges. The excuses he made tonight were bull****."
In other words, it seems like Rock has quite a few prominent supporters backing him right now. That said, while there were many Twitter users who didn't hesitate to make their support for Rock clear, there have been some who have, instead, spoken up in support of Will Smith's smack.
Many people feel Will Smith was justified in defending his wife
In response to the shocking Oscars moment, comedian and actor Tiffany Haddish shared her thoughts on Will Smith's decision to slap Chris Rock with People Magazine, saying, "When I saw a Black man stand up for his wife, that meant so much to me." On Twitter, Nicki Minaj tweeted, "You just got to witness in real time what happens in a man's soul when he looks over to the woman he loves & sees her holding back tears from a 'little joke' at her expense." Minaj added that Oscars viewers saw "what any & every real man feels in that instant. while y'all seeing the joke he's seeing her pain."
Plenty of other Twitter users also weighed in with their thoughts about the incident. For their part, @SistahScholar tweeted, "When is the last time you've seen a Black woman publicly defended in real time? I rest my case." Meanwhile, @ReecieColbert observed that "Sometimes you gotta get your hands dirty" before adding that "Maybe one week we'll manage to extend 'protect Black women' to more that one Black woman."
Additionally, @kmarch67 pointed out the hurtful nature of Chris Rock's joke about Jada Pinkett Smith, writing, "Jada has been very clear about her insecurities of her hair loss. Chris went low and personal as an attack. Will had every responsibility to stand up for his wife."
Obviously, these are only some of the many reactions that have flooded the internet in the time that has passed since the original Oscars broadcast. Indeed, the debate about who was more in the wrong between Smith and Rock has predictably filled practically every social and conventional media platform. Unfortunately, it seems safe to say that the conversation surrounding this moment will likely only continue to rage on long after the memory of the films that were actually honored last night has faded.