The Oscars Hit With Fierce Backlash Minutes Into The Event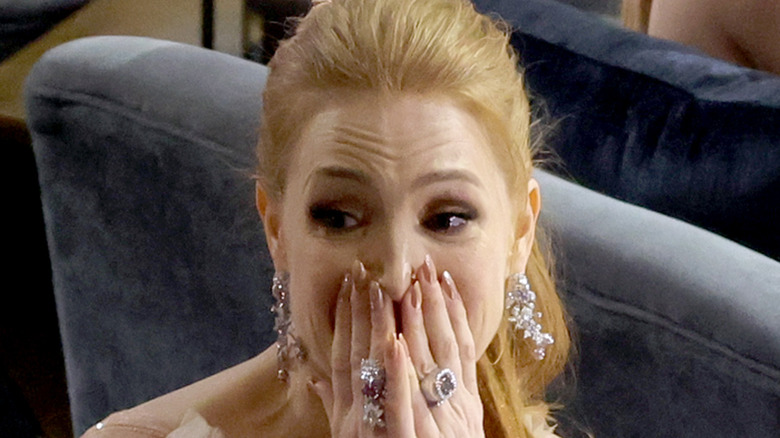 Neilson Barnard/Getty Images
The Oscars, the night in entertainment that moviegoers wait a whole year for, has brought cinephiles together again once more for the 94th Academy Awards. Films including "Dune," "CODA," "The Power of the Dog," and "West Side Story" were among the top nominees, while performances from Ariana DeBose, Troy Kotsur, and Jessica Chastain were among the top acting nominees. By the end of the night, all three actors would win their respective category and hold an award in their hands. History was made early in the evening when a trio of hosts — Amy Schumer, Wanda Sykes, and Regina Hall — took the stage to present an opening monologue as topical as it was spicy.
But as relevant as these history-making moments, memorable presenters, and even more memorable musical performances were, this year's Oscars had some setbacks as well, and not all viewers found excitement with the broadcast itself. Just a short time before the official ceremony began airing on ABC, the 94th annual Academy Awards gained major backlash for one specific reason that many viewers cannot forgive.
Many categories were not televised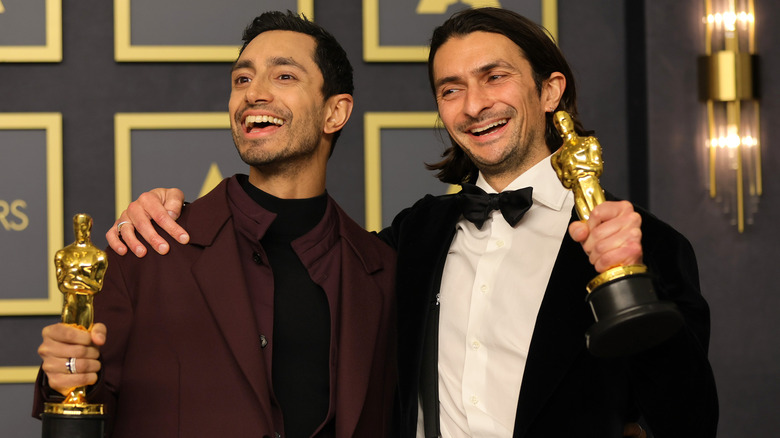 Mike Coppola/Getty Images
Many aspects of this year's Oscars seemed quite familiar. There were sketches that went too far and speeches that were cut short. But one change was made to this year's broadcast that had viewers flabbergasted. In an effort to cut down on the award show's runtime, no less than eight categories were cut from the live broadcast (via The Hollywood Reporter). Technical categories such as best film editing, best production design, best sound design, best makeup and hairstyling, and best original score are aspects that films cannot do without and yet were awarded to winners during the pre-show, alongside awards for short films like best live action short film, best animated short film, and best documentary short subject.
One of the biggest blockbusters of 2021, "Dune," won for best film editing, best original score, and quite a few other categories (via Deadline). Editor Joe Walker reportedly had the "funniest" speech according to critic Kyle Buchanan on Twitter, but no one would see it during the official airing. Riz Ahmed was another winner of the night for his short film "The Long Goodbye," but he could only accept the award quickly onstage with very little fanfare. "Riz Ahmed just won an Oscar and nobody outside the room could watch it happen. This is a MISERABLE way to learn about Oscar winners Academy," posted @kateyrich on Twitter.
Buchanan also noted that "The Eyes of Tammy Faye" actor Jessica Chastain ensured she was present when her hair and makeup team were awarded to a very small audience. After three years of socially distanced awards, these winners are barely acknowledged for their hard work. Categories that are just as integral as any other were sidelined for acting categories deemed more important.
The Academy Awards tried to do the same in 2018 and got a negative response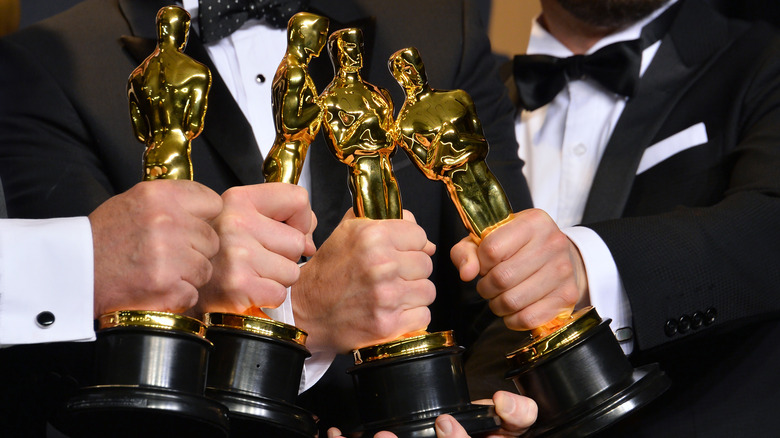 Featureflash Photo Agency/Shutterstock
In 2018, the Academy Awards made a similar decision that led to huge backlash from the public and industry members. In an effort to keep the ceremony's runtime low, the Academy announced that "we will present select categories live, in the Dolby Theatre, during commercial breaks (categories to be determined). The winning moments will then be edited and aired later in the broadcast," which is essentially what they did during the 2022 awards (via The Hollywood Reporter). This also came with the news that the Oscars planned to add a "Popular Film" category, which they later changed their mind about, as many disliked the idea. 
In response to the 2018 announcement, many creators who work in areas like sound design and editing, or those likely to be edited out, found the decision "a disservice to the exceptional artists and innovators who make enormous contributions to filmed entertainment," with Mike Chambers, the chair of the Visual Effects Society, stating that those talented artists "deserve the proper respect and recognition for attaining this high achievement." Another creator in one of these fields called it "a little demeaning" (via The Hollywood Reporter).
This announcement came ahead of the 2019 Academy Awards. After the intense negative response from the publish and industry professionals, the Academy eventually reversed their decision and promised to air all of the awards live — at least that year (via Buzzfeed News). Now in 2022, it looks like the Oscars finally got their way, and people are definitely not happy. It remains to be seen if this structure will continue into the future, but many are still against the decision.