The Atlanta Episode You Likely Forgot Featured Michael Vick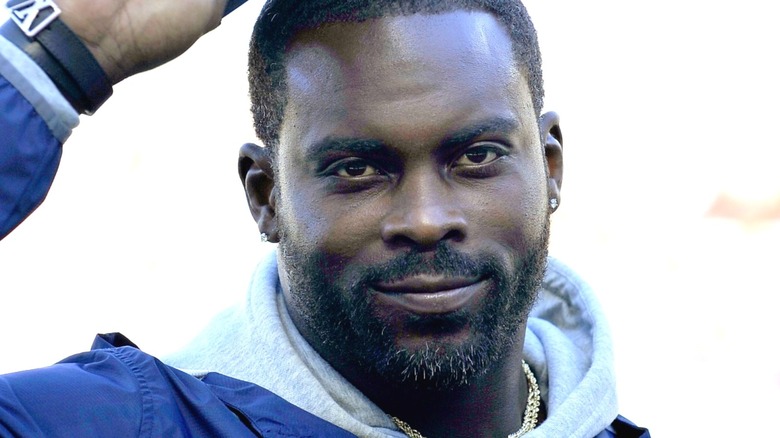 Logan Riely/AAF/Getty
FX's "Atlanta" has never been short on surprises for viewers. Whether it's a joke that pushes the envelope or it's taking viewers into a horror rabbit hole with a strange man named Teddy Perkins, "Atlanta" has gone on some interesting journeys — and fans aren't complaining too much, as Season 3 just premiered on FX after Season 2 concluded all the way back in 2018. 
Season 3 takes Earn (Donald Glover), Paper Boi (Bryan Tyree Henry), and Darius (LaKeith Stanfield) to Europe for a tour, putting another big spin on the direction of the show. After such a variety of episodes and surprises, fans may actually forget some of the show's more shocking moments and surprising guest stars. Among those guest stars was someone who made sense for a show called "Atlanta," but also arguably no sense considering his personal troubles: Michael Vick.
The former NFL quarterback played for the Atlanta Falcons after being drafted in 2001, but controversy halted his athletic progress in 2007 when he spent over a year behind bars for his part in a dog fighting ring (per NY Daily News). Vick would go on to continue playing on the field, but the controversy has always clouded his career, which makes the fact that he appeared in an "Atlanta" episode all the more surprising. 
Michael Vick and Earn raced in Atlanta
Michael Vick appeared in Season 2, Episode 3 of "Atlanta," titled "Money Bag Shawty." The former quarterback plays himself in what was a hilarious, but controversial appearance. In the episode, Earn and Van (Zazie Beetz) leave a club and find a crowd of people watching two men race. They are informed that Vick is running against drunk people for money because it's a "great side hustle." 
Earn decides to race, saying, "sometimes you just gotta stunt on people." After he and Vick share a nod, Earn takes off and the show freeze-frames, and then we cut to Earn and Van afterwords, with Earn wallowing. "It's Michael Vick!" Van says. The idea of Vick racing drunk people outside of a club for side cash is hilarious considering the fact that the man was once signed to a $62 million contract (via ESPN), but it gets that extra "Atlanta"-level of weirdness in the fact that the cameo is so laid back. Even the idea of Vick racing drunk people doesn't get too outrageous, as Vick plays the part as if he's simply enjoying another night.
Not everyone loved Vick's involvement, even if he is a signature athlete in Atlanta. An IndieWire review called the cameo "distracting for all the wrong reasons," and plenty of others also objected. However, the episode had such an impact that Vick has since said that people actually offer to race him in public now (via Bleacher Report).