The Untold Truth Of Donald Glover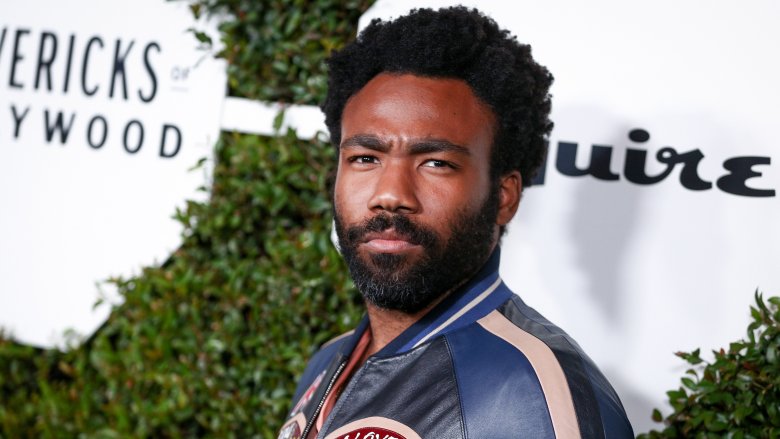 Getty Images
In just a handful of years, Donald Glover has risen to the upper echelons of pop culture prominence. His Emmy-winning TV series Atlanta — he's the show's creator, showrunner, writer, star, executive producer, and executive music producer — earned a second season run at FX. He's one of a small handful of artists to land a spot on Saturday Night Live as the host and musical guest, and of course, he took over the role Billy Dee Williams originated with his portrayal of young Lando Calrissian in Solo: A Star Wars Story. 
He made headlines in early 2018 with his split from FX's Deadpool animated series, but that moment is just a blip on Glover's radar. After all, he's playing the voice of Simba in Disney's new Lion King movie. In other words, this actor/writer/producer/musician is all about progression.
What makes Glover so fascinating is his storytelling acumen. Whether it's through his music, his comedy writing, or acting, he thrives when he creates art that can connect with an audience. From his early days in sketch comedy to his big Emmy and Grammy wins, Glover's media reach is strong. But when you take a step back, it's easy to see there are still a plethora of lesser known details about his life and career. Without further ado, here's the untold truth of Donald Glover.
He went viral in 2006
While attending NYU, Donald Glover became a part of Derrick Comedy, a sketch comedy group who performed regularly from 2006 to 2010. It was a formative time for internet video viewing, and the group took full advantage of the new medium, quickly achieving widespread notoriety with their clips. It wasn't long before they racked up a healthy fanbase on YouTube with comedic skits gaining national media attention.
Before parting ways completely, Glover joined forces with his sketch comedy crew and released a detective comedy feature called Mystery Team. Derrick Comedy member DC Pierson told Paste Magazine that the film was inspired by the group's collected appreciation of Encyclopedia Brown. In 2010, Pajiba called the film "the smart kind of dumb." And with appearances by the likes of Aubrey Plaza (Legion, Parks and Recreation) and Bobby Moynihan (Saturday Night Live), the comedy's cult status has only grown over time.  
From college dorm room to TV writers room
Donald Glover was still living as an RA in his NYU dorm when SNL alum Tina Fey came calling. His work with Derrick Comedy had popped up on her radar and she actively pursued him to write for her new NBC comedy 30 Rock. As Fey writes in her memoir Bossy Pants, "Because he came from a large family in Georgia, he was very helpful in writing for the character Kenneth the Page."
Why did he get this amazing opportunity? Fey admitted to The New Yorker that race was a big factor. She "admired Glover's talent," but it was NBC's diversity Initiative that made him affordable. Or in other words, free. "It just helped you learn the rules of everything," Glover told EW. "Tina [Fey] taught me how to write, but also about the politics of television." In 2012, Fey and Glover continued their creative partnership when she supplied guest vocals on Childish Gambino's Royalty mixtape.
"He embodies his generation's belief that people can be whatever they want and change what it is they want, at any time," Fey wrote in her Time tribute to Glover for the magazine's "100 Most Influential" issue in 2018. "When you're tired of starring in a network comedy, take a break to pursue your rap career for a Grammy nomination. When you've learned all you can from acting in other people's movies, sit down and create your own piece of art." 
He was almost the president ... on SNL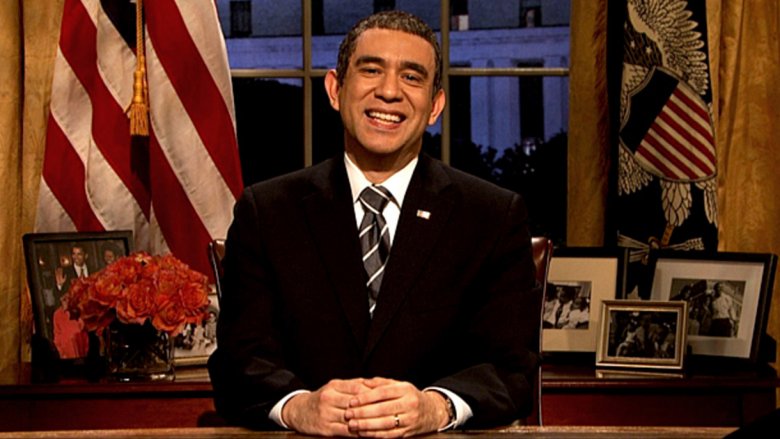 2008 was an interesting time for television. Not only was the country immersed in a presidential election season, members of the Writers Guild were on strike, causing scripted episodic TV to come to a halt. As the strike came to an end, rumors suggested that Saturday Night Live was looking for a new face to step in as then-Senator Barack Obama. According to The Huffington Post, "They auditioned Mad TV's Jordan Peele, 30 Rock writer Donald Glover, and comedian Jordan Carlos, best known as 'Stephen Colbert's Black Friend." 
It took a few more years for Peele to bring his Obama impersonation to TV with Comedy Central's Key & Peele. Was Glover's Barack impersonation worthy of the late night spotlight? It's possible. In the end, though, Lorne Michaels gave Saturday Night Live alum Fred Armisen the role. Just one year later, Glover made his jump from writer to TV actor with his debut as lovable athlete Troy Barnes opposite Joel McHale's Jeff Winger, Chevy Chase's Pierce Hawthorne, Alison Brie's Annie Edison, Gillian Jacobs' Britta Perry, and Danny Pudi's Abed Nadir in Dan Harmon's cult favorite sitcom Community.
He grew up a Jehovah's Witness
Donald Glover was raised a Jehovah's Witness, a religious lifestyle that found him sheltered from much of what pop culture had to offer. "I didn't have a lot of things from the world," he recalled during an appearance on The Late Show with Stephen Colbert. "I was always taught that the world was kind of a bad place. So, like, whenever things came in, I'd be like, 'Yo, this is really dope!'"  
Looking at him now, it's kind of hard to imagine the lack of music, movies, and television in the young Glover's life. According to Wired, "He'd listen to bootleg audio of Simpsons episodes in bed at night, though he did manage to sneak into a viewing of Star Wars: Episode I and catch the occasional Muppet movie. It was a little weird, and he translated that weirdness into his own puppet shows, performing for the foster kids his parents took care of."
This unique upbringing shaped Glover into the multi-talented artist we see before us. And, according to CinemaBlend, his Community role of Troy Barnes was the first openly Jehovah's Witness character on TV. Coincidence? We think not.
Donald Glover, stand-up comedian
YouTube celebrity? Check. TV writer? Check. Sitcom star? You bet. Rap superstar? Without a doubt. By 2012, Donald Glover had collected an impressive number of accomplishments — especially for someone who'd had their big TV break just a few years prior. With all the work he'd put out into the world by that point, he had shown a proclivity for inducing laughs. And what's the most basic method of doing this? Three words: Stand-up comedy.
In 2010, Glover tested the joke-telling waters with the half-hour special Comedy Central Presents Donald Glover. It was a time of transition — in between his work on 30 Rock and Community — and the awkwardly energetic aesthetic he cultivated with Derrick Comedy was present throughout the performance. He followed up this stint with an hourlong special two years later, titled Donald Glover: Weirdo. By this point, he had begun releasing music under the Childish Gambino moniker, and while joke-telling could've remained fruitful, hip-hop was calling — and it proved to be an even more worthwhile venture.
The paparazzi blocker
In addition to the many professional hats Donald Glover wears, he's also a father. When he accepted one of his two 2017 Emmy wins, Hello Giggles reported that he "low-key announced he and his partner are having another baby." Despite being in a constant spotlight for the many projects he has in the works, he's managed to his home life private. That's a feat in and of itself — tabloids have been known to be persistently invasive on that front.
"Glover and his partner, whose name is Michelle, have been together since at least 2016," reported Bustle. "That's the year they welcomed their first child together — a boy named Legend." In January, E! News reported the arrival of the couple's second son. A name was not announced, adding even further mystery. Is Michelle his girlfriend or wife? In the end, all that matters is their happiness ... and by the sound of things, their cup runneth over.
Wakanda funny, forever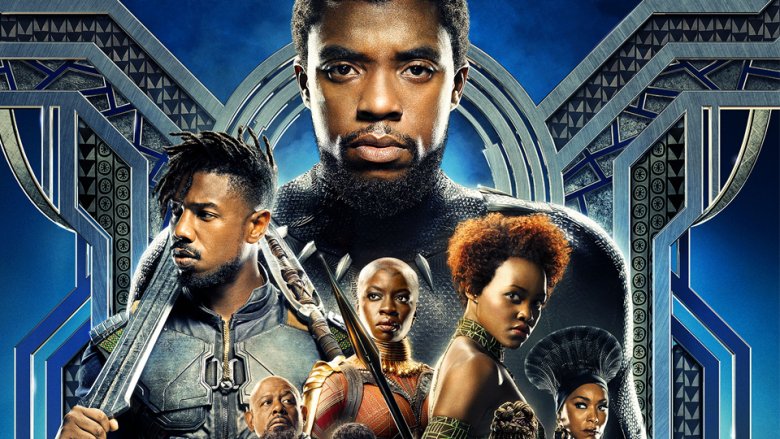 Curious why Donald Glover has a mention in Black Panther's end credits? It turns out that he and his brother Stephen stepped in to help punch up some jokes in director Ryan Coogler's script. "Ryan was gracious enough to be like, 'Will you take a look at this script?'" Glover told Entertainment Tonight. "Which was really cool. Marvel locks things down, so we had not as much time as I would've wanted. We had a couple of hours to punch up some jokes and stuff like that. It was already there anyway. They had already done a great job, so it was really cool to just get our fingerprints on there a bit."
Glover's been known to add some comedy consulting when time allows it. Take Chance the Rapper, for example. Not only have they worked on music together — according to Pitchfork, some new Childish Gambino/Chance the Rapper tracks are on the way — Glover gave the rapper some sketch writing assistance when he hosted SNL in November of 2017. "I actually wrote five [sketches]," Chance told Jimmy Fallon. "I'm a huge fan of the show and I know guest hosts usually come in with a few ideas at least, so I brought a few ideas by. One of them I have to give credit to my good friend Donald Glover, who helped me with the idea. He's a great dude."
A real-life superhero?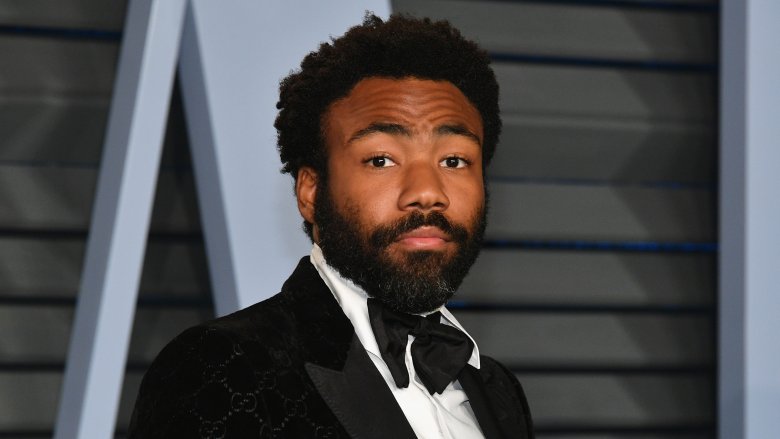 Getty Images
Donald Glover is a superhero. Okay, maybe that's not technically true. But in an interview with the New Yorker, the actor/writer/director/producer/comedian/musician described reality as a "program" with each of his talents being the result of his "hacking the code." Glover further explained this theory, saying, "I learn fast — I figured out the algorithm [...] When people become depressed and kill themselves, it's because all they see is the algorithm, the loop." 
Glover went on to describe a watershed moment he experienced at just ten years of age. "I realized, if I want to be good at P.E., I have to be good at basketball," he explained. "So I went home and shot baskets in our driveway for six hours, until my mother called me in. The next day, I was good enough that you wouldn't notice I was bad. And I realized my superpower." With every challenge he's faced, Glover has developed an analytical method of breaking things down to a simple and learnable trait. Basically, when he looks at the forest ... he sees every tree.
What does Childish Gambino mean, anyway?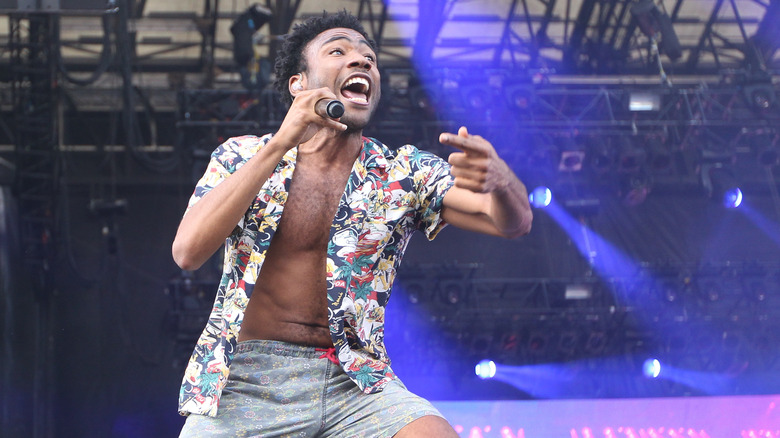 Debby Wong/Shutterstock
When Donald Glover started making mixtapes, he released them under the rap name Childish Gambino. It's a colorful moniker, to be sure. But what does it mean? Glover explained on The Tonight Show Starring Jimmy Fallon that he acquired the name from the Wu-Tang Clan Name Generator. 
"We were all hanging out, chilling and drinking and then we were like, 'oh, Wu-Tang name generator, let's put our name in," he told Fallon. "And we're putting them all in, and they're all funny and stuff, and then mine came up and I was like, 'you guys, it's not funny anymore. This is something big.' I just really liked it."
But what does it mean? In a 2011 Fuse interview, Glover recalled a conversation he had with Wu-Tang's RZA, who apparently had some valuable insight: "He's like, 'Yo, it's like that computer had a brain! It's like you're childish ... but you could also murder someone!" Glover was quick to point out that he wouldn't ever commit murder, instead summing it all up by saying, "For me, it's kind of just like silliness and kind of seriousness." 
He's got his own Coachella
His name may signify a blend of silliness and seriousness, but Childish Gambino explored a deeper level of artistry with 2016's Awaken, My Love! As Rolling Stone argued in their review of the Grammy-winning album, "Gambino delves into the kind of grungy stanklove that OutKast once indulged in on their magnum opuses."
As Gambino's music has continued to mature, Donald Glover's live performances have evolved as well. It all culminated in Pharos, a live immersive music festival that Glover teamed up with Microsoft to bring to life. According to Pigeons and Planes, the four-day event that transpired in Joshua Tree, California "felt like a look inside Donald Glover's brain; an entire universe he created for a small group of people to experience together." It's worth noting that Pharos featured other musical artists, as well, including Glover's longtime collaborator — and film composer for Marvel's Black Panther — Ludwig Goransson.
"Pharos is meant to be a communal space — a place that evolves and reacts to the culture," Glover told Vanity Fair. "We're selling real intimacy. We protect the experience and it becomes something you genuinely share with the people around you and you take away something special. We're looking at expanding the world in 2018—there will be more artists involved." Glover will keep the party going— Pharos is set to touch down in New Zealand in November.
Saying goodbye to social media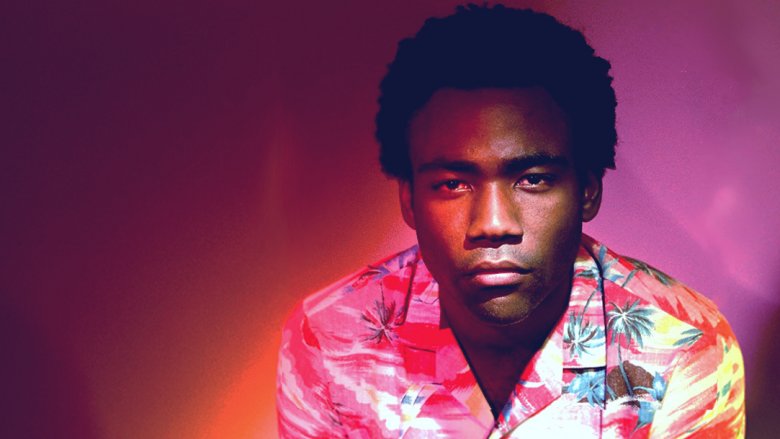 Island Records
Up until 2014, Donald Glover was pretty active on social media. He regularly shared humorous thoughts and quips on Twitter. And let's not forget how personal he got on Instagram, leading many to worry about his mental well-being. Per The Hollywood Reporter, Glover explained his dark Instagram admissions — which included statements like "I'm afraid my parents won't live long enough to see my kids," "I'm afraid people hate who I really am," "I'm afraid people think I hate my race," and "I'm afraid people think I hate women" — by saying, "I just wanted to write down my feelings. I definitely was just expressing myself." 
Not long after, Glover left social media behind. "I felt like social media was making me less human," he tells The New Yorker, "and I already didn't feel that human." Expanding on his issue with the internet, citing the lack of personal connectivity, Glover admitted to Esquire that he still uses social media, but does so anonymously. "I try and find subcultures," he explained. "I try and find communities. I talk to people as a regular person. It's the only place you can be anonymous."
Making Emmys history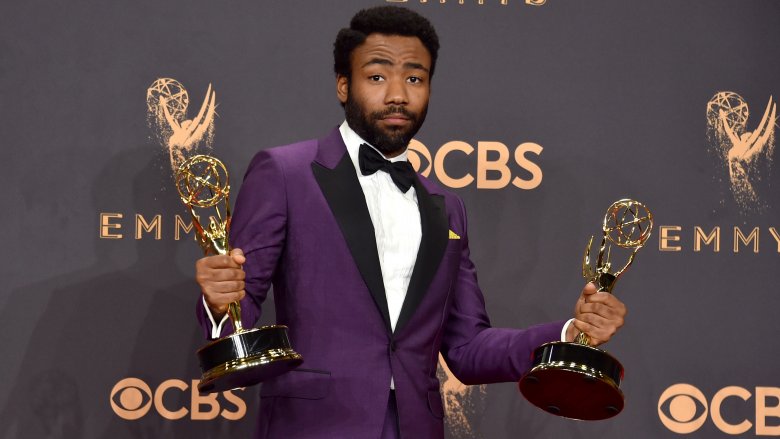 Getty Images
As if all of Donald Glover's accomplishments weren't enough, he also made Emmys history when he received two accolades for his work on FX's Atlanta: Outstanding Directing for a Comedy Series as well as Outstanding Lead Actor in a Comedy Series. As E! News pointed out, Glover became the first black director to win in the comedy category.
Understandably, it was all a bit overwhelming. "I blacked out," he told E!. "I was not ready for that." He further explained to The Los Angeles Times, saying he was in a "weird phase" when he directed "B.A.N.," the episode he won the Emmy for. "I was doing a lot. I was a new father. I was writing other episodes and directing and like cobbling this together," he recalled. "I'm really astonished." Here's a fun fact: Glover is the first director to win an Emmy for a show he acted in since Alan Alda won for M*A*S*H in 1977.
The film that inspired Atlanta
Atlanta is nominally a comedy, and there's a fair share of humor featured throughout the series, but the subject matter goes much deeper. Stylistically, there's nothing else like it on television. Chock that up to the partnership between Donald Glover and director Hiro Murai, who developed their working relationship during multiple Childish Gambino music video shoots and have collaborated to make Atlanta the Emmy-winning force it is today.
Not many people know, though, that much of Atlanta's aesthetic comes from a short film that Murai and Glover made in 2013. "Much of its DNA came from 2013's Clapping for the Wrong Reasons," Murai told Esquire, recalling the short he and Glover made about a rap star moving from room to room in his mansion, drifting among the friends and possessions he'd collected. Film School Rejects commented on the style of the film, writing, "compared to the high concepts of some of Murai's music videos, [it] feels downbeat and almost like an L.A. version of mumblecore, micro-budget movies about creatives aimlessly searching for themselves."