What Atlanta Season 3's Creepy Intro Means For The Rest Of The Season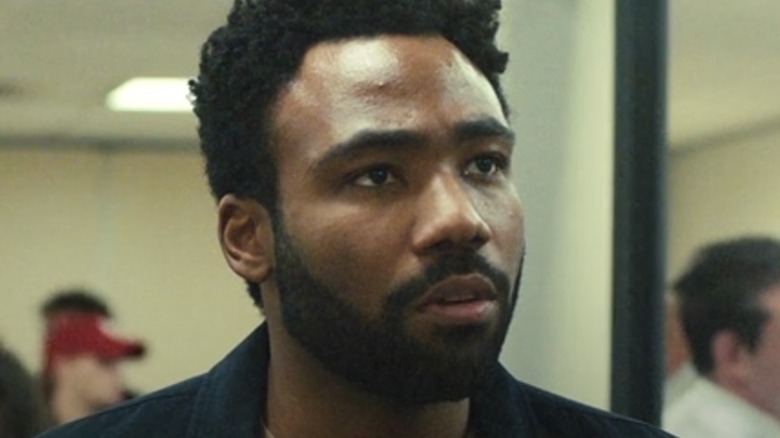 FX
"Atlanta" fans have been waiting patiently for a new season to come along since 2018, and that moment finally arrived this week. On Thursday, March 24, Season 3 of Donald Glover's acclaimed dramedy series premiered on FX, with viewers getting not just one but two episodes. Surely Glover and his co-stars — Brian Tyree Henry, LaKeith Stanfield, and Zazie Beetz — would show up as their respective characters, Earn Marks, Paper Boi, Darius, and Van, right out the gate of Season 3 seeing how long it's been since we last saw them all. But that surprisingly wasn't the case. Instead, Episode 1 opens with a chilling "nightmare within a nightmare," as Men's Health describes it, featuring a new "Atlanta" character named Loquareeous (Christophe Farrar) and some other unfamiliar faces.
At the start of the episode, we see the young Loquareeous having a dream about two men who are out fishing on a body of water that resembles Georgia's Lake Lanier. While out on the still, eerie-looking reservoir, the men — one Black, one white — begin having an ominous and deep conversation about race relations over the years and the "curse of whiteness." According to Glover, who spoke to Den of Geek ahead of Thursday's premiere, the convo holds some serious weight in the "Atlanta" universe and for things to come.
Donald Glover wanted the opening scene to summarize Season 3's big themes
According to Donald Glover, choosing to start Season 3 of "Atlanta" out with two random, never-before-seen characters having a haunting conversation on race and being cursed by one's skin color was something he thought would be a good lead-in to what he ultimately wants to do this year with the show.
"I wanted to do some stuff that other people don't do," Glover told Den of Geek. "And I just wanted to be brash, honestly," he added. Asked about what sort of themes the opening was supposed to express and how it affects the season overall, Glover said, "I just thought it was interesting to play with the idea of like 'what if you built this system, but you can't see it?'"
During the opening conversation between the two unnamed fishermen in Episode 1, the white man tells the Black man about how the reservoir they're fishing on used to be a "self-governed Black town" that was flooded by the government following the construction of a local dam. He then begins to delve into the "curse of whiteness" and how it's blinded white people from the problems Black people face and how they respond. According to Glover, it's a conversation that he once heard being talked about on CNN, and it's something he wants to shine a spotlight on in Season 3.
Glover hopes the intro is a start to getting people thinking about themselves more
During his interview with Den of Geek, Donald Glover explained that what ultimately inspired him to add the opening prologue with the fishermen to Episode 1 is the idea that people should be able to look deep within themselves and recognize that they've been programmed to avoid thinking or adjusting their behavior when it comes to race. Glover said he drew inspiration from a CNN contributor whom he once saw discussing race relations in America during the 2020 George Floyd protests.
"(He) was saying it was freeing white people of the burden of having to be white, which we thought was really interesting," Glover recalled. "Just in the general sense that, without each other, blackness or whiteness doesn't exist. It's an idea that's made up, all of it. It's something that we all just kind of agreed to." Glover said he took this theme and expanded on it for his Episode 1 intro, which features a similar monologue from the white fisherman.
"The thing about being white is ... it blinds you," the man says in the scene. "It's easy to see the Black man is cursed because you've separated yourself from him. But you don't know you're enslaved just like him. ... We're cursed too." Glover told Den of Geek, "That first moment is really special ... I just feel like people aren't going to know how good this is."