Atlanta Season 3 -What We Know So Far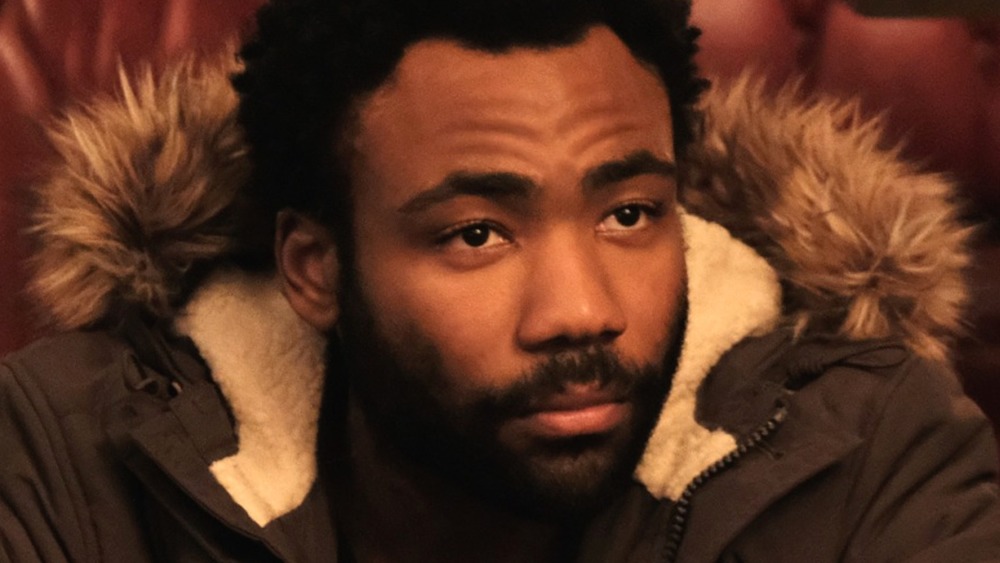 Guy D'Alema/FX
It's been three years since FX aired season 2 of Atlanta, also known as Atlanta: Robbin' Season. That season was the best thing on TV in 2018, containing such instantly legendary episodes as "Teddy Perkins," "Barbershop," and "Woods," and the dramedy series was quickly renewed for a third season after season 2 concluded.
However, since the show last aired, creator and star Donald Glover has been extremely busy with a lot of different things. He returned to his music career as Childish Gambino, releasing the Grammy-winning track "This Is America," touring in 2018 and 2019, making the movie Guava Island with Rihanna, and releasing the album 3.15.20 last year. And he recently signed a deal with Amazon Studios and is developing a series adaptation of the 2005 Brad Pitt and Angelina Jolie movie Mr. & Mrs. Smith with Fleabag's Phoebe Waller-Bridge ... so he's working on Atlanta while juggling a lot of other stuff.
All that being said, Atlanta season 3 remains one of the most hotly anticipated shows coming down the pike. Glover is doing his part to stoke that anticipation, claiming on Twitter last November that the upcoming seasons of Atlanta will be some of the best television ever made, comparable only to The Sopranos. If anyone else said that, it'd seem ridiculous, but Glover probably isn't exaggerating. We can't wait to see what he's working on.
Here's what we know so far about Atlanta season 3.
What is Atlanta season 3's release date?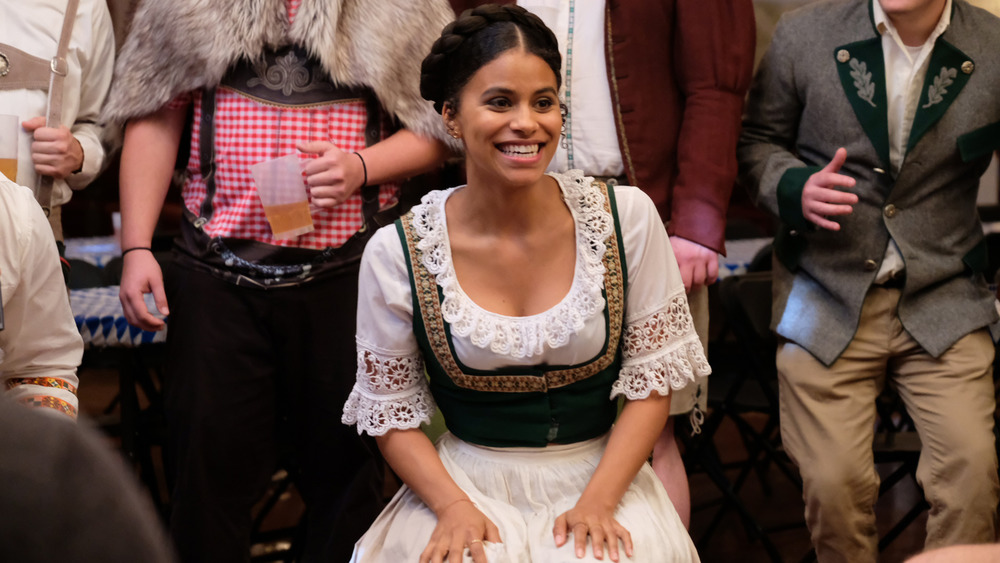 Guy D'Alema/FX
Making season 3 of Atlanta has been an ordeal. The season was ordered in June 2018, shortly after the second season concluded, with a projected 2019 airdate. However, in early 2019, FX president John Landgraf announced that the season had been postponed due to Glover's "incredibly complicated life" causing scheduling conflicts, according to The Hollywood Reporter.
In August 2019, FX announced that a fourth season of Atlanta had been ordered before production had even started on season 3, and both seasons would consist of eight episodes, as reported by Variety at the time. In January 2020, Landgraf announced that the episode order for season 3 had increased to 10 and that the seasons would shoot back-to-back, with a planned 2021 premiere date, according to Deadline. Then COVID happened, and production was postponed yet again. But according to a recent Hollywood Reporter article, production is finally scheduled to begin in March.
No premiere date has been announced or even publicly hinted at by FX, but if season 3 starts filming in March as planned, it could potentially premiere as early as fall 2021. But that's all very TBD.
Who will be in Atlanta season 3's cast?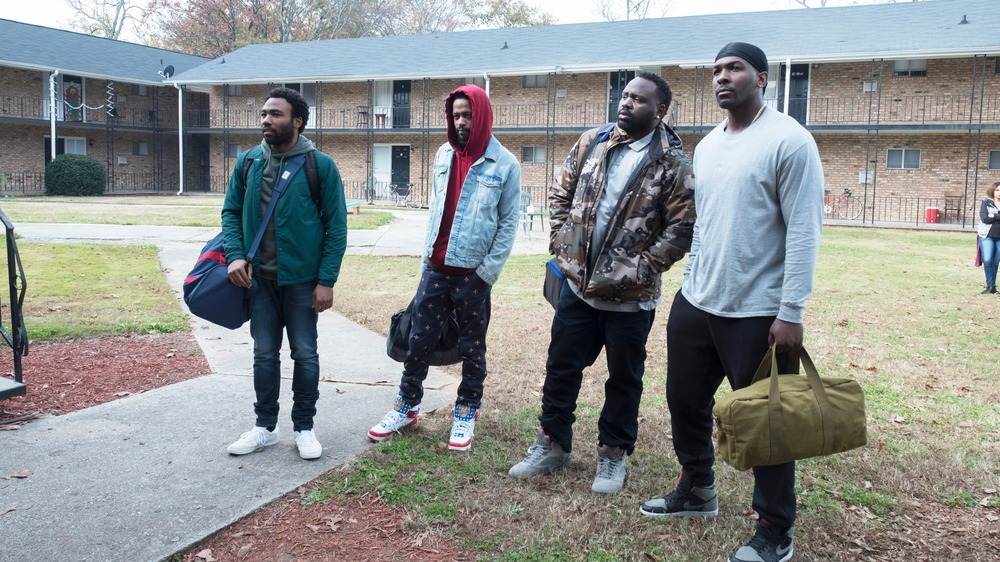 Guy D'Alema/FX
Atlanta helped make stars out of its entire series' regular cast, which, in addition to Glover, includes Brian Tyree Henry, Lakeith Stanfield, and Zazie Beetz. They've all become in-demand and prolific actors themselves, with Tyree Henry slated for the upcoming Marvel movie Eternals, Stanfield gaining Oscar buzz for Judas and the Black Messiah, and Beetz appearing in Deadpool 2 and Joker. But they'll all be back for Atlanta. They'll reprise their respective roles as Alfred a.k.a. Paper Boi, Darius, and Van. And of course Glover will return as Earnest "Earn" Marks. Though due to their busy schedules, it's likely that not all of them will appear in every episode. (This was already the case in season 2, which included a few episodes without Glover while he was away shooting Solo.)
Other season 3 cast members are likely to include Khris Davis as Tracy, Alfred's recently paroled friend who clashes with Earn, and RJ Walker as Clark County, a rapper of extremely shady moral and ethical character with whom Earn and Alfred warily collaborate. And there will surely be a collection of guest stars famous — in the vein of season 2's Emmy-winning appearance from comedian Katt Williams — and not. But no official season 3 cast has been announced yet.
What will the plot of Atlanta season 3 be?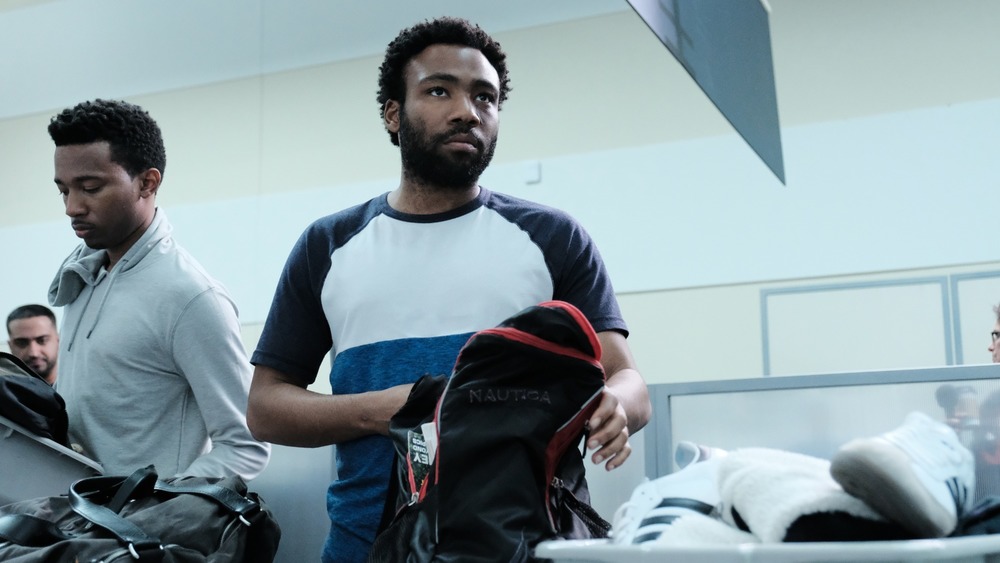 Guy D'Alema/FX
Season 2 ended with Earn, Alfred, and Clark County on a plane bound for a European tour after Earn planted a gun in Clark County's bag that Clark County then planted on his manager Lucas (Matthew Barnes). Presumably, season 3 will continue that storyline. According to John Landgraf, season 3 was slated to film at least partially in Europe, but that was before the pandemic, so whether or not that actually happens remains to be seen.
Beyond that, it's hard to say what the plot of Atlanta season 3 will be. The show is incredibly unpredictable, and what even seems possible changes from episode to episode. No one would have ever predicted "Teddy Perkins," and it's probable that Glover and his writers — who include his brother Stephen Glover, Emmy winner Stefani Robinson, Fam Udeorji, Ibra Ake, Jamal Olori, and Taofik Kolade — have some surprises in store.
It's unknown at this point if season 4 will be Atlanta's last, but Glover does have a clause in his Amazon deal that will allow him to continue to work on it if he wants to.
Atlanta seasons 1 and 2 are available to stream on Hulu.