The Best '90s Nostalgia Referenced In Pam & Tommy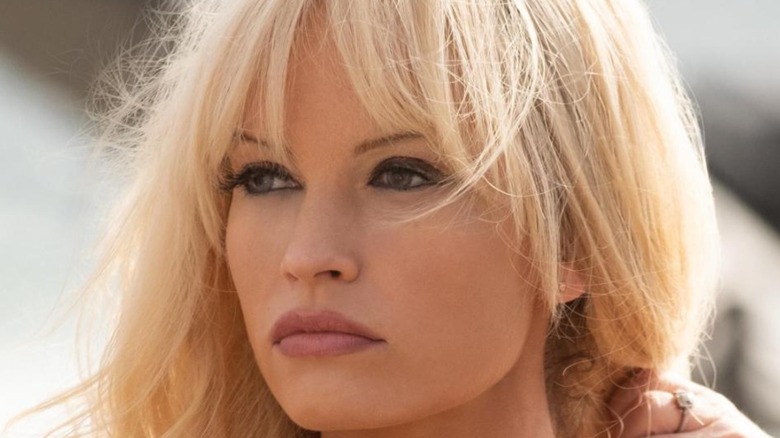 Hulu
Ask any celebrity and they might tell you that living in the limelight is not all it is cracked up to be. Sure, living a life of luxury with expensive toys and homes is everybody's dream. But the cost of privacy might be a no-go for some. "Pam & Tommy" covers the story of one of the first big public leaks of a celebrity sex tape. In the 1990s, Pamela Anderson and Tommy Lee were at the height of their careers. Anderson was a well-known series regular on the show "Baywatch," and Lee had already enjoyed more than a decade of fame as Mötley Crüe's wild (and seemingly unhinged) drummer. The whirlwind pairing of the starlet and rocker led to intense interest from the public.
The drummer was always known for being a bit of an eccentric hot-head. Unfortunately, Lee's penchant for anger drew the ire of one of his contractors, Rand Gauthier. He refused to pay for work rendered and fired the contractor. When the Gauthier returned to pick up his tools, Lee threatened him at gunpoint, forcing him to leave his things and exit the premises – in so many colorful words. The series depicts these actual events, as well as Gauthier's follow-up retaliatory efforts to steal Lee's safe containing the now-infamous sex tape.
Those who lived through the '90s likely were keenly aware of the debacle as it made a splash in news headlines across the country. "Pam and Tommy" offers viewers a trip back to that era, and doesn't hold back on the '90s nostalgia at play during these events. Let's take a look at some of the series' best '90s references.
Third Eye Blind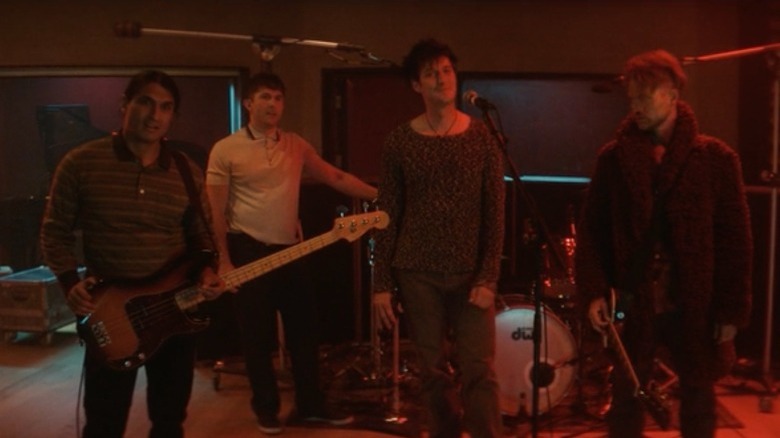 Hulu
Being in the field of work that he is, Tommy Lee rubbed shoulders with countless rockers and musicians across the music industry. Mötley Crüe spun out of the '80s hair metal scene and entered an entirely new generation of grunge and alternative music that was reaching new levels of popularity in the '90s. In the series, Lee is seen with his bandmates Nikki Sixx and Vince Neil on multiple occasions performing or recording new material for their 1997 album "Generation Swine."
Humorously, the band finds that a new rival has taken over their studio as they attempt to begin recording material. The band is revealed to be Third Eye Blind, a popular alternative rock band of the '90s. Angrily, Tommy berates the band that seemingly stole their studio and is bitter towards the record label for the apparent insult. In reality, this moment never actually occurred. While much of the series recounts true events, this was a manufactured scene to add humor and a dash of '90s nostalgia to the mix. 
Camcorders and VHS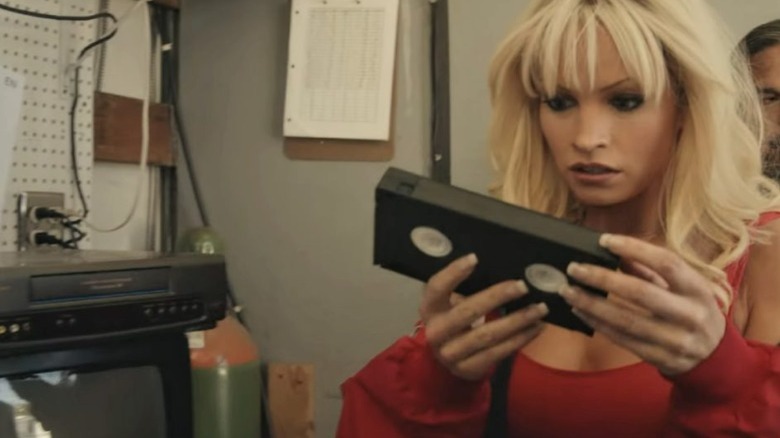 Hulu
We live in an age where video and photos can be captured at the drop of a hat. Smartphones occupy our pockets and purses granting us the wizardry of interconnectivity and video recording capabilities. Furthermore, streaming services allow us to summon any number of TV shows and films at the click of a few buttons. The younger generations among us don't understand the amount of hardware that was required to handle these tasks before the turn of the century.
Camcorders were bulky all on their own, and not a single home video was made without one in the '90s. The sex tape that is central to "Pam & Tommy" was recorded on such a device. Imagine having to carry a bulky camcorder to record video and a separate hunk of plastic and glass to snap photos.
VHS was a video platform that was on its way out during the mid-90s. While DVD technology was already available at this time, much of the world hadn't yet shifted from the comforts of what they knew best: videocassettes. The idea of watching a video or movie and having to rewind the tape upon completion is unfathomable these days. We're spoiled!
Dial-up Internet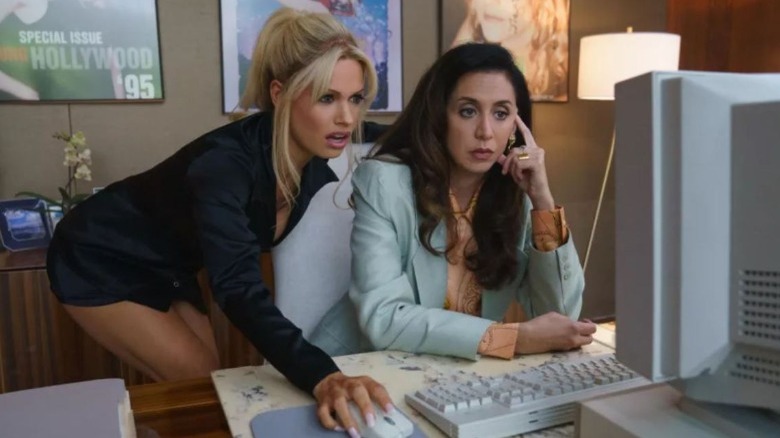 Hulu
The '90s ushered in the age of the internet among the public. In those days, the internet was established through a dial-up, landline connection. Unless a home had multiple landlines, being on the internet would block anyone's ability to make or receive phone calls within the home. Getting on the internet required coordination with others in the household to ensure important phone calls weren't missed. Once connected, the internet moved at a snail's pace often uploading web pages in segments. The patience level of most in that era was a lot higher than we'd likely expect from folks these days. It's too easy to take the speed and ease of obtaining what we want in the present for granted.
Let's not forget that unmistakable sound of AOL dialing into the internet with a series of tones followed by static. Tommy Lee is seen interacting with a bulky personal computer and struggling to use the keyboard, let alone access the internet. Basic computer know-how, including typing on a keyboard, was entirely new to most people who were still transitioning into a new age of technology.
The soundtrack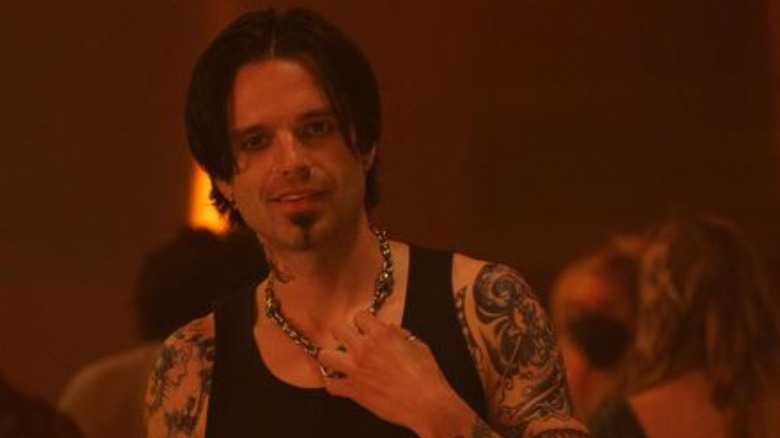 Hulu
There's nothing that settles a viewer into an era of pop culture history quite like a soundtrack that matches. "Pam & Tommy" doesn't skimp on the '90s playlist, either. Everything from the ever-popular "Praise You" by Fatboy Slim to "Be My Lover" by La Bouche made a splash in the series. The steady beat of "Tootsee Roll" by the 69 Boyz can be heard during one of the show's club scenes.
The series even invokes callbacks to prior decades through its music. Despite the '80s origins of songs like "Everybody Wants to Rule the World" by Tears for Fears, that didn't change the appeal of the music, which endured into the '90s, playing prominently across pop radio airwaves everywhere. Of course, Tommy Lee's presence as a music icon only serves to invite that world into the narrative. However, viewers who came of age in the '90s or simply lived through that decade will greatly appreciate the musical cues that frequent the entirety of "Pam & Tommy."
'90s fashion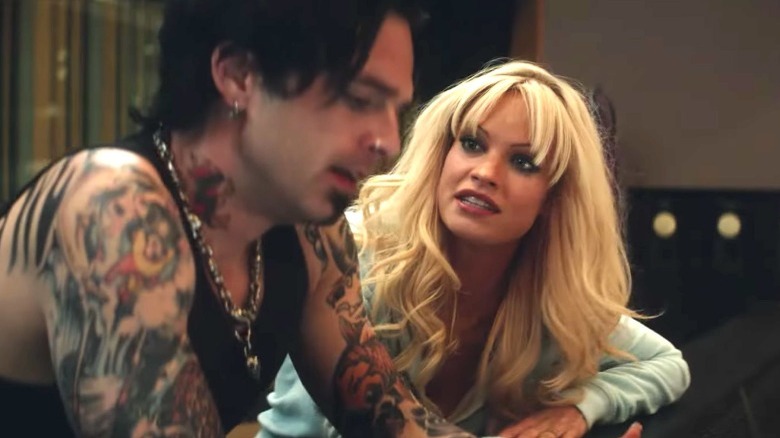 Hulu
Of course, a period piece wouldn't be appropriate without a fashion style properly befitting of the era. The decade of the '90s is absolutely defined by its own take on fashion. Anderson, of course, embraced the glam style that was consistent with the period, donning flashy, but trim attire. Big hair was still a must in the '90s, although it was much different than the big perm hairstyles seen in the '80s. There was also a grunge-appeal to the '90s that Tommy Lee seemingly embraced, despite his '80s rock n' roll origins. Big shiny necklaces and pocket chains alongside the thinly-trimmed soul patch were all popular style choices for the rock scene. The marriage of the couple was ultimately a perfect screenshot of the polar opposite, but popular styles of the era.
Rand Gauthier represented the everyman, albeit one who digs a major hole for himself morally and legally. However, his wardrobe largely consisted of t-shirts and jeans, a casual style that soared in that decade. Of course, the mullet hadn't quite worn out its welcome in the '90s, at least among some circles. Lee's posse also featured fellow rockers (not specifically based on any real individuals) with accentuated punk-rocker hairstyles. Furthermore, bleached hairdos were all the rage and only became more prominent at the turn of the century.
Baywatch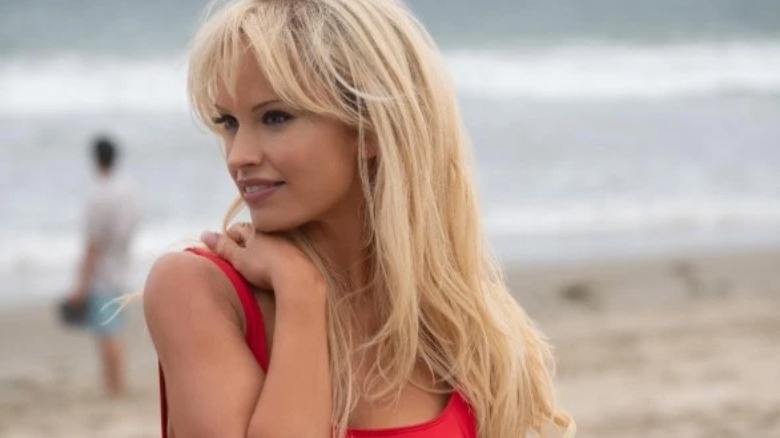 Hulu
Of course, a series about Pamela Anderson in the 1990s wouldn't work unless there was at least a brief reference to her role on the cast of the popular action-drama television series "Baywatch." In fact, Anderson is fairly synonymous, and the show established her as a pop culture icon. She joined the cast of "Baywatch" in 1992, a show that featured the lives of bodyguards on the sunny beaches of the west coast. "Pam & Tommy" depicts her time working on the show and even shows viewers that she had greater ambitions for her acting talent, but was ultimately shut down by the show's producers.
As a series, "Baywatch" would go on to inspire several films as well as a revival series later on down the road. Regardless, there's nothing more identifiable in '90s pop culture history than watching David Hasselhoff and Pamela Anderson running down a beach to rescue someone in distress. Despite all the inequalities and lack of representation that existed towards women in the industry in the 1990s, Anderson helped empower other women through her role as a strong-willed woman engaging in heroics on screen.
Barb Wire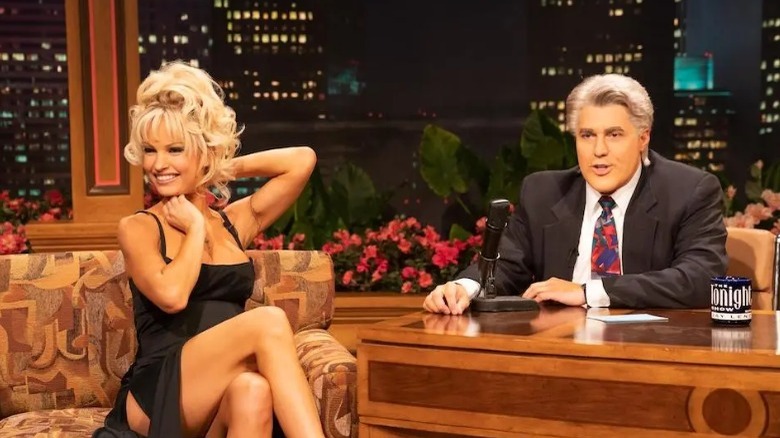 Hulu
The post-apocalyptic 1996 film "Barb Wire" stars Pamela Anderson in the titular role as a mercenary. In the film, the world has devolved into an all-out civil war. This campy superhero-like romp is actually based on a Dark Horse comic book series and even includes "The Book of Boba Fett" star Temuera Morrison in its cast. The film bombed in both box office numbers and critical reviews. However, it's still an iconic mainstay of Anderson's career.
"Pam & Tommy" featured the film prominently, showing Pam as a tortured starlet engaged in promotional efforts for the film. Unfortunately, the release of the feature film came at the height of the couple's sex tape crisis granting spectacle far more attention than any of her professional work. In the show, she even goes on Jay Leno in an effort to talk about the film, but is questioned about the sex tape instead. Later, after the release of "Barb Wire," Pam and Tommy sneak into a movie theater incognito in an effort to enjoy her big outing on the silver screen. Her pride is crushed, however, when hearing audience members mock her performance. Despite its B movie exterior, maybe the Hulu series will draw attention to the film once again.
Sleepless in Seattle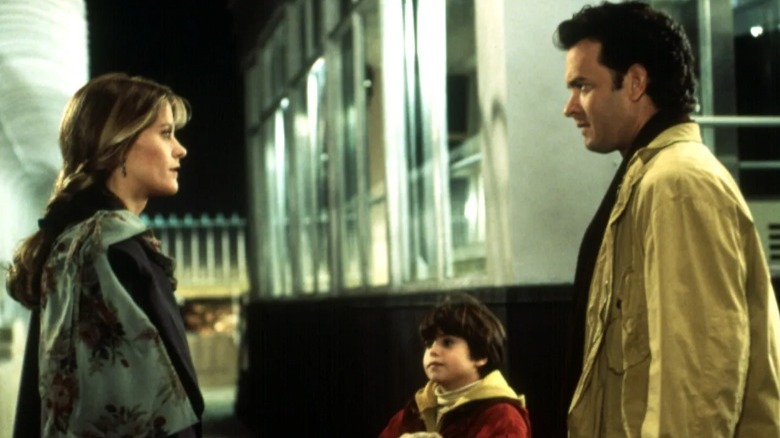 TriStar Pictures
As Pamela's world unravels before her, she must also deal with her temperamental husband, ensuring he doesn't assault a popular late-night comedy show host. Although, Jay Leno might've had it coming after putting the starlet through the wringer and dredging up her own personal turmoil over the most sensitive matter at hand. Regardless, between dodging Leno's publicity-damaging grenades and sternly putting her own husband in his place, Pam simply doesn't have the energy for the premiere of her own film "Barb Wire."
Instead, she stays in her hotel and enjoys the quiet romance at play in the Tom Hanks and Meg Ryan-led film "Sleepless in Seattle." The popular 1993 rom-com portrays the unlikely relationship between a recently engaged woman who feels an emptiness in her own relationship and a widower who shares the story of his dearly departed on a talk radio show. Pam had already clued us in to her love for romantic films such as "Pretty Woman" and "Ghost," two other 1990 hits as well as a fondness for "Sleepless in Seattle" when discussing her favorite films in the second episode. Now, she's making good on her claim viewing the classic film for a bit of much-needed comfort.
Tower Records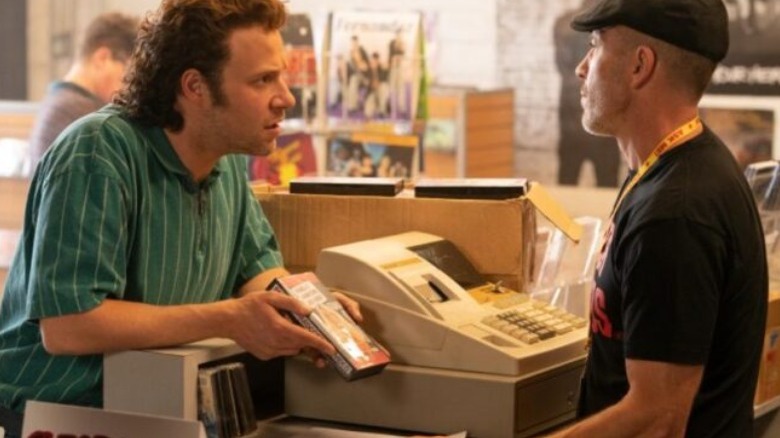 Hulu
All forms of media are now available on digital platforms. Whether you desire movies, TV series, music, or video games, all of them can be downloaded or streamed from the comfort of your own couch. Gone are the days of physical media retail stores. As far as music is concerned, the '90s was crowded with businesses like Sam Goody, Suncoast, and Tower Records.
"Pam & Tommy" prominently features a Tower Records establishment where Rand finds that copies of the sex tape he stole from the famous couple are being sold at a discount price. Tower Records was a popular music store that reached its peak in the '90s, like most physical media stores. The last Tower Records store eventually closed its doors in the mid-00s after the company filed for bankruptcy and liquidated all of its assets. Surprisingly, the store has made a triumphant return in the form of an online vendor. Despite a transition to digital media, demand for retro mediums brought the business back to life. The business announced its revival in 2020 and it specializes in selling vinyl and cassettes.
Brett Michaels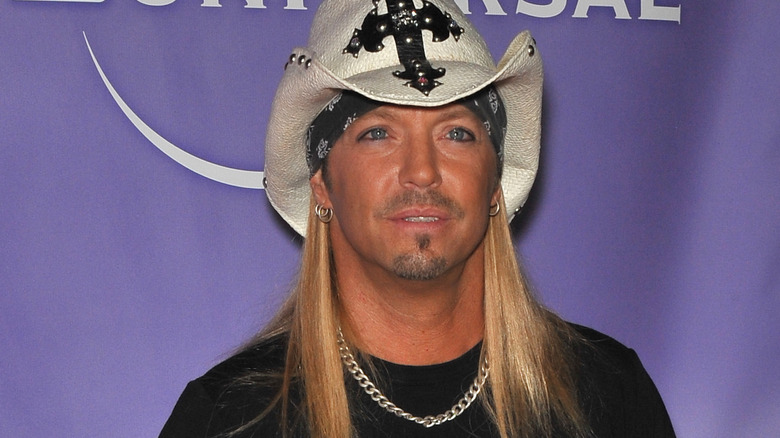 Featureflash Photo Agency/Shutterstock
Being a celebrity starlet like Pamela Anderson means meeting plenty of famous people — some of which, she may have even dated. Tommy Lee wasn't her first significant other who was a rocker. She was also famously involved with the Poison frontman Bret Michaels prior to her marriage to Tommy Lee.
In the series second episode, the story of Pam and Tommy's courtship is unfolding. She unabashedly commits to sticking with good, "boring" guys for now... until Tommy Lee enters the picture. Clearly, Pam can't help but live for excitement, and Tommy Lee exudes that if nothing else. Despite trying to push him away, the cracks show through her resistant façade and Tommy persists, regardless. Pam's friend warns her of her past flings that ended poorly and name drops Bret Michaels. Ironically, Bret Michaels and Pam Anderson filmed a sex tape that pre-dated the one at the center of "Pam & Tommy." 
VH1 "Behind the Music"
Music television was all the rage in the '90s. Networks like MTV, The Box, and VH1 heavily featured music videos and TV series dedicated to the hottest musicians in the biz. Famously, VH1 began a program in 1997 titled "Behind the Music." The series was a documentary-style approach that focused on a different music icon with each entry. Often, the documentary series would provide behind-the-scenes access to the celebrities' lives as well as discussing their origins and claims to fame in the industry.
At one point, Tommy Lee sees the network covering Nirvana and the show serves as a poignant reminder that there are new threats to his career that have been emerging in the industry. Even though the popular Nirvana frontman had already tragically passed away, the band left an indelible mark on the decade. With the advent of grunge rock, music fans began shifting their focus away from the '80s glam rock scene and stepping into a new generation of rock n' roll. "Behind the Music" has been rebooted and is now currently airing on Paramount+.
Tommy Lee's beefs with fellow rockers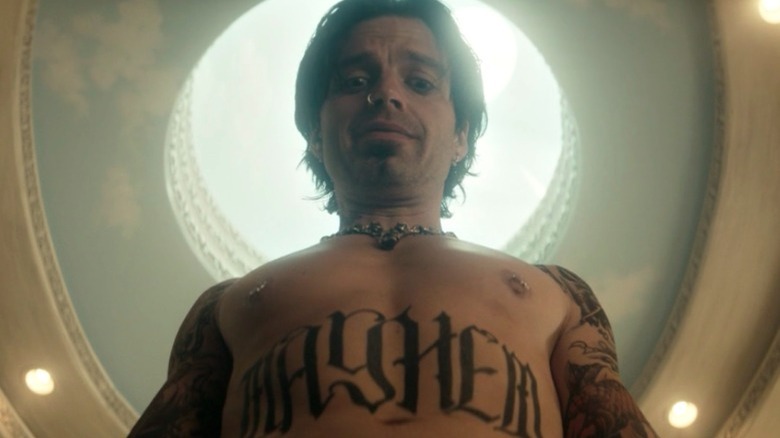 Hulu
If it wasn't apparent before watching "Pam & Tommy," it's safe to say that Tommy Lee can be erratic and violent. He is prone to outbursts and temperamental fits when angered that often result in property damage and even physical assault. It doesn't take much to get under the rocker's skin. Therefore, it stands to reason that Tommy Lee has created enemies in the industry through his lengthy career as a drummer. Other rockers who imbibe in drugs and copious amounts of alcohol are also known to have dramatic careers smattered with outbursts and upsets fueled by impatience and anger. Truth be told, rockers can be some of the biggest divas around.
When Pam and Tommy consult with legal counsel to see what can be done about the spread of the tape, they are asked whether they have any enemies. While Pam is a lover and not a fighter, Tommy has seemingly racked up a list of adversaries, including Bret Michaels, the Guns n' Roses singer Axl Rose, Blackie Lawless, record and film producer Lou Adler, the Kiss bassist and singer Gene Simmons, and the big-time record producer and film studio executive David Geffen. He even goes on to name actors like Mickey Rourke and John Stamos. One thing's for certain: Tommy Lee gets around.