What Is The Third Eye Blind Song In MODOK Episode 2?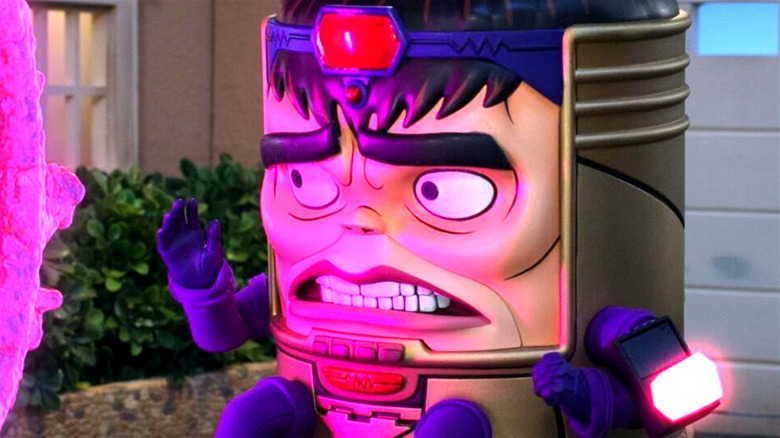 Marvel Studios/Hulu
Patton Oswalt's new stop-motion animated comedy — "Marvel's MODOK" — follows a lesser-known, huge-headed Marvel villain, is now streaming on Hulu, and is unlike any other Marvel series you've ever seen. It's basically an Adult Swim show with Marvel characters, which means there's some off-the-wall humor and unexpected situations — like a concert by the semi-charmed '90s rock band Third Eye Blind playing a major role in the plot of Episode 2. 
In the episode, MODOK (Oswalt) — which is short for Mental Organism Designed Only for Killing — is getting divorced from his wife Jodie (Aimee Garcia). While they're packing up his stuff, Jodie finds an old Third Eye Blind CD, which reminds them of a painful memory. Seventeen years prior, MODOK was supposed to take Jodie to a Third Eye Blind concert but something came up and they didn't get to go. It was one of many disappointments along the road to where the couple is now. But MODOK sees an opportunity to try to win Jodie back, so he gets his time machine back from SHIELD and takes Jodie back in time to the fateful Third Eye Blind concert.
The Third Eye Blind song in MODOK is "Never Let You Go"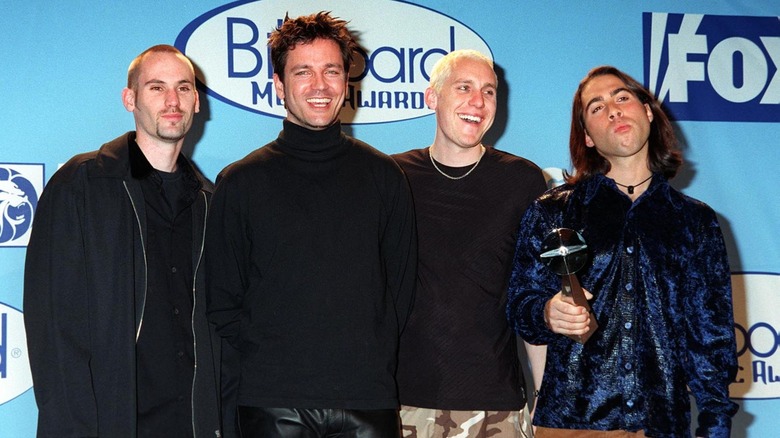 Shutterstock
"MODOK" co-creator Jordan Blum teased a Third Eye Blind appearance on Twitter before the show premiered, and in Episode 2 we see it paid off. The band is playing its 2000 hit "Never Let You Go." It sounds like a live version of the song from a more recent year, judging by the wear and tear on singer Stephan Jenkins' voice. "Never Let You Go" was the second single from Third Eye Blind's 1999 album "Blue." The song is a catchy, upbeat pop-rock song with dark lyrics about a toxic, crumbling relationship and it peaked at No. 14 on the Billboard Hot 100 in 2000. It's not as fondly remembered as their breakthrough hit, 1997's "Semi-Charmed Life," but it's an alternative rock classic nonetheless; "Semi-Charmed Life" actually also gets used in "MODOK" when the title character sings it to himself in the mirror to pump himself up, a moment that appears in the "MODOK" trailer.
Fans on Twitter appreciated the audacity of the "MODOK" Third Eye Blind episode. "Wait what the Third Eye Blind music use in the MODOK marketing wasn't just a weird song choice thing with one joke about it in the show theres an entire ep based on them?" Twitter user What's With Spidey? posted. "And it has time travel? Uh okay." 
The complete first season of "Marvel's MODOK" is now streaming on Hulu and plans are already in place for a second season of "MODOK," according to Jordan Blum.