The Touching Inspiration Behind Kurtwood Smith's Red On That '70s Show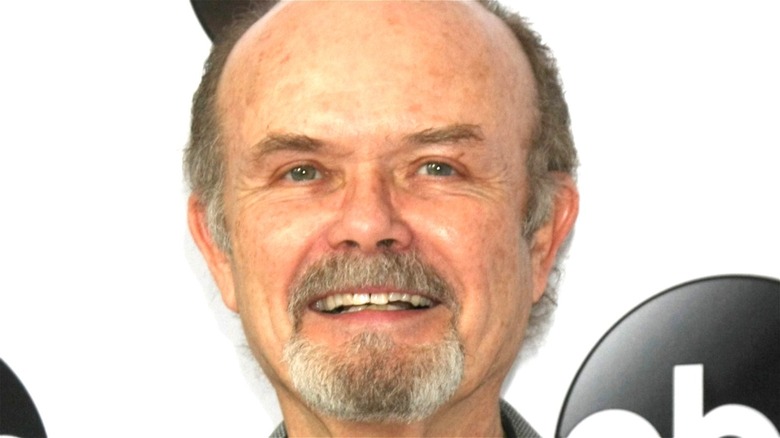 Kathy Hutchins/Shutterstock
Making a television show that defines an era can be attributed to many things, but having a gifted and tight-knit cast has often proved to be an essential factor. "That '70s Show" is a prime example of this, with a lineup that includes Topher Grace, Laura Prepon, Mila Kunis, Ashton Kutcher, and Wilmer Valderrama, among others.
As many fans of the series know, "That '70s Show" follows the lives of a group of teenagers in 1970s Wisconsin as they come of age. It could be argued that Grace's Eric Forman is the main character of the show, as the young group of friends' main hangout is his parents' basement. Eric's mother Kitty (Debra Jo Rupp), and father Red (Kurtwood Smith) are also essential driving characters in the series, with many episodes even focusing on their relationship.
Rupp and Smith were both experienced actors coming into "That '70s Show" during its first season in 1998. Rupp had been acting in the industry since the late '80s, and had roles on shows like "The Equalizer," "Family Matters," and "The Jeff Foxworthy Show" (via IMDb). Smith was also part of the industry since the early '80s, known for characters in the original 1987 "RoboCop" and "Broken Arrow" with John Travolta (via IMDb). 
For Smith, however, taking the role of Red Forman wasn't merely due to liking the script, or even the financial aspect of the job. In fact, Smith had a deeply personal reason for taking on the role. 
Kurtwood Smith played in honor of his stepfather
In an interview with the Los Angeles Times for his role in "Resurrection," Kurtwood Smith discussed some of his initial experiences with getting the part of Red Forman in "That '70s Show."
The actor explained that when he initially read the script for the series, he believed his stepdad best resembled the character, and so he took the role intending to channel what he knew of him through Red. Smith noted that he channeled his stepfather's "attitude, his voice, the walk and the edge" into his character on "That '70s Show." Unfortunately, Smith's stepfather passed just before the series premiered, although Smith joked that his stepdad would've probably said that Red was completely unlike him. Either way, it's clear that role will likely forever hold a special place in Smith's heart given that he based it off of family. 
Smith will be returning to the role of Red in the anticipated reboot "That '90s Show," which is coming to Netflix sometime in the near future, although there is no confirmed release date. Many characters from the original cast are set to make appearances as well. We'll keep you posted.