The Real Reason Jon Hamm Agreed To Star In Shrek Forever After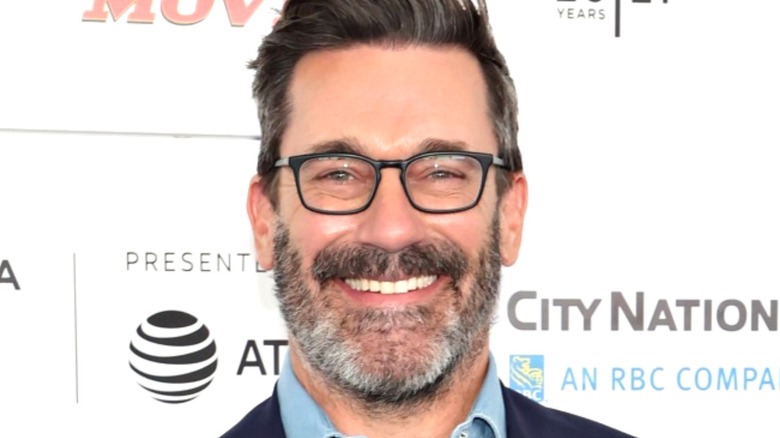 Cindy Ord/Getty
Jon Hamm's career has never been an easy one to predict. The "Mad Men" star could appear in a blockbuster like the upcoming "Top Gun: Maverick" just as easily as he could slide in for a cameo in "Sucker Punch" or go for some laughs as a supporting player in "Bridesmaids" or "The Unbreakable Kimmy Schmidt."
Even while Hamm led AMC's "Mad Men" from 2007 to 2015 as Don Draper, he kept busy on a variety of material, from action to comedy. Through it all, the performer was earning raves for his "Mad Men" performance, even winning an Emmy for the drama's final season (via Variety). He also stretched his voice acting muscles, getting behind the mic for everything from "Minions" to "Bob's Burgers" (via IMDb).
In 2010, Hamm joined the "Shrek" franchise for its fourth installment — "Shrek Forever After" — and the actor revealed the surprising reason he jumped from the world of hard-drinking '50s advertising in "Mad Men" to the arena of animated ogres.
Jon Hamm would have taken any role in Shrek
Jon Hamm popped up in the role of the ogre Brogan in "Shrek Forever After" after multiple seasons of his dead-serious role as Don Draper in "Mad Men," which made the voice turn all the more shocking, even for Hamm.
"I don't know why the character I play on TV would lend itself to be the first choice to be an animated character," he said in an interview with The Georgia Straight. Hamm revealed he was offered the role so early that the filmmakers were still deciding whether his character was a "friend or love interest" to Fiona (Cameron Diaz), who was already a love interest of the franchise's central character of Shrek (Mike Myers).
Hamm went on to confirm that he'd seen all three previous "Shrek" movies and wanted a role in the franchise no matter what. "When I saw the first one, I felt like a 13-year-old. So the pure fan in me said, 'I will do whatever they want,'" he said.
It was a strong choice, as "Shrek Forever After" went on to gross more than $750 million worldwide from its theatrical release (via Box Office Mojo). The franchise continues to this day, with spinoff sequel "Puss in Boots: The Last Wish" scheduled to hit theaters in September 2022.