The Best Find On American Pickers Season 3
You don't have to be a NASCAR fan, or even a casual gear head, to appreciate the story that's behind, and that follows, one of Mike Wolfe and Frank Fritz's coolest finds from "American Pickers" Season 3. While plenty of attention is paid to the season premiere's $7,000-a-piece antique sideshow banners (banners for which the duo paid just $500), there's another gem of a find in the series' 3rd season that, despite its lack of aesthetic appeal, is every bit as memorable and meaningful as any of the show's more talked about trinkets. 
In the season's final episode, "NASCAR Challenge," the history hunters adopt a new client: the NASCAR Hall of Fame in Charlotte, North Carolina. On a quest for more items, particularly those that "changed racing mechanically or technologically," as Mike says, the museum gives the team a $7,000 budget and sends them on their way. Shortly thereafter, shop manager Danielle Colby hooks the duo up with a collector named "Tiger" Tom Pistone, a former mid-century racer and innovator whose gargantuan collection of racing memorabilia and car parts Mike dubs "the NASCAR archives."
Tiger Tom's Camber Spindles were a rare and meaningful find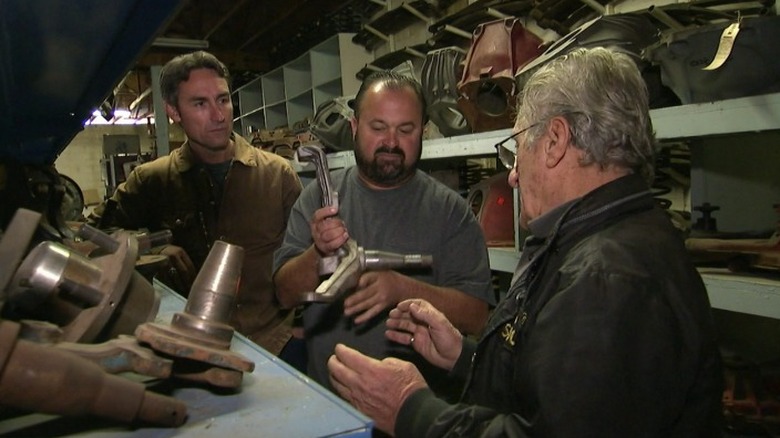 History/ Discovery+
Tiger Tom Pistone's own history is as fascinating as that of any find housed in his speed shop. The show outlines how in the early '50s, the fruit truck driver was coaxed into trying out the fledgling sport of car racing by a friend, and after purchasing a '49 Mercury, he began joining in races at Chicago's Soldier Field. Even if you're not familiar with Tiger Tom's personal racing history, anyone who's ever watched NASCAR will be familiar with his technological contribution to the sport. In 1949, Pistone designed an elongated spindle for stock car legend Junior Johnson. While the "Camber Spindle," as Pistone calls it, doesn't look like much, there's a reason it caught the pickers' eye. 
As outlined in the episode, Pistone's spindle played a major role in the evolution of racing. He designed it to be longer than the stock spindles of '40s and '50s because (due to several rules of physics) the car's wheel would tilt the wrong way when approaching a corner, thus slowing it down. Pistone's extension of the spindle fixed the car's camber (or wheel angle), and as Frank Fritz says, demonstrates "a leap forward in technology and NASCAR racing." Its innovation notwithstanding, the relationship of the Camber Spindle to its creator is what makes it one of the more compelling and heartening finds of the season.
The team helps Tiger Tom cement his legacy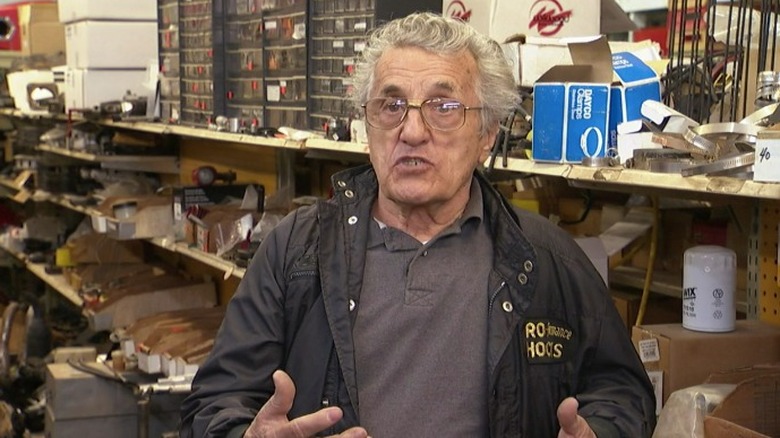 History/ Discovery+
In the episode, Tiger Tom Pistone is understandably cautious about parting with his invention, since he has just one set. "When people come in here," the former racer explains to Frank Fritz, "this is what I show them. So I got history, and I got something to talk about ... when these leave, I got nothing ... it's part of me and Junior." After 22 seasons on the air, audiences have grown accustomed to the cold, hard gap between a given item's sentimental value and its monetary value. But Pistone didn't simply pick these spindles up at a yard sale or inherit them from a long-lost aunt — they're his invention, and a big part of his livelihood and legacy.
Ultimately, Fritz wins the collector and contributor to racing history over by offering him $1,800 for the pair, and reminding him that, as museum exhibits, they'll be seen and read about by "thousands and thousands of people a year." Once the team assures Pistone that people will know that he designed it — and for whom it was designed — he decides to accept their offer. Pistone's contribution and story could easily have been lost to history, but the pickers' discovery and relocation of the Camber Spindle to the NASCAR Hall of Fame means a lesser-known name in racing will finally get the recognition he deserves.