Mike Wolfe And Frank Fritz's American Pickers Feud Explained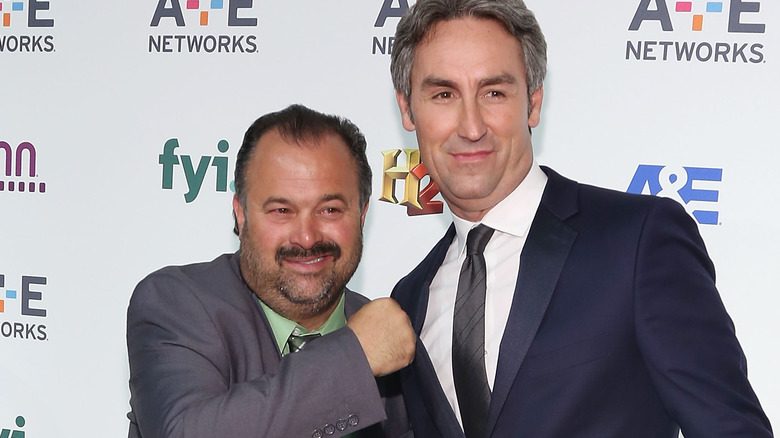 Taylor Hill/Getty Images
The following article contains discussions of alcoholism.
Over the course of 24 seasons and more than 370 episodes, Mike Wolfe and Frank Fritz of "American Pickers" have become one of TV's all-time greatest and most popular duos. They helped shape the face and trajectory of the History Network, with their show becoming one of the channel's biggest hits. The simple and compelling premise is that Wolfe and Fritz, seasoned antique "pickers" with complementary areas of expertise, drive around the United States, looking for out-of-the-way barns, farmhouses, and garages in search of abandoned and forgotten treasures. With the help of Danielle Colby holding things down back home at their shop and headquarters, the trio then turn around their remarkable finds and sell them for big bucks. The format is almost infinitely repeatable and makes for some great binge-watching and comfort television.
Or at least, it did. "American Pickers" as it once was is no more. In the summer of 2021, an apparently long-simmering and very nasty feud between Wolfe and Fritz became a matter of public record. Here's a blow-by-blow account of the ugly in-fighting between the stars of "American Pickers."
The lost treasure of Frank Fritz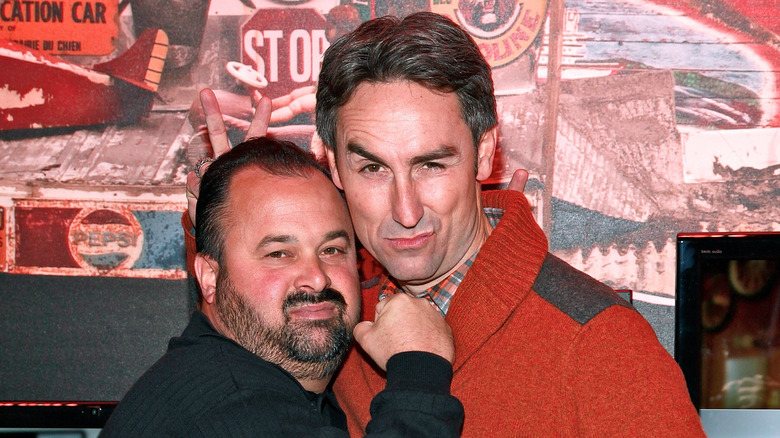 Charles Eshelman/Getty Images
In retrospect, signs of an "American Pickers"-oriented schism were present way back in the spring of 2020. At first, Season 21 of the series kept up with the show's venerable format of Mike Wolfe and Frank Fritz traveling around the U.S., looking for treasure, finding that treasure, assessing and acquiring that treasure, and moving on to the next stop. But then the seventh episode of the batch, "Burlesque Queen," marked what is for all intents and purposes the swan song of Fritz's tenure on the show. In the installment, Frank and Mike venture to Kansas City in search of rare and interesting goods. It first aired on March 2, 2020, but in the next episode, "Ghost of the West," Fritz was nowhere to be seen. Neither erstwhile partner Wolfe nor store manager (and suddenly promoted on-location picking partner) Danielle Colby gave any explanation for Fritz's extended absence — an "American Pickers" first — and barely acknowledged that anything was even amiss. 
Due to coronavirus pandemic lockdowns and restrictions on TV productions, Season 22 of "American Pickers" didn't hit the air until January 2021, nearly a year after those initial Fritz-free episodes debuted. With Fritz still gone from the show and summarily replaced, fans got worried and realized that the "American Pickers" star might be gone for good.
Frank Fritz made a lot of changes in his life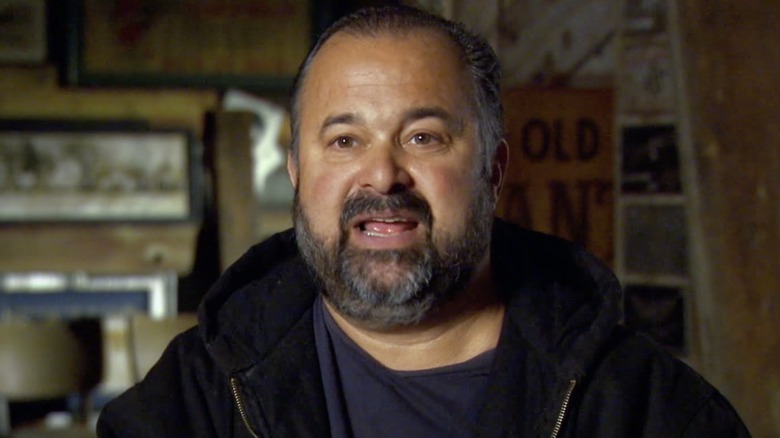 History/YouTube
Finally, in July 2021, Frank Fritz emerged and broke his silence, explaining why he was no longer part of the show that had made him a reality TV superstar. According to an interview with The Sun, Fritz claims he didn't leave "American Pickers," but rather ceased to participate in the new batch of episodes. Those two things sound like they're the same, but they're ever so slightly different, and Fritz can explain. "It's up to the network whether I come back on the show," he said. "I didn't leave the show. I finished shooting and then I had a little back surgery and the pandemic came."
Those comments allude to Fritz's complicated health situation. He couldn't film "American Pickers" in 2020 and 2021 because of his need to recuperate from back surgery. He also suffers from Crohn's disease, a serious and chronic inflammatory system that affects the digestive system, and lost more than 65 pounds, which he attributed to exercising more and quitting alcohol. "I haven't had a drink in almost nine, 10 months," he said.
But through all of those health issues, Fritz said, it's something that Wolfe did and said that really started their feud and which directly led to his non-involvement with "American Pickers." Or rather, it's what he alleges Wolfe did not say and did not do that upset him.
Frank Fritz says he and Mike Wolfe had professional problems and personal coldness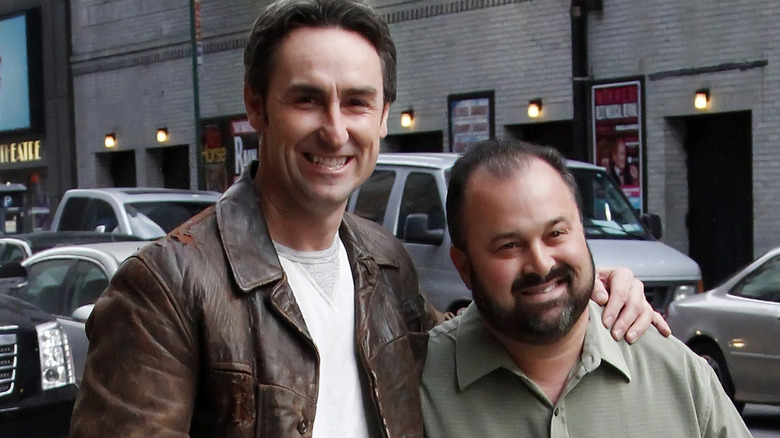 Shutterstock
Frank Fritz told The Sun that his falling out with Mike Wolfe, whom he says he's known for more than 40 years, began literally very quietly some time before news of the "American Pickers" feud reached the public in 2021. "I haven't talked to Mike in two years," Fritz said, adding that what really stung is how he didn't even field a call from his friend of many decades and co-star of one decade before or after his back surgery. "He knew my back was messed up, but he didn't call me up and ask how I was doing. That's just how it is."
This seemed to make some other, dormant issues of resentment bubble up for Fritz, particularly tension with Wolfe over the presentation and production of "American Pickers." "The show is tilted towards him 1,000 percent," Fritz alleged. "I can't even bend that far down to show you how much." But despite calling out Wolfe (and other members of the "American Pickers" team by association), Fritz professed an acceptance of his role on his former program. "It's like you've got Aerosmith and there's Steven Tyler and he's the front man," Fritz explained. "I found my spot, I'm second and he's No. 1 on the show. That's no problem with me, maybe he does have a problem."
Mike Wolfe told the world that Frank Fritz won't be returning to American Pickers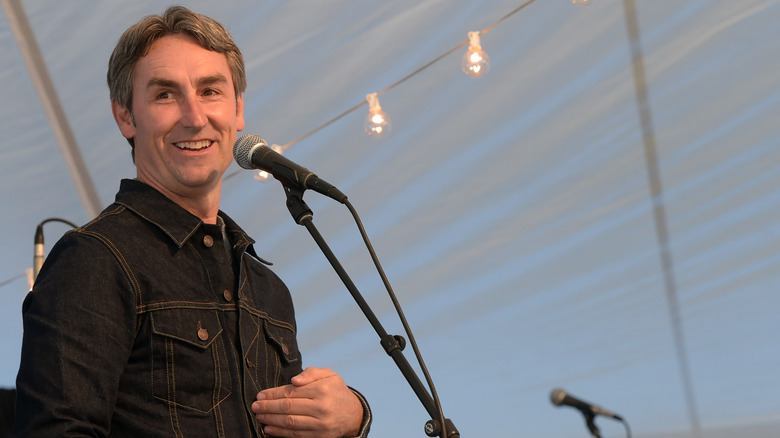 Rick Diamond/Getty Images
On July 21, 2021, History made it official. A representative from the network told Entertainment Weekly that Fritz's long tenure on "American Pickers" had indeed come to an end and that he would not appear in any more episodes in the foreseeable future. The source said that History wasn't actively planning on Fritz coming back, nor did he fit in with the "big picture" of the franchise.
At that point, Mike Wolfe finally weighed in on Fritz's absence, but without answering or acknowledging any of the criticisms levied at him by his now ex-co-star. He released a statement to entertainment media outlets, wishing his former cohort well and curiously not protesting Fritz's decision whatsoever. "I have known Frank for as long as I can remember, he's been like a brother to me," Wolfe wrote. "The journey that Frank, Dani, and I started back in 2009, like all of life, has come with its highs and lows, blessings and challenges, but it has also been the most rewarding. I will miss Frank, just like all of you, and I pray for the very best and all good things for him on the next part of his journey."
Danielle Colby is apparently Team Mike Wolfe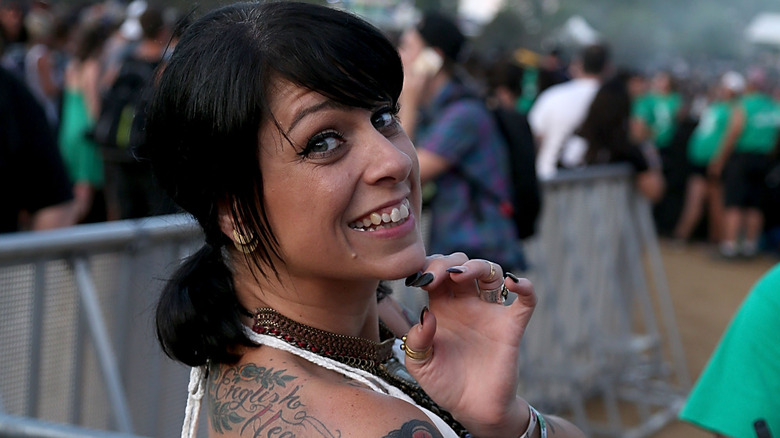 Gary Miller/Getty Images
While Mike Wolfe's statement on the ongoing Frank Fritz affair was brief, polite, and professional, remarks from another individual in the "American Pickers" family were a bit more dramatic and even accusatory. On August 2, 2021, Danielle Colby, the third cast member of "American Pickers" and a crucial part of the show's triangle of success, released a statement on the backstage drama via Instagram. And she clearly picked a side. "I'm proud of how you have handled the last 12 years and look forward to many more years of rolling around this big blue marble together," Colby wrote with a photo of herself and Wolfe "out on the road again." "I'm truly saddened for the loss of Frank on the show. I'm incredibly sad for his struggles."
Colby added that she hoped that "things could have been different but we must be accountable for our actions when we cause instability or pain and suffering to others" and that "Frank caused so much pain for himself that it has been hard to watch," she said, perhaps alluding to Fritz's alcohol issues (which he discussed with The Sun) or some other, very personal things which the general public has not yet heard about.
Frank Fritz thought Mike Wolfe's comments were disingenuous
Neilson Barnard/Getty Images
By August 4, 2021, the full story of the present-day relationship (or lack thereof) between Frank Fritz and Mike Wolfe of "American Pickers" was beginning to come together. Following Fritz's revelatory interview with The Sun, in which he claimed that he and Wolfe hadn't spoken in years, not even during a personal health crisis, and Wolfe's affable remarks upon the confirmation that Fritz had left American Pickers," one of the two warring parties sat down for one more tough interview. Fritz returned to The Sun, calling out Wolfe's well-wishing words. "Mike's statement was bulls***, somebody wrote it out for him," Fritz alleged. "I don't believe in 10 years he's said five nice things to me, you know? Unless he was cutting somebody else down and we were both laughing." Wolfe didn't respond to Fritz's response. 
So while it looks like this feud is over — ending in an impasse for the time being — Fritz told The Sun that he's not done fighting in the one venue where it could really hurt his former co-star and his former producers. "Thousands of people want me back, they've got a petition to get me back on the show," Fritz said of his fans. "I could go either way and find a new show, have something new and have just as much fun."
Frank Fritz sought treatment for alcoholism, and he's ready to return to American Pickers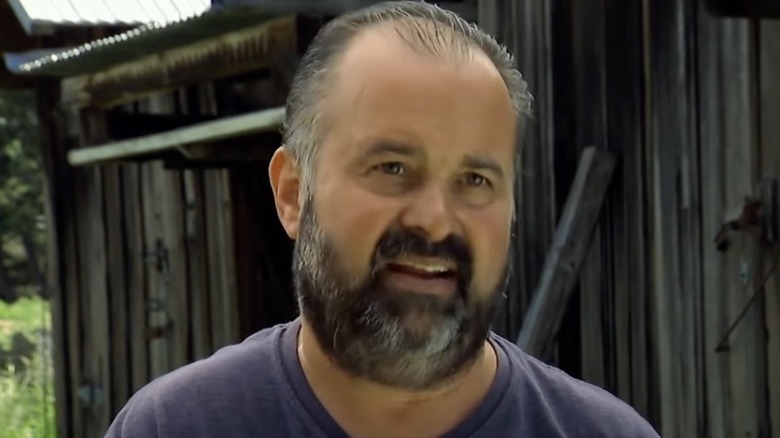 History/YouTube
In addition to his years-long recovery period after back surgery — which required 185 stitches and involved the placement of two rods into his spine — Frank Fritz spent his lengthy time away from "American Pickers" addressing another complicated medical and personal issue. In a 2021 interview with The Sun, Fritz shared that he checked into the Abbey Center, an additional treatment facility in Bettendorf, Iowa. He spent 77 days trying to break his addiction to alcohol. "I didn't like drinking anymore. My mom was an alcoholic, and she died five years ago and it was alcohol-related," Fritz said. "My grandfather was an alcoholic and he died. That didn't sit well with me."
He added that during his time in rehab, he was kept busy all day, every day, and read a dozen self-help books. "I really got into it. I went there to learn and get the most of it that I possibly could," Fritz said. At the time of the interview, Fritz had been sober for nearly a year, and while he still attends counseling meetings two times a week, he'd like to "get back into the swing of things," meaning his job as the co-host of "American Pickers." "I miss my friends and my people and being on the road and meeting all those different characters."
Frank Fritz's alcoholism was still a problem for Mike Wolfe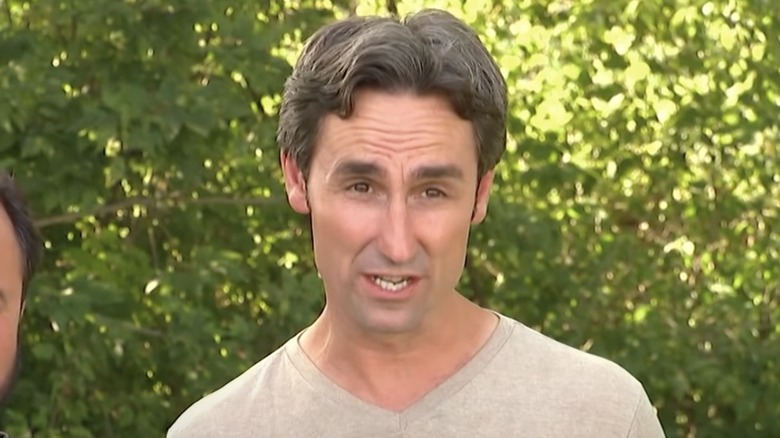 History/YouTube
While Frank Fritz said he sought out help for his addiction issues, the subject remains a sensitive one for people in his orbit, particularly his former "American Pickers" screen partner, Mike Wolfe. Judging from some comments Wolfe made to The Sun in August 2021, he didn't think Fritz is ready to return to "American Pickers" — his own stated desire to do so notwithstanding.
"We all do care about Frank and we want him back on the show," Wolfe said, speaking for the whole of the "American Pickers" cast and crew. "We would absolutely love to, but he just can't get it right." Can't get what right, exactly? Wolfe implied that he can't speak to any progress Fritz has made in getting his alcohol issues under control, but then he also would "love to talk to him again" after having not done so for about two years. "Frank is just going through a lot personally with addictions," Wolfe added. "It's unfortunate that he's made decisions that have him the way he is."
Mike Wolfe thinks Frank Fritz is irreplaceable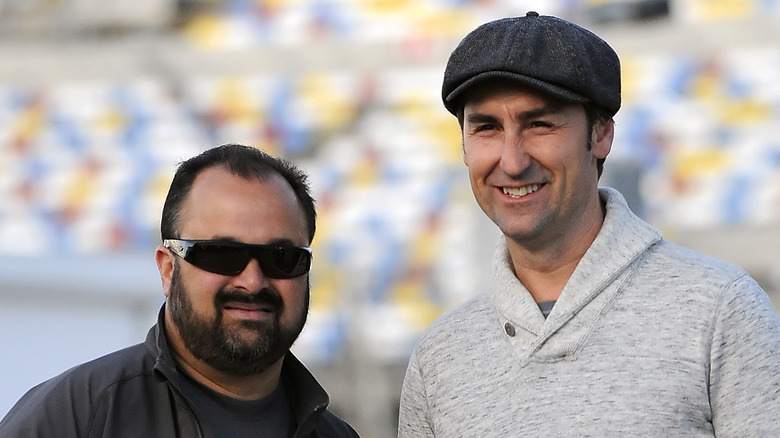 Jared C. Tilton/Getty Images
In July 2022, Frank Fritz was found unresponsive at his home in Davenport, Iowa, and was quickly admitted to a local hospital, where doctors discovered that the "American Pickers" star had suffered a serious stroke. After being hospitalized for a month, Fritz was moved into a residential rehabilitation facility to begin his prolonged and arduous recovery from the debilitating neurological episode. According to The Sun, Fritz's health care expenses were so substantial (around $23,000) a month) and the reality TV personality's functions were so diminished by the stroke the court appointed a temporary guardian and financial conservator to oversee Fritz's affairs.
At the time that his medical ordeal began, Fritz was still in the midst of a dispute with his "American Pickers" partner Mike Wolfe. In light of the situation, Wolfe put the squabbling aside. "There has been lots of opinions in regards to mine and Frank's friendship and the show but now is not the time to set the record straight. Now is the time to pray for my friend," Wolfe wrote on Instagram. "Frank I pray more than anything that you make it through this okay. I love you buddy." 
In February 2023, with Fritz still recovering, Wolfe implied that he was reluctant to do "American Pickers" without his longtime co-star. "Nothing will ever replace Frank we miss him," Wolfe wrote on Instagram (via Newsweek). "Very much like y'all do."
What was Frank Fritz dealing with behind the scenes?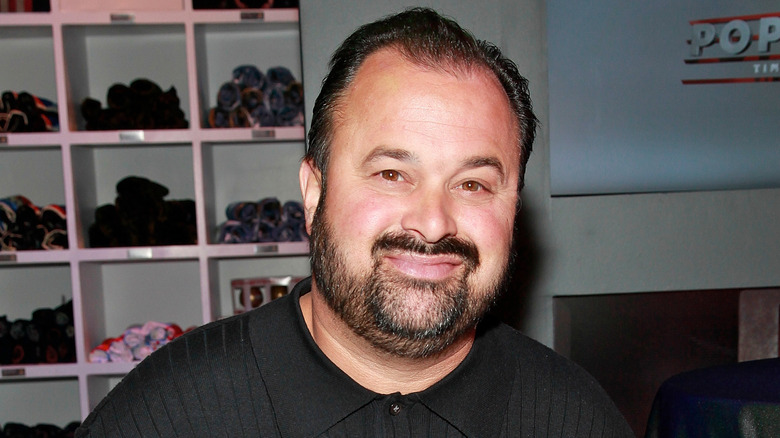 Charles Eshelman/Getty Images
While the ersatz pickers roamed the country with Mike Wolfe, Frank Fritz was dealing with more than just medical problems. Those medical issues nevertheless built up — including back surgery, Crohn's disease, a stroke in 2022, and struggles with alcoholism that Fritz seems to have dealt with. But Fritz had other problems as well, including the tumultuous end of a relationship with his former fiancée, Diann Bankson.
Fritz and Bankson, who got engaged in 2018 but split after several years, had accused each other of infidelity. Fritz's ex also sued the former "American Pickers" star in January 2020, alleging that Fritz had been negligent with fireworks. The incident in question, Bankson said, left her with third-degree burns and burnt-off eyebrows and eyelashes. She further alleged that Fritz refused to take her to the hospital. Though she dropped the suit in March of that same year, the legal troubles couldn't have helped his chances of being hired back by the network.
Frank Fritz and Mike Wolfe finally reunited in 2023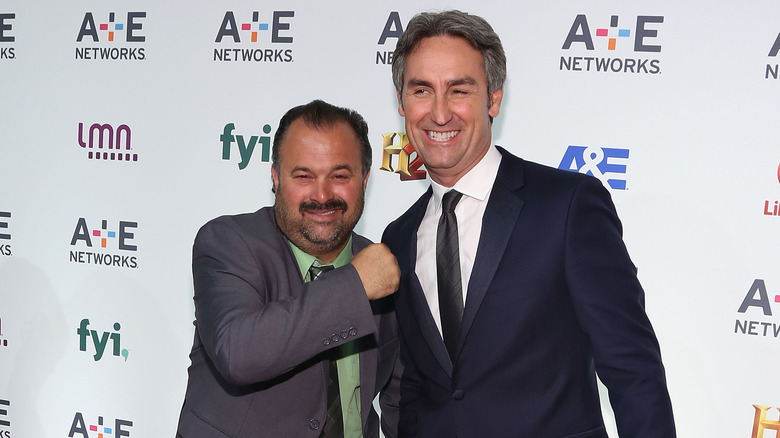 Taylor Hill/Getty Images
After years of a behind-the-scenes feud, it would appear that Frank Fritz and Mike Wolfe have buried the hatchet. (And then unburied it, blew the dust off, and appraised it for thousands of dollars.) While Fritz has still not appeared on the History series since 2020, the pickers finally reunited over Memorial Day weekend in 2023. The Quad-City Times quoted an anonymous friend of Fritz's, who said, "Mike has been wanting to see Frank for quite some time. ... Frank just now felt up to seeing him. It was Frank's request to see Mike." They reportedly spent their reunion catching up and reliving old times — and spoke about one of their first major talk show appearances, on "The Late Show with David Letterman," from 2011. The source said that Fritz was still recovering from his stroke and that emotions ran high. She said that both men were in tears at their reunion and that Wolfe told his former co-host, "Nobody can replace you, Frank."
Fritz's friend even fueled the fires of fans' desire for a pickers reunion on TV: "Mike really stressed all the good times they had before the show and during the show," she said. "Mike did say he'd like Frank back on the show, but Frank is focused on his health." While the once-hot feud appears to have been extinguished, fans can look forward to speculating whether or not Fritz will return when "American Pickers" trucks back onto television for Season 25.
If you or anyone you know needs help with addiction issues, help is available. Visit the Substance Abuse and Mental Health Services Administration website or contact SAMHSA's National Helpline at 1-800-662-HELP (4357).