Is There A New Law And Order: SVU Episode On Tonight? (March 24, 2022)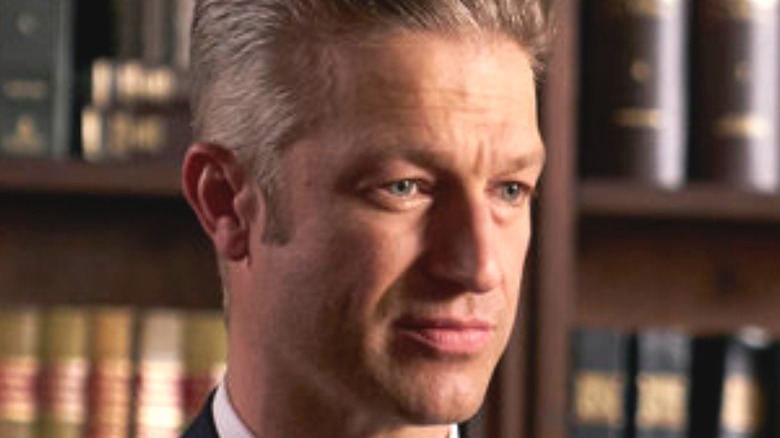 Michael Greenberg/NBC
The 23rd season of NBC's "Law & Order: Special Victims Unit" is more than 15 episodes in, and there's been no shortage of dark and dramatic moments for viewers to sift through each week. The most recent episode, "Sorry If It Got Weird for You," is centered around a dating app creator accused of using his tech site to commit sexual assault. It also saw new series regular Detective Joe Velasco's (Octavio Pisano) track record as a member of New York's Finest come into question. So what can "SVU" fans expect to go down this week? Will there be another new riveting episode airing on Thursday night?
"SVU" has been captivating people across the globe since 1999 with sensitive and hard-to-swallow storylines that focus on victims who report crimes of a sexual nature. It's been one of television's most popular police procedurals and programs in general, with an incredible cast that has included Mariska Hargitay, Christopher Meloni, Ice-T, Dann Florek, Richard Belzer, Kelli Giddish, BD Wong, Tamara Tunie, Peter Scanavino, and Raúl Esparza. While the main players and supporting characters may have changed over the years, today's "SVU" cast and crew have continued to uphold the show's legacy as NBC's best and most prominent "Law & Order" spin-off. So that leaves the question: Is there a new episode of "Law & Order: SVU" on tonight?
SVU is taking two weeks off
Sorry, "Law & Order" fans. It appears there will be no new episode of "SVU" airing this week (via NBC). But fear not –  the series will return to its Thursday evening time slot on April 7 with the airing of Season 23, Episode 17, which NBC has already started teasing.
"Three teenage girls have gone missing," a character says in the clip uploaded to YouTube by TV Promos. "If we don't find them in 24 hours, they're gone," asserts Mariska Hargitay's Olivia Benson as a phrase flashes across the screen stating, "The search will take everything." At the end of the clip, we see Benson tending to an injured — but yet-to-be-revealed — character before uttering over her radio, "Officer down!"
Having to wait two more weeks for "SVU" to return after already going through a break because of the Winter Olympics will surely tick off a few "Law & Order" fans. But it looks like they have some serious drama to look forward to when the show comes back with its new episode on April 7.