Is There A New Law And Order: SVU Episode On Tonight? (February 3, 2022)
"Law and Order: SVU" continues to be a linchpin of NBC's weekly primetime lineup. The procedural drama, now in its 23rd season, boasts multiple Emmy Awards (via IMDb) and an extremely devoted fanbase. At this point, dedicated viewers probably can't picture surviving a Thursday night without it.
NBC aired the most recent new episode of "SVU," titled "Tommy Baker's Hardest Fight," on January 20. In the latest chapter, Amanda Rollins (Kelli Giddish) and Joe Velasco (Octavio Pisano) investigate the sudden disappearance of the titular boxer (Cole Doman), who has disappeared days before an important title fight. The deeper the detectives dig into Baker's disappearance, the more they learn about his closeted sexuality — a secret over which some in Baker's world would willingly murder to keep hidden. Elsewhere, Chief Tommy McGrath (Terry Serpico) turns to Olivia Benson (Mariska Hargitay) for support when one of his three daughters takes to drinking heavily and behaving oddly.
Fans of "SVU" are likely to be ready and excited for the show's next new episode. Since the show usually airs every Thursday, they may be wondering if "SVU" will air as per usual on that date. Will "Law and Order: SVU" air on tonight?
There is no new Law and Order: SVU airing on Thursday, February 3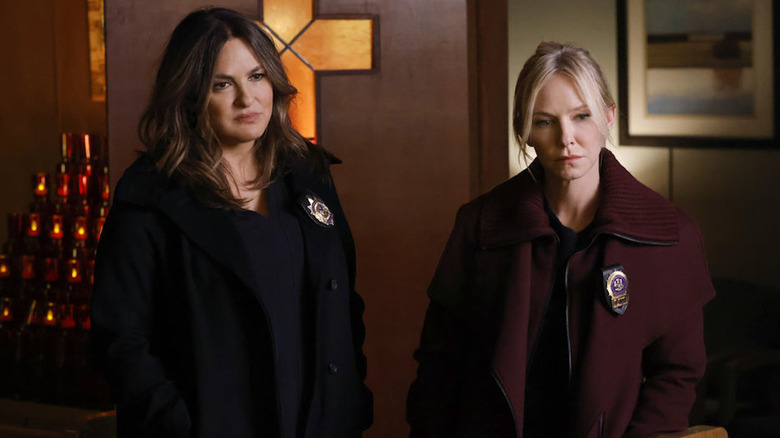 Will Hart/NBC
Much like the rest of NBC's prime time line-up, "Law and Order: Special Victims Unit" will be taking a break while NBC broadcasts the 2022 Winter Olympics. Per a tweet from the official Wolf Entertainment Twitter, the ongoing series, as well as "Law and Order: Organized Crime" will return to the airwaves once the games wrap. That means a new episode of "SVU" won't air on Thursday, February 3, nor at any time over the ensuing two-week period, per the official Olympics site.
In fact, viewers will have to wait just a little longer after the closing ceremonies to catch some more of the cases Benson, Fin (Ice-T), Rollins, and the other detectives. In a previously-released official NBC promo (via YouTube), audiences are told "SVU" will return on Thursday, February 24. The schedule on NBC's official site also says NBC will begin airing live footage of the Olympic Games on February 3, in the 9 p.m. ET timeslot regularly occupied by "SVU."
Fans of "SVU" might have to do a bit of waiting, but before the winter's over they'll be reunited with their favorite officers. Catch up on Season 23 by streaming all the previously released episodes on Hulu.