The Steven Spielberg Classic Tom Selleck Regrets Turning Down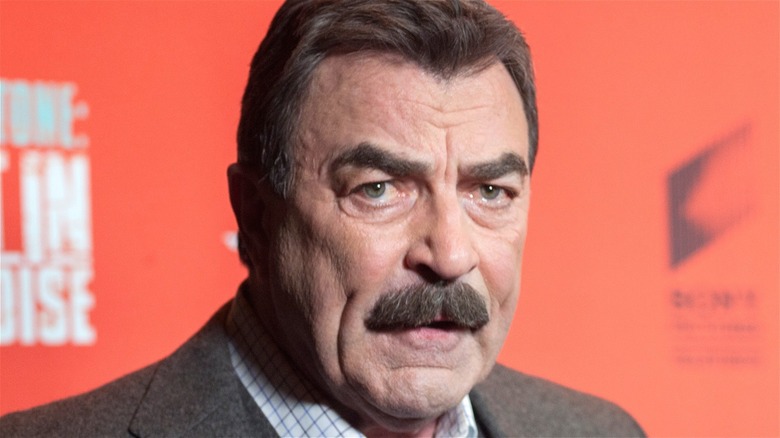 Santiago Felipe/Getty Images
Given his massively successful career, you wouldn't think such an accomplished actor as Tom Selleck would have too many professional regrets. He broke out in the early 1980s with his portrayal of Thomas Magnum, the title character on the popular CBS crime drama series "Magnum P.I.," a remake of which began airing in 2018. He's also starred in several successful comedy movies over the years, from 1987's "Three Men and a Baby" and its 1990 sequel, "Three Men and a Little Lady" to the 1992 sports comedy "Mr. Baseball" and the 1997 LGBTQ comedy "In & Out," appearing alongside Kevin Kline. Selleck is also noted as one of the most popular guest stars on the sitcom "Friends," appearing as Dr. Richard Burke, a love interest for Monica Gellar (Courteney Cox) who also happens to be a good friend of her father — awkward.
All of that, of course, took place prior to his stint of starring as the title character in the "Jesse Stone" series of TV movies from 2005 to 2015, taking up the role nine times so far, with a 10th "Jesse Stone" movie in the works, according to Selleck's IMDb entry. And that's not mentioning Selleck's role as Frank Reagan on the massively successful "Blue Bloods" police procedural series. The show, which has been on the air since 2010, tells the story of a police family in New York involved in all aspects of law enforcement and the justice system; Selleck's character is the NYPD commissioner, his eldest son Danny (Donnie Wahlberg) is a detective, his daughter Erin (Bridget Moynahan) is a district attorney, and his youngest son Jamie (Will Estes) is a beat cop.
All-in-all, you'd think Selleck would be pretty darn satisfied with the mark he's left on entertainment and popular culture, but would-be co-star Karen Allen dished in an interview with Variety that he was truly "heartbroken" about a role that got away from him years ago.
Tom Selleck could have played Indiana Jones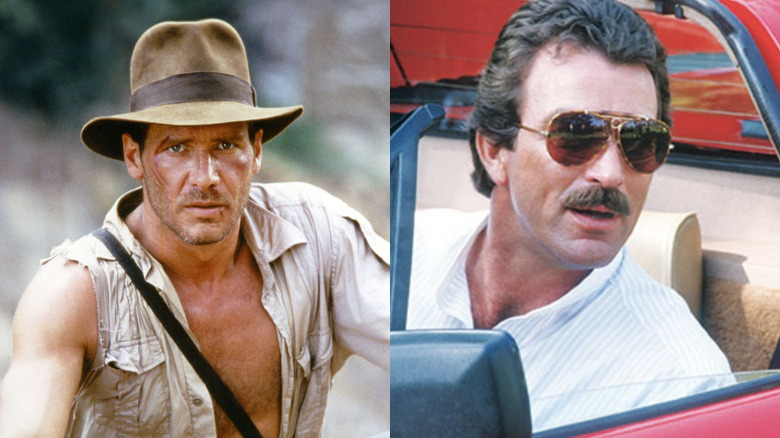 Paramount Pictures/CBS
According to an interview with would-be co-star Karen Allen, Tom Selleck had to turn down the role of heroic archaeologist and adventurer Henry "Indiana" Jones. As she told Variety, "Tom Selleck had been cast, and then it turned out 'Magnum P.I.' got picked up." Allen — who appeared in the original "Indiana Jones" film, "Raiders of the Lost Ark," as Marion and reprised the role for "Indiana Jones and the Kingdom of the Crystal Skull" — said that the folks behind "Magnum" wouldn't let Selleck out of his contract, so he had to ditch the role as Dr. Jones. She went on to say that she met up with Selleck quite a bit later and he revealed how upset he was. "I only know that way after the fact because I sat with him many years later and he told me how heartbroken he was." 
Though Allen didn't specify the occasion for which they met back up, it's possible that their reunion took place on the set of "Blue Bloods"; she guest starred on the 13th episode of "Blue Bloods" Season 4, entitled "Unfinished Business" (via IMDb). Allen played Betty Lowe, a woman who interrupts a press conference Frank Reagan (Selleck) is holding to demand justice for her murdered daughter, Michelle.
In her Variety interview, also Allen revealed that two other actors had auditioned for the role of Indy with her. "I auditioned with Tim Matheson and John Shea. John Shea and I flew from New York together on the same plane to do a screen test, and Tim Matheson was in Los Angeles but I had worked with him just a couple of years before in 'Animal House,' so we were pals." She said she later learned of two more well known actors who went for the part: "I did the auditions with them and since discovered that Sam Elliot and Jeff Bridges auditioned."