Rumor Report: Is Daredevil Season 4 Already In Development For Disney+?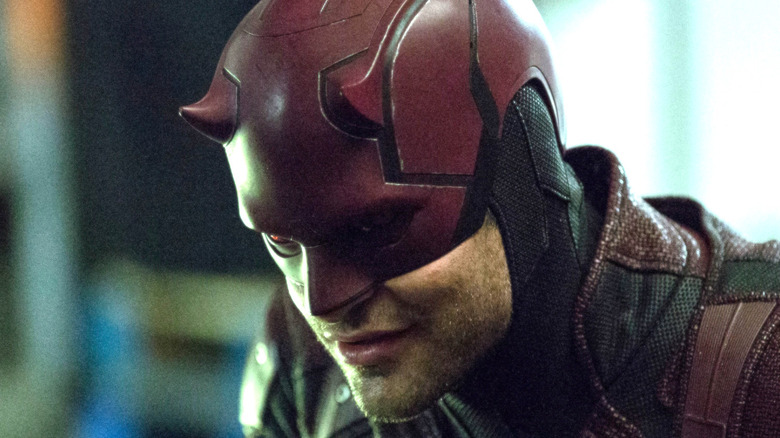 Marvel Studios/Disney+
When "Daredevil" first smashed its way onto Netflix back in 2015, Marvel fans were instantly in love with the grounded, authentic take on the Man Without Fear. The series explored Matt Murdock (Charlie Cox) with the same depth as the comics that inspired it, focusing not only on his dedication to Hell's Kitchen but also his Catholic guilt. Considering how popular the series was, it was a huge disappointment when Netflix unexpectedly canceled the show, as well as "Jessica Jones," "Luke Cage," "The Punisher," and "Iron Fist." This led to a huge campaign to #SaveDaredevil, as fans begged Netflix to bring the show back and pick up the loose threads left from the end of Season 3.
Although this never came to fruition, Marvel finally has all the rights back for "Daredevil" and his fellow Netflix costumed heroes, and they're now more properly joined to the rest of the MCU by virtue of being grouped together as the "Defenders Saga" on Disney+. 
This is great, but what fans are really wondering, at this point, is whether or not Marvel Studios is interested in telling new stories with these Defenders heroes. The clues point to yes: once Marvel got the rights back to Daredevil, Cox briefly reprised his role as the iconic lawyer in a brief, crowd-pleasing cameo in "Spider-Man: No Way Home" (although the scene didn't give him the chance to don the horns again). Meanwhile, Krysten Ritter, who stars as the titular private detective in "Jessica Jones," recently caused fans to wonder if she'll reprise her role after a recent Instagram post showed the star with her Jones' hairstyle.
New rumors, though, are claiming that "Daredevil" Season 4 is already in development. Is it true, or just internet gossip?
A new rumor says Marvel is already working on Daredevil Season 4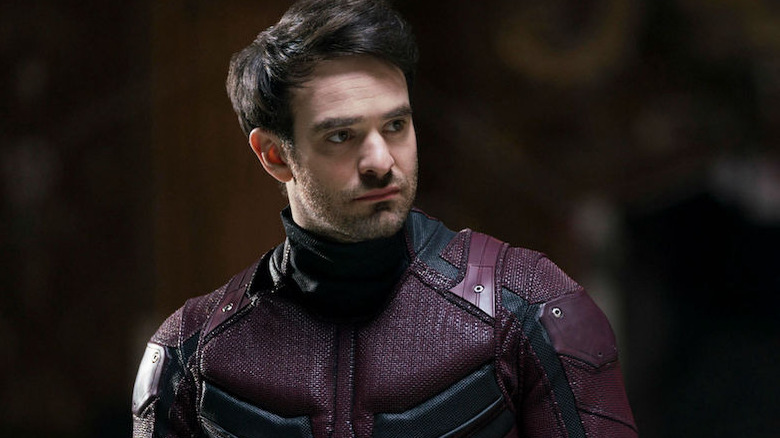 Marvel Studios/Disney+
Now, before we all get overexcited at the prospect of more tales from Hell's Kitchen ... it's important to note that these rumors haven't been confirmed by Disney or Marvel Studios. They're largely built on heavy speculation, and piecing together pieces of information from across the internet. But there are some worthwhile breadcrumbs to follow. Firstly, Murphy's Multiverse recently revealed that Disney is starting up a new production company called Blind Faith Productions LLC, and it doesn't take a superhero to figure out that could easily be a nod to Matt Murdock himself — a blind Catholic.
The second piece of evidence is that the latest issue of Production Weekly, a reliable publication used by film and TV crew members, lists a call for a "Daredevil Reboot." The issue also includes "Ironheart" and "Werewolf By Night" as part of its upcoming projects. If this is all to be believed, then the mystery "Daredevil" series should start production later this year.
This is something former-GWW editor KC Walsh recently reported on Twitter, as one of his sources says the project already has the greenlight to start shooting at the end of 2022. In that case, it seems likely the show could arrive at the end of 2023 or the start of 2024. Obviously, this is all just rumors for the moment, but it's highly possible Marvel Studios could officially announce the return of Daredevil — whether it's technically Season 4, or a new series altogether – later in the year at San Diego Comic-Con or D23. Charlie Cox has been pretty transparent in saying he'd love the chance to jump back in the red costume, so let's hope the Devil of Hell's Kitchen is really making a comeback.