The Correct Order In Which To Watch Marvel's Defenders Saga Shows On Disney+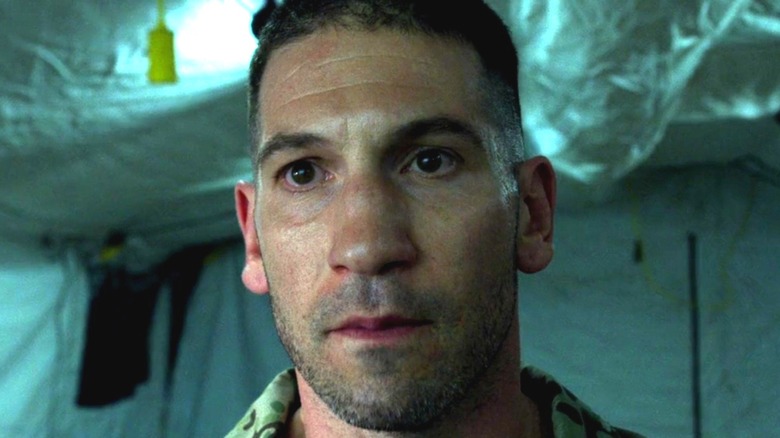 Marvel Studios/Disney+
It's been a long time coming, but the Marvel Netflix shows have finally been added to Disney+ now that Marvel Studios has the rights to the street-level heroes. It all started back in 2015, with Charlie Cox and Vincent D'Onofrio paving the way with "Daredevil," which kicks off a sprawling story about a villainous criminal organization called the Hand. Although the Netflix shows were billed as taking place inside the Marvel Cinematic Universe alongside the Avengers, there are only a handful of references to Earth's Mightiest Heroes in all the different adventures.
Their presence is definitely felt, from newspaper clippings that talk about the Battle of New York to Kingpin (D'Onofrio) looking to regenerate buildings and neighborhoods that were destroyed in the Chitauri Invasion, but it's clear the shows were held at arm's length from the rest of the MCU at the time. This is largely due to the cavernous divide between Marvel Television and Marvel Studios, although they've now all been folded into one studio and the Netflix shows rebranded "the Defenders Saga" — and there's a very specific order in which to watch them all.
Start with Daredevil and Jessica Jones Season 1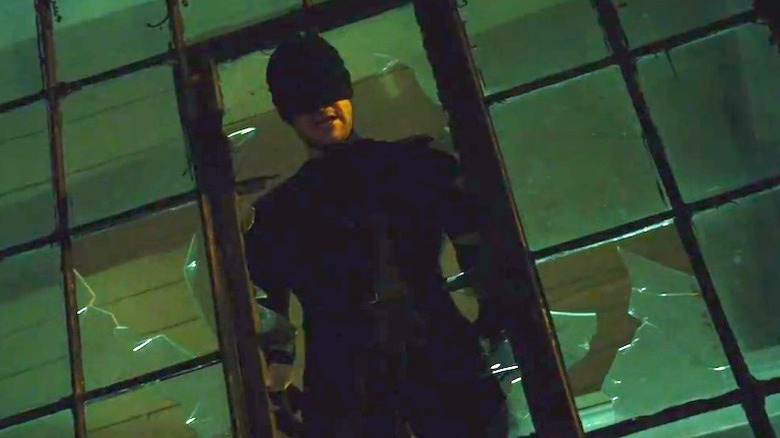 Marvel Studios/Disney+
"Daredevil" is the best place to start since it was the first show in the Marvel-Netflix partnership, and it's the perfect primer for the violent, grim world that these vigilantes live in. The Man Without Fear's show introduces Matt Murdock (Charlie Cox) after he's already started defending the streets, but it's also about his evolution into the Daredevil fans know and love. Additionally, it establishes Kingpin as well as the Hand as a dominant force in New York.
After that, it's time to meet a hard-drinking, no-nonsense private detective in "Jessica Jones," starring Krysten Ritter as the titular former hero. She gains superstrength after a car crash that kills the rest of her family and a sinister company called IGH experiments on her while she's in a coma. If that wasn't bad enough, she later meets the terrifying Kilgrave (David Tennant), who uses his own pheromones to brainwash everyone around him — including Jessica. Meanwhile, "Daredevil" Season 2 introduces Frank Castle, aka the Punisher (Jon Bernthal), before the Hand escalates its plans in New York by digging a huge hole underneath Midland Circle.
Then, it's time to meet Luke Cage (Mike Colter) in "Luke Cage." The crime drama explores the bulletproof man's life in Harlem as he crosses paths with vicious gangster Cottonmouth (Mahershala Ali) and grapples with his own half brother, Willis Stryker, aka Diamondback (Erik LaRay Harvey). Next up is "Iron Fist," which follows master martial artist Danny Rand (Finn Jones), who returns to New York 15 years after his disappearance with a mission to change the direction of his family's company while also dealing with his own fiery superpowers.
Move on to The Defenders and The Punisher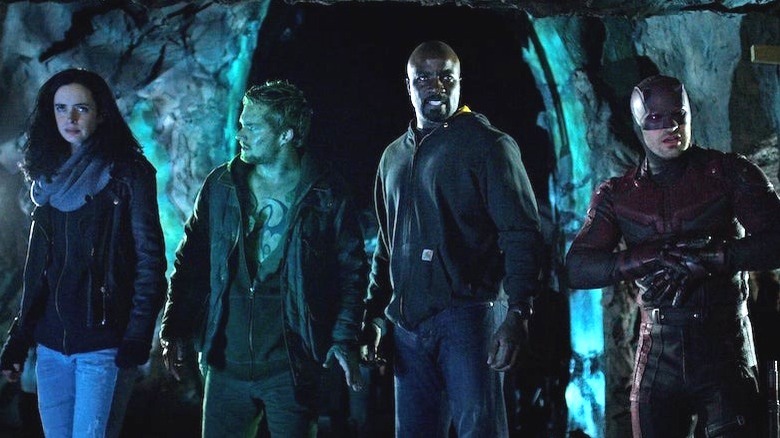 Marvel Studios/Disney+
After the introductory seasons are out of the way, it's time to jump into "The Defenders," an eight-episode miniseries that sees the city's heroes join forces against the Hand, led by the immortal Alexandra Reid (Sigourney Weaver). The villain wants to use the dragon bones that are deep below the city to maintain her immortality, and she doesn't care how many people she hurts to get what she wants. Thankfully, Daredevil, Jessica Jones, Luke Cage, and Danny Rand wind up stopping Reid, although the battle has tragic consequences...
After the dust has settled, "The Punisher" Season 1 is a perfect palate cleanser because it pulls the action back to the grounded atmosphere that charmed Marvel fans in the first place. It's all about Frank Castle grappling with his inner turmoil while helping Micro (Ebon Moss-Bachrach) uncover a shady military conspiracy about the CIA. It even pits him against his former squadmate, Billy Russo (Ben Barnes), who hides a secretly sinister side. Meanwhile, "Jessica Jones" Season 2 forces the private eye to grapple with a surprising revelation about her past while also pitting her against Will Simpson (Wil Traval), aka Nuke.
Then it's a perfect time to dive into "Luke Cage" Season 2, with the hero having found fame after the events of Season 1 and "The Defenders." Unfortunately, Luke is forced to go up against the ferocious Bushmaster (Mustafa Shakir), who wants to wrestle Harlem from Mariah Dillard (Alfre Woodard). It also features a brief appearance from Danny Rand before "Iron Fist" Season 2 questions the very nature of his powers and if they can be stolen by someone else. It's worth watching the sophomore season for the game-changing finale alone, honestly.
End with Daredevil Season 3, The Punisher Season 2, and Jessica Jones Season 3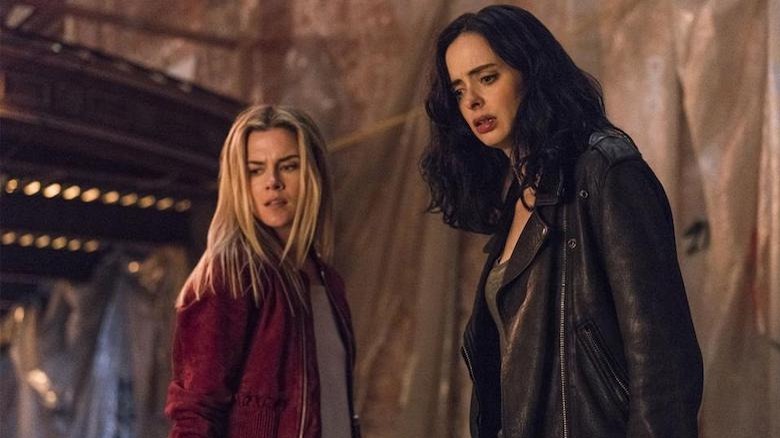 Marvel Studios/Disney+
The beginning of the end starts with "Daredevil" Season 3, which reveals that Matt Murdock miraculously survived the devastating explosion at Midland Circle, having recuperated at Saint Agnes Orphanage, where he grew up as a kid. The season examines Matt's Catholic guilt and Daredevil himself in much closer detail, while Kingpin molds a vicious new killer in scorned FBI agent Ben Poindexter (Wilson Bethel), aka Bullseye. It's a bloody, triumphant end to "Daredevil," and it absolutely proves that Charlie Cox deserves more time with the hero.
From there, "The Punisher" Season 2 sees Frank Castle protect a young girl who's being hunted by the Russian mob. It also leaves him in the perfect place to return if Marvel Studios wants to bring Jon Bernthal back for more.
And finally, "Jessica Jones" Season 3 pits the hero against a sadistic psychopath, Gregory Sallinger, aka Foolkiller (Jeremy Bobb). But things get more complicated when Trish Walker (Rachael Taylor) finally starts her own vigilante career. Ultimately, Trish lets her anger get the better of her, which forces Jessica to make some tough decisions about her best friend.
But where else do these characters show up?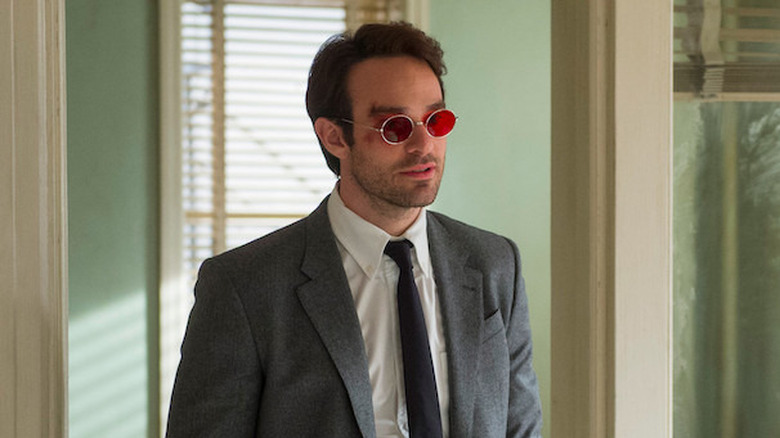 Marvel Studios/Disney+
So here's the big question: Have any of these heroes or villains appeared in the MCU? Yes, yes they have. Charlie Cox briefly reprises his role as Matt Murdock in "Spider-Man: No Way Home" as he helps Peter Parker (Tom Holland) deal with his legal problems in the aftermath of "Spider-Man: Far from Home." Fans were incredibly shocked to see the lawyer back in action, although it's worth noting that he doesn't get the chance to suit up in the devil costume in the film. It's perfectly understandable since the sequel already had plenty of characters and storylines to service without crowbarring in a way for Matt to don the horns again.
Surprisingly, Vincent D'Onofrio also returned to the fold as Kingpin in the final two episodes of the "Hawkeye" series as the villain secretly running the Tracksuit Mafia in New York alongside Eleanor Bishop (Vera Farmiga). The series additionally establishes his dynamic with his adopted niece, Echo (Alaqua Cox), although it's not clear when the villain will resurface next.
So what are you waiting for? The Defenders Saga is waiting on Disney+!